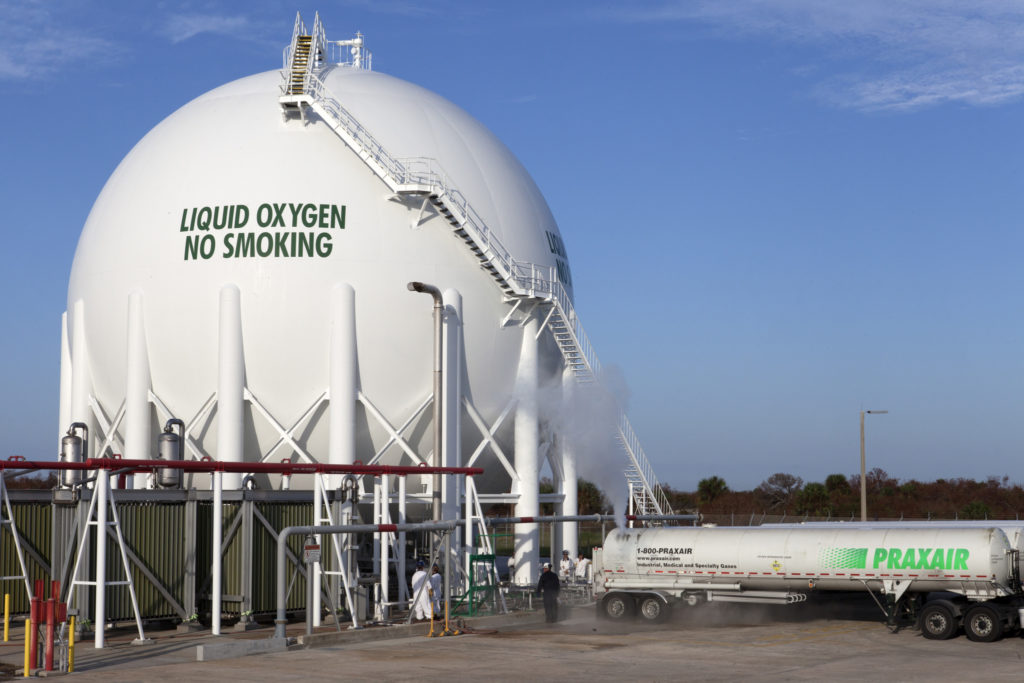 The first major integrated operation at Launch Pad 39B at NASA's Kennedy Space Center in Florida began with the initial tanking of a cryogenic fuel into a giant sphere at the northwest corner of the pad. The tanking operation is one of the steps needed to bring the center closer to supporting the launch of the agency's Orion spacecraft atop the Space Launch System rocket on its first uncrewed test flight.
"When I think of launch operations, there are distinct pictures that come to mind," said NASA Launch Director Charlie Blackwell-Thompson. "One of them is during the tanking operations as the cryogenic propellants are loaded into the Space Launch System rocket."
Several Praxair trucks arrived at the center and offloaded their liquid oxygen, or LO2, slowly, one at a time, into the cryogenic sphere to gradually chill it down from normal temperature to about negative 298 degrees Fahrenheit. Praxair, of Danbury, Connecticut, is the company that provides the agency with liquid oxygen and liquid hydrogen.
Another wave of trucks arrived and offloaded their LO2 all at the same time. During the next several months, trucks will continue to arrive from Praxair and offload about 40,000 gallons of fuel two days per week into the sphere that can hold about 900,000 gallons of liquid oxygen.
The procedure to fill the liquid hydrogen storage sphere will begin in November and will be completed in the same way. When both tanks are filled to about halfway, engineers in a firing room in the Launch Control Center will perform pressurization tests. Additional tests will be performed with the mobile launcher around mid-2018. The cryogenic fuels will remain in the tanks.
Blackwell-Thompson said it is not uncommon during tanking to see vapors and mist in the cryo storage area and near the vehicle. This week, she got a preview, when the trucks offloaded the first round of LO2 and once again, cryo vapors were visible. Because some of the liquid oxygen boils off during tanking, additional LO2 is required.
"This is a very important step in our path to launch, and we are thrilled to have cryo propellant return to the pad," Blackwell-Thompson said.
The Ground Systems Development and Operations Program is preparing the pad for the launch of Exploration Mission-1, deep space missions and the Journey to Mars. Significant upgrades to the pad include a new flame trench beneath the pad and a new flame deflector.