Mar. 20, 2019 – NASA's Terra Satellite Tracks Tropical Cyclone Trevor Over Cape York Peninsula
Visible imagery from NASA's Terra satellite showed Tropical Cyclone Trevor was moving west over Queensland, Australia's Cape York Peninsula and toward the Gulf of Carpentaria.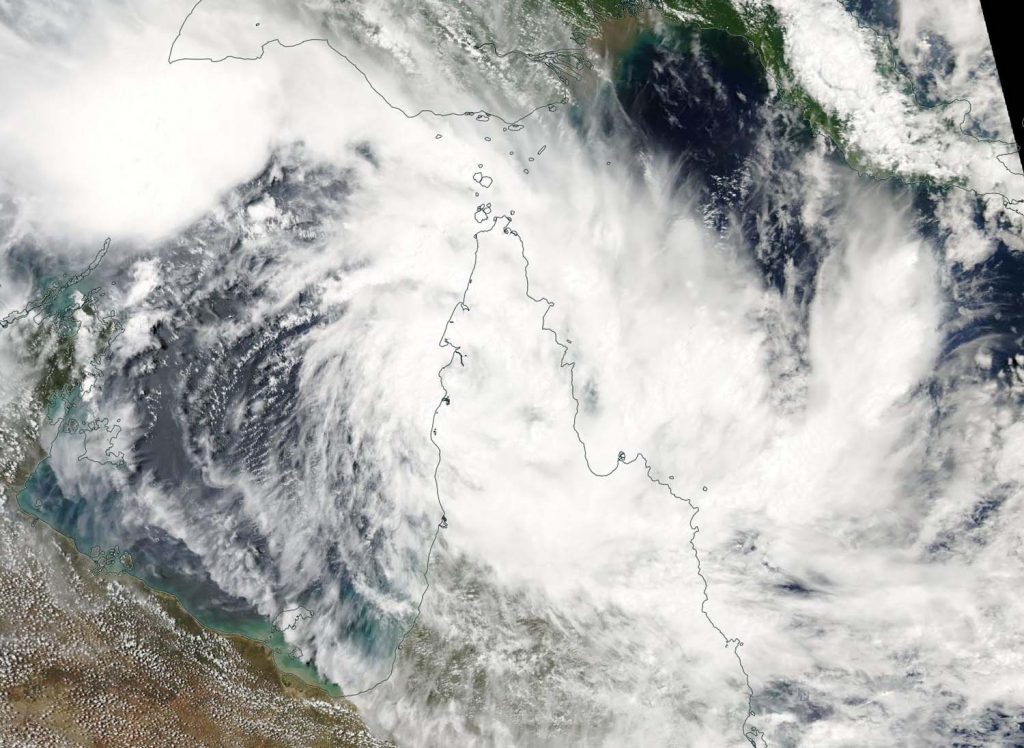 On March 20 the Moderate Resolution Imaging Spectroradiometer or MODIS instrument aboard NASA's Terra satellite provided a visible image of Trevor.
The Australian Bureau of Meteorology or ABM has posted warnings and watches. The Warning zone ranges from Pormpuraaw to Cape York. The Watch zone includes Nhulunbuy to Northern Territory/Queensland border and Kowanyama to Pormpuraaw.
At 9:21 a.m. EDT (11:21 p.m. AEST Australia local time) on March 20, 2019, maximum sustained winds near Trevor's center were near 40 miles (65 kilometers) per hour. Trevor was centered near 12.9 degrees south latitude and 141.8 degrees east longitude. That's about 19 miles (30 kilometers) south-southwest of Weipa. The cyclone is expected to move offshore over the eastern Gulf of Carpentaria tonight, where it is expected to rapidly intensify.
ABM forecasts that Trevor will move to the west-southwest through the Gulf of Carpentaria over the next couple of days and make landfall on March 23, north of Port McArthur, Northern Territory. ABM noted "It is likely to cross the Northern Territory coast during Saturday as a category 4 severe tropical cyclone."
For updated forecasts from the Australian Bureau of Meteorology, visit: http://www.bom.gov.au