Feb. 24, 2020 – NASA Aqua Satellite Catches Tropical Storm Esther's Landfall
 NASA's Aqua satellite provided forecasters with a visible image of the Tropical Cyclone Esther making landfall on the southeastern coast of Australia's Northern Territory.
Esther formed in the Gulf of Carpentaria on Feb. 23 at 10 a.m. EST (1500 UTC) as a tropical storm, and was designated Tropical Cyclone 19P. At 4 p.m. EST (2100 UTC), 19P was renamed as Esther and triggered warnings as it neared the southeastern coast of the Northern Territory. Early on Feb. 24, Esther passed over the Pellew Islands and made landfall near Borrololla.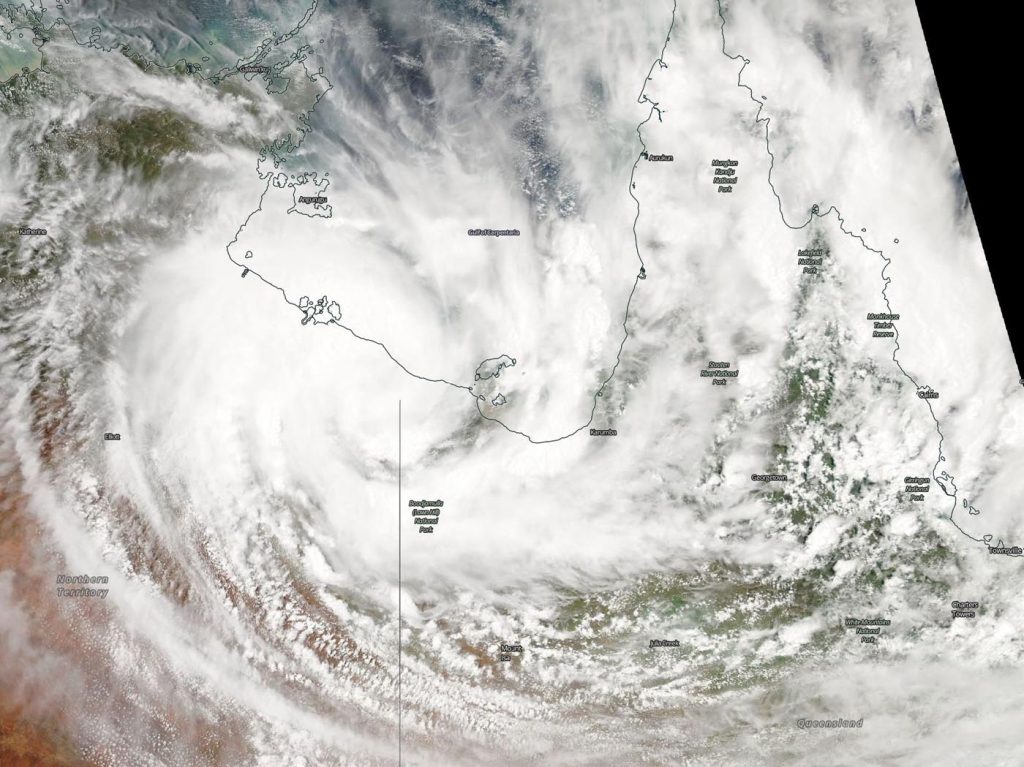 On Feb. 24 at 4 a.m. EST (0900 UTC), the Joint Typhoon Warning Center (JTWC) issued the final warning on Esther. At that time, had maximum sustained winds near 50 knots (58 mph/93 kph). At that time, it was located near 16.7 degrees south latitude and 137.0 degrees east longitude about 454 nautical miles southeast of Darwin, Australia. Esther was moving to the west.
On Feb. 24 at 4 a.m., EST (0900 UTC), the Moderate Imaging Spectroradiometer or MODIS instrument that flies aboard NASA's Aqua satellite provided a visible image of Esther that showed strong bands of thunderstorms wrapping into the low-level center.
Microwave satellite imagery showed the center was well defined and that the structure had consolidated as it moved over land.
The Australian Bureau of Meteorology noted on Feb. 24, "Ex-tropical cyclone Esther has transitioned to a vigorous tropical low, and will continue moving westward through the Northern Territory, bringing heavy rain, damaging wind gusts and abnormally high tides."
The JTWC noted, "This system is forecast to maintain tropical depression strength as it tracks across Northern Australia and is expected to track back over water 4 to 5 days. The system is expected to regenerate quickly over water."
NASA's Aqua satellite is one in a fleet of NASA satellites that provide data for hurricane research.
Tropical cyclones are the most powerful weather event on Earth. NASA's expertise in space and scientific exploration contributes to essential services provided to the American people by other federal agencies, such as hurricane weather forecasting.
Rob Gutro
NASA's Goddard Space Flight Center, Greenbelt, Md.