May 21, 2020 – NASA Calculates Former Cyclone Amphan's Massive Rainfall
When Cyclone Amphan was a Category 5 hurricane while tracking through the Bay of Bengal, NASA calculated the massive rainfall it generated. By May 21, NASA's Terra satellite showed the once powerful storm's remnants now over Bangladesh.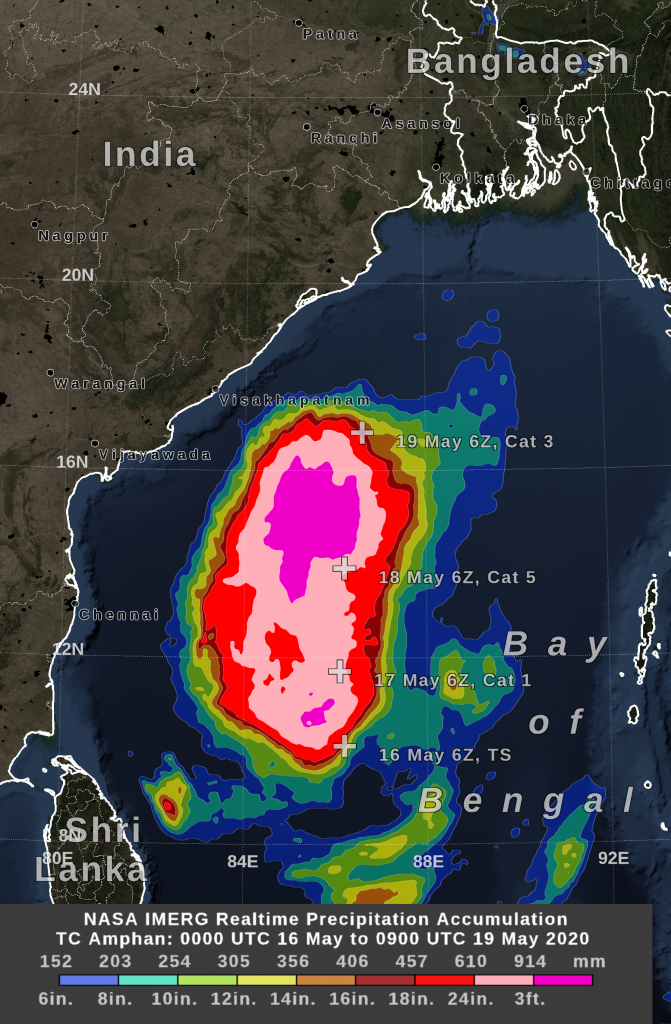 The Global Precipitation Measurement mission or GPM Core Observatory satellite observed Tropical Cyclone Amphan as it tracked north over the Bay of Bengal during the week of May 18. NASA monitored the heavy rain associated with Tropical Cyclone Amphan.
NASA uses the GPM and other satellite data to generate a near-realtime rain estimate. That estimate comes from the NASA's Integrated Multi-satellitE Retrievals for GPM (IMERG) algorithm, which combines observations from a fleet of satellites, in near-realtime, to provide near-global estimates of precipitation every 30 minutes.
"The largest rainfall accumulation had fallen over the Bay of Bengal on May 18 while Amphan was at category 5 on the Saffir-Simpson scale," said Owen Kelley, a researcher at NASA's Goddard Space Flight Center in Greenbelt, Md., who created a rainfall image. GPM data revealed Amphan generated over 914 mm or 36 inches of rainfall over an area in the Bay from May 16 to 19, 2020.
Amphan made landfall at [5 a.m. EDT] 0900 UTC (2:30 PM local time) on May 20, 2020. Landfall occurred near the India-Bangladesh border along the northern edge of the Bay of Bengal.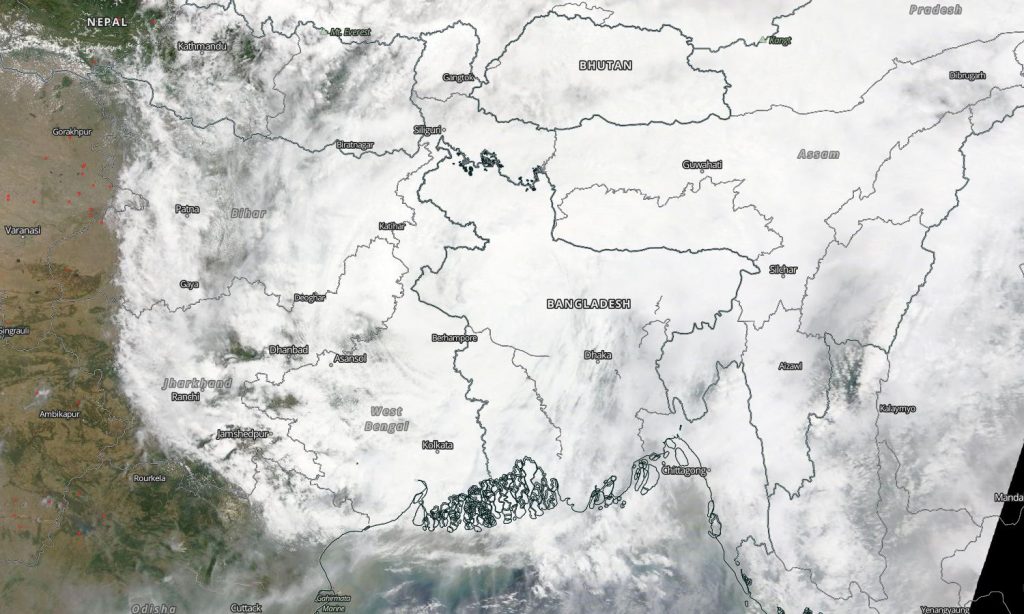 On May 21, the Moderate Resolution Imaging Spectroradiometer instrument that flies aboard NASA's Terra satellite provided a visible image of the remnants of former tropical cyclone Amphan, located over Bangladesh. Amphan's remnants are expected to dissipate over the week.
For an animation of rainfall, visit: https://gpm.nasa.gov/articles/gpm-sees-cyclone-amphan-approach-india
By Rob Gutro
NASA Goddard Space Flight Center