July 26, 2020 – NASA-NOAA's Suomi NPP Provides Night-Time Analysis of Hurricane Douglas
NASA-NOAA's Suomi NPP satellite provided forecasters with various nighttime views of Hurricane Douglas as it approaches Hawaii. The various imagery provided valuable data on the storm's structure and strength.
On July 26, NOAA's Central Pacific Hurricane Center or CPHC warned that "Dangerous Hurricane Douglas is closing in on the Hawaiian Islands."
Many Warnings in Place for Hawaii
On Sunday, July 26, 2020 warnings and watches pepper Hawaii as Hurricane Douglas approaches. A Hurricane Warning is in effect for Oahu, Kauai County, including the islands of Kauai and Niihau. A Tropical Storm Warning is in effect for Hawaii County, Maui County, including the islands of Maui, Lanai, Molokai and Kahoolawe. In addition, a Hurricane Watch is in effect for Hawaii County, Maui County, including the islands of Maui, Lanai, Molokai and Kahoolawe. A Tropical Storm Watch is in effect for portions of the Papahanaumokuakea Marine National Monument from Nihoa to French Frigate Shoals.
What NASA-NOAA's Suomi NPP Satellite Showed
On July 25 at 5 a.m. EDT (0900 UTC) Hurricane Douglas was a strong Category 2 storm with winds near 110 mph. NOAA's CPHC mentioned that Douglas had a degraded satellite presentation. Two and one half hours later, NASA-NOAA's Suomi NPP satellite passed over Douglas and provided a nighttime view of the storm as well as an infrared view.
In the nighttime view, the waxing crescent moon (27% illumination) was still low enough with the features in the Suomi NPP Day Night Band were illuminated by airglow. "There continued to be no mesospheric waves, which is not surprising given the gradual degradation of the storm," said William Straka III, Researcher at the University of Wisconsin – Madison, Space Science and Engineering Center (SSEC), Cooperative Institute for Meteorological Satellite Studies (CIMSS). Straka provided the nighttime and infrared images.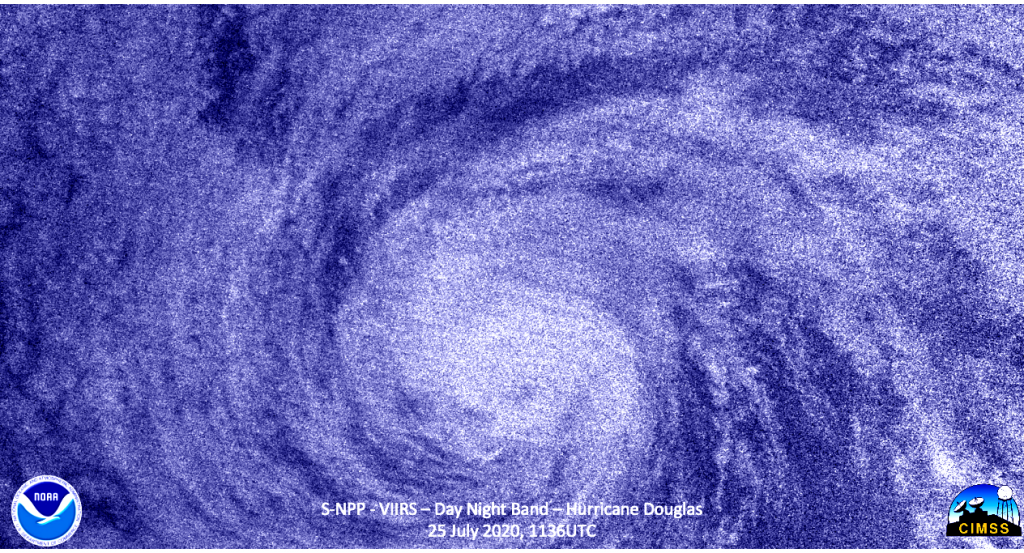 The high-resolution infrared imagery from Suomi NPPs Visible Infrared Imaging Radiometer Suite (VIIRS) instrument showed a closed circulation and a relatively compact storm. The VIIRS instrument cloud top temperatures around the eye were as cold as 210 Kelvin (minus 81.6 degrees Fahrenheit (minus 63.1 Celsius), indicating powerful storms.
Straka noted, "Satellite imagery also seemed to indicate some warmer air being pulled in to the storm. This was supported by the Advanced Microwave Scanning Radiometer 2 (AMSR2) instrument (that also flies aboard Suomi NPP) data taken roughly 20 minutes earlier, which also seemed to show an exposed circulation on the southeast side."
Satellite Imagery on July 26, 2020
CPHC Hurricane forecaster Thomas Birchard said in the July 26 discussion, "Worth noting is that the data also indicate that the low-level center is south of the center that is seen in conventional satellite imagery. Recent microwave images confirm that the cyclone is tilted to the north with height, due to southerly vertical wind shear. Despite the vertical wind shear, Douglas is expected to only slowly weaken as it comes dangerously close to the Hawaiian Islands."
Hurricane Douglas' Status on Sunday, July 26, 2020
NOAA's CPHC noted at 8 a.m. EDT (2 a.m. HST/1200 UTC) on July 26, the center of Hurricane Douglas was located by Hurricane Hunter aircraft near latitude 20.5 north, longitude 153.6 west. That puts Douglas' center about 190 miles (300 km) east of Kahului, Hawaii and 285 miles (460 km) east of Honolulu, Hawaii.
Douglas is moving toward the west-northwest near 16 mph (26 kph), and this general motion is expected to continue for the next couple of days. The estimated minimum central pressure is 983 millibars. Maximum sustained winds are near 90 mph (150 kph) with higher gusts.
 Forecast for Douglas
NOAA's CPHC forecast calls for "Some slow weakening is forecast during the next 48 hours, but Douglas is expected to remain near hurricane intensity as it passes near, or over, the islands. On the forecast track, Hurricane Douglas will pass dangerously close to the main Hawaiian Islands later today."
For more than five decades, NASA has used the vantage point of space to understand and explore our home planet, improve lives and safeguard our future. NASA brings together technology, science, and unique global Earth observations to provide societal benefits and strengthen our nation. Advancing knowledge of our home planet contributes directly to America's leadership in space and scientific exploration.
For updated forecasts, visit: www.nhc.noaa.gov
By Rob Gutro
NASA's Goddard Space Flight Center