Aug. 01, 2020 – NASA Catches Atlantic Depression with an Expected Short Life
NASA's Aqua satellite provided a visible image of what is expected to be a new short-lived tropical depression in the eastern North Atlantic Ocean. Although it formed yesterday, July 31, it is forecast to become a remnant low-pressure area today.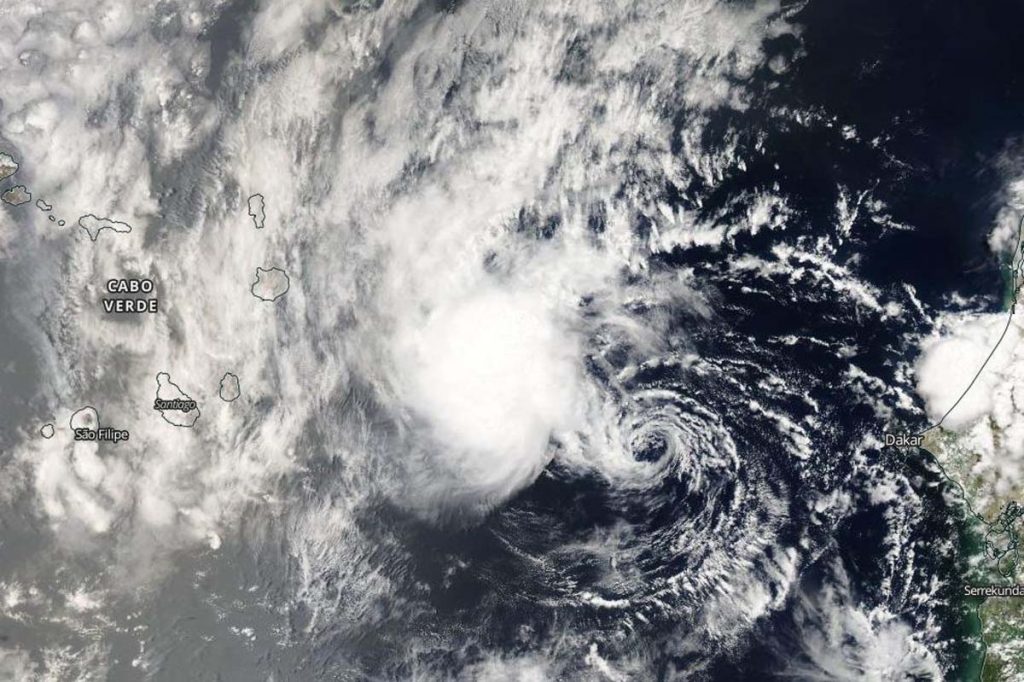 The Moderate Resolution Imaging Spectroradiometer instrument aboard NASA's Aqua satellite captured a visible image of North Atlantic Ocean Tropical Depression 10 as it formed on July 31 near the Cabo Verde Islands. It is a weak system and appeared as wispy clouds around the center of circulation, with thunderstorms northwest of the center. The image was created using the Worldview application at NASA's Goddard Space Flight Center in Greenbelt, Md.
Tropical Depression 10 formed on Friday, July 31 at 5 p.m. EDT (2100 UTC) about 265 miles (430 km) east of the Cabo Verde Islands (Cape Verde Islands) in the eastern North Atlantic Ocean.  Deep convection had developed closer to the center of a small area of low pressure located a couple of hundred miles east of the Cabo Verde Islands and it was designated a tropical depression.
However, the depression did not seem to have much of a chance to develop. At 11 p.m. EDT on July 31 (0300 UTC on Aug. 1), the National Hurricane Center (NHC) noted, "The small depression maintained a large burst of convection in its northwest quadrant for several hours after the last advisory, though cloud tops have warmed steadily since around 00 UTC." Warming cloud top temperatures indicate a weakening in the uplift of the storm that helps create the thunderstorms that make up a tropical cyclone. When cloud tops warm, they lower in altitude.
At 5 a.m. EDT (0900 UTC) on Aug. 1, the center of Tropical Depression 10 was located near latitude 17.8 degrees north and longitude 21.6 degrees west.  That is about 200 miles (325 km) northeast of the Cabo Verde Islands. The depression was moving toward the northwest near 16 mph (26 kph). A turn toward the west-northwest or west is expected by Saturday afternoon. Maximum sustained winds are near 35 mph (55 km/h) with higher gusts. The depression is forecast to weaken and become a remnant low later today. The estimated minimum central pressure is 1008 millibars.
NHC forecaster Blake noted, "It seems like the chance for the depression to become a tropical storm has passed with it now moving over cooler waters into a drier air mass.  Thus weakening is forecast and the system will likely degenerate into a remnant low later today. On the forecast track, the center of the depression is expected to move north of the Cabo Verde Islands later today.
NASA Researches Tropical Cyclones
Hurricanes/tropical cyclones are the most powerful weather events on Earth. NASA's expertise in space and scientific exploration contributes to essential services provided to the American people by other federal agencies, such as hurricane weather forecasting.
For more than five decades, NASA has used the vantage point of space to understand and explore our home planet, improve lives and safeguard our future. NASA brings together technology, science, and unique global Earth observations to provide societal benefits and strengthen our nation. Advancing knowledge of our home planet contributes directly to America's leadership in space and scientific exploration.
For updated forecasts, visit: www.nhc.noaa.gov