Aug. 24, 2020 – NASA Catches Tropical Storm Marco Weaker, But a Soaker
Although a weaker tropical storm on Monday, Aug. 24, Tropical Storm Marco continued to show its soaking capabilities in infrared data from NASA's Terra satellite.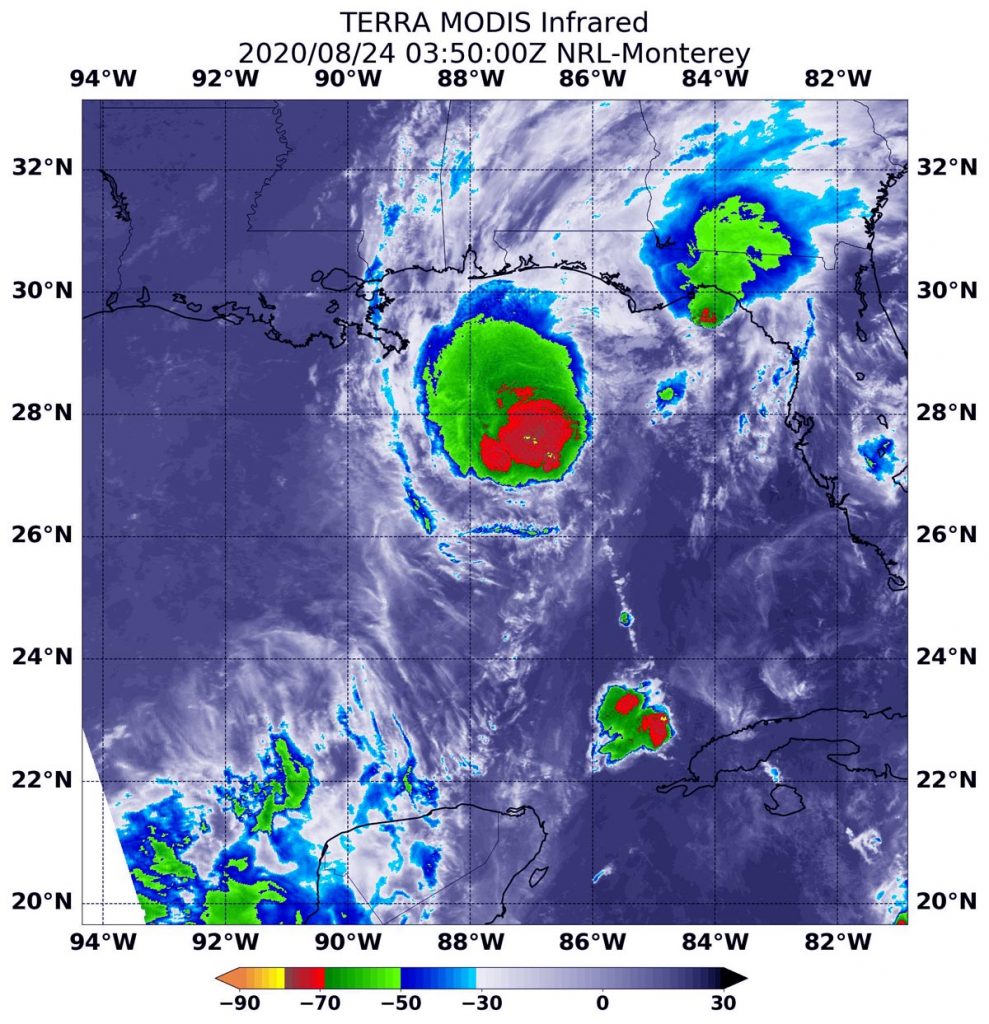 Marco is feeling the effect of strong southwesterly wind shear. On Aug. 23, the center, as identified by an Air Force Reserve Hurricane Hunter aircraft, was displaced to the southwest edge of the bulk of thunderstorms. That wind shear continues to affect and weaken Marco.
Aug. 24 Warnings and Watches
The National Hurricane Center (NHC) posted a Storm Surge Warning from Morgan City, Louisiana to Ocean Springs, Mississippi including Lake Borgne. NHC noted from Morgan City, La. to Ocean Springs, Miss., including Lake Borgne between 2 and 4 feet. NHC noted the deepest water will occur along the immediate coast in areas of onshore winds, where the surge will be accompanied by large and dangerous waves.  Surge-related flooding depends on the relative timing of the surge and the tidal cycle, and can vary greatly over short distances.
A Tropical Storm Warning is in effect from Intracoastal City to the Mississippi/Alabama border, Lake Pontchartrain, Lake Maurepas, and Metropolitan New Orleans.
Infrared Data Reveals Powerful Storms
On Aug. 23 at 11:50 p.m. EDT (Aug. 24 at 0350 UTC), the Moderate Resolution Imaging Spectroradiometer or MODIS instrument aboard NASA's Terra satellite gathered temperature information about Tropical Storm Marco's cloud tops. Infrared data provides temperature information, and the strongest thunderstorms that reach high into the atmosphere have the coldest cloud top temperatures.
MODIS found the most powerful thunderstorms were to the northeast of the center of circulation, where temperatures were as cold as or colder than minus 70 degrees Fahrenheit (minus 56.6 Celsius). Cloud top temperatures that cold indicate strong storms with the potential to generate heavy rainfall.
Heavy rainfall is reflected in the NHC forecast today. NHC said, "Marco is expected to produce total rainfall accumulations of 3 to 5 inches with isolated maximum amounts of 10 inches across portions of the northeast and north-central Gulf coast through Tuesday. This rainfall may result in areas of flash, urban and small stream flooding in the area."
NOAA's GOES-16 1 minute satellite data showed the surface center well displaced from the deep convection, and it appears that Marco is decoupling from its mid-level circulation to the northeast. That is a result of vertical wind shear, outside winds blowing at different levels of the atmosphere, battering the vertical structure of the storm and weakening it. The wind shear is expected to increase.
Marco's Status on Aug. 24, 2020
At 8 a.m. EDT (1200 UTC) on Aug. 24, the center of Tropical Storm Marco was located near latitude 28.1 degrees north and longitude 88.4 degrees west. That is about 85 miles (135 km) south-southeast of the mouth of the Mississippi River. Marco was moving toward the northwest near 10 mph (17 kph). Data from an Air Force Reserve Hurricane Hunter aircraft indicate that maximum sustained winds have decreased to near 50 mph (80 kph) with higher gusts. The estimated minimum central pressure is 1005 millibars.  
Marco's Forecast
In addition to tropical-storm-force winds and heavy rainfall, isolated tornadoes are possible today from southeast Louisiana to the western Florida Panhandle. In addition, swells generated by Marco are likely to affect portions of the northern Gulf Coast for the next couple of days. These swells are likely to cause life-threatening surf and rip current conditions.
Marco is forecast to approach the coast of Louisiana this afternoon, and then turn westward and move very close to the coast of Louisiana through Tuesday night. Further weakening is expected, and Marco is forecast to become a tropical depression late on Tuesday and dissipate on Wednesday.
About NASA's Worldview
NASA's Earth Observing System Data and Information System (EOSDIS) Worldview application provides the capability to interactively browse over 700 global, full-resolution satellite imagery layers and then download the underlying data. Many of the available imagery layers are updated within three hours of observation, essentially showing the entire Earth as it looks "right now."
Tropical cyclones/hurricanes are the most powerful weather events on Earth. NASA's expertise in space and scientific exploration contributes to essential services provided to the American people by other federal agencies, such as hurricane weather forecasting.
For updated forecasts, visit: www.nhc.noaa.gov