Oct. 05, 2018 -NASA Finds Walaka Weakened, Now a Tropical Storm
NASA's Aqua satellite passed over the Central Pacific Ocean and obtained infrared data on Walaka, now weakened to a tropical storm with limited thunderstorm development.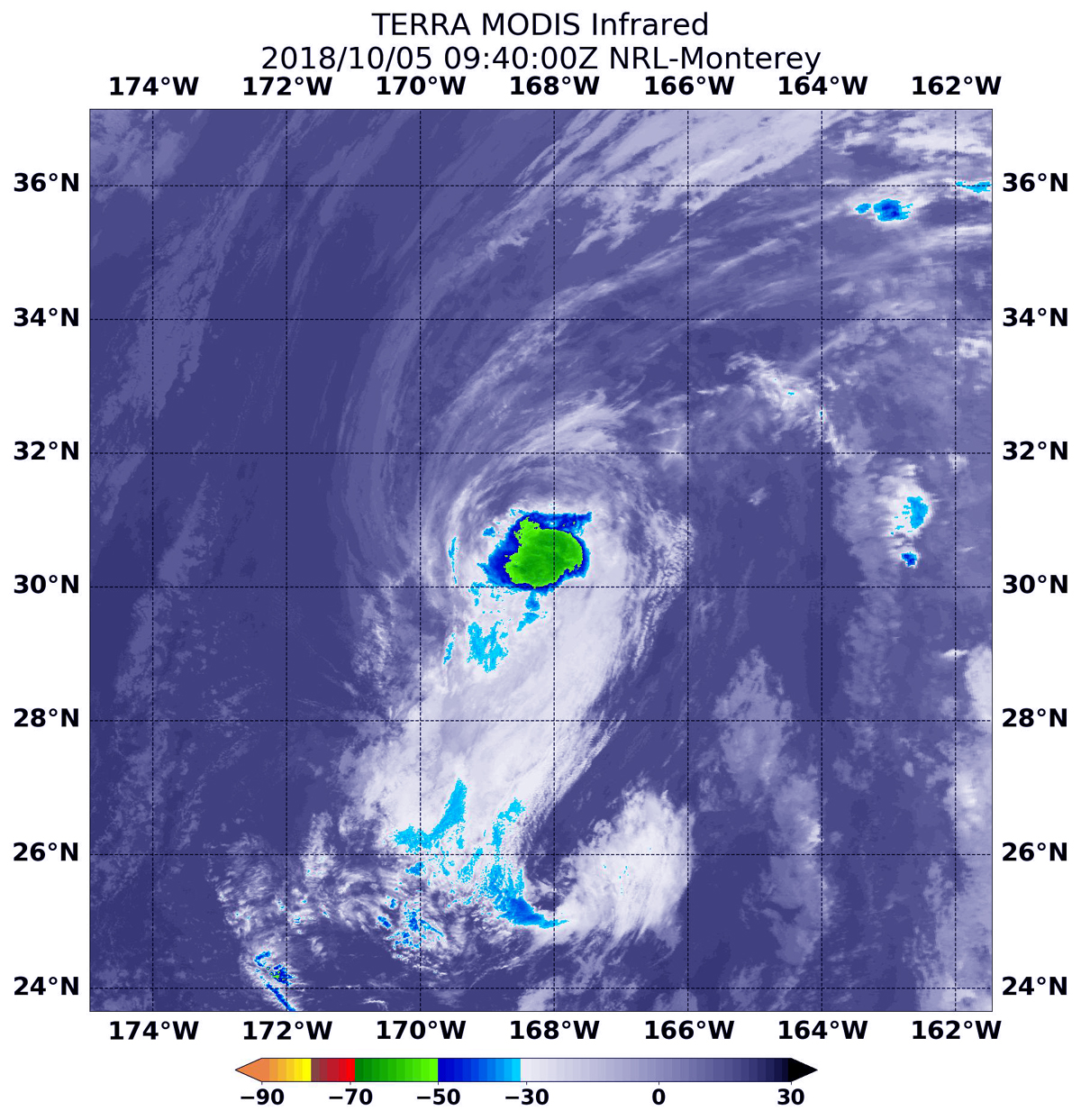 Infrared satellite data at 5:40 a.m. EDT (0940 UTC) on Oct. 5, the Moderate Resolution Imaging Spectroradiometer or MODIS instrument aboard NASA's Aqua satellite revealed strongest storms with the coldest cloud top temperatures in a small area around Walaka's center. MODIS found coldest cloud tops had temperatures near minus 63 degrees Fahrenheit (minus 53 degrees Celsius). NASA research has found that cloud top temperatures that cold have the capability to generate heavy rainfall.
At 5 a.m. EDT (0900 UTC) on Friday, Oct. 5, the center of Tropical Storm Walaka was located near latitude 30.6 degrees north and longitude 168.3 degrees west. Walaka is about 480 miles (770 km) north-northwest of the French Frigate Shoals. Walaka is moving toward the north-northwest near 6 mph (9 kph). A turn toward the north is expected tonight, followed by an acceleration toward the northeast Friday through Saturday. Maximum sustained winds are near 70 mph (110 kph) with higher gusts.  Some weakening is forecast during the next 48 hours.
The Central Pacific Hurricane Center or CPHC said Walaka will be over cool sea surface temperatures through the remainder of its journey across the Pacific, with vertical wind shear expected to increase substantially Friday night and Saturday, Oct. 6. Steady weakening is forecast during the next 48 hours, and Walaka is expected to become a post-tropical low by Saturday evening.
CPHC noted that ocean swells generated by Walaka will continue to affect portions of the Papahanaumokuakea Marine National Monument and the main Hawaiian Islands tonight, Oct. 5.
For updated forecasts, visit:  http://www.prh.noaa.gov/cphc