From: Jill Hummels, Public Information Officer, University of Kansas School of Engineering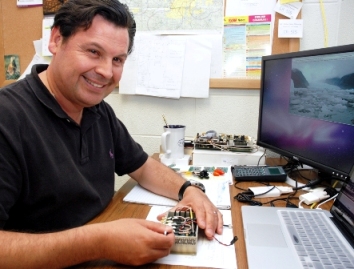 The far tip of Chile is no stranger to one member of the Operation Ice Bridge team.  It's almost home.
Victor Jara Olivares – an electrical engineering doctoral student, graduate research assistant and native of Concepción, Chile – is among the University of Kansas team members who'll be in Punta Arenas for the NASAs mission.
Jara has been involved in making improvements to the MCoRDS radar and supporting additional radars KU is supplying for the mission. He's also been integral to the development of another radar to be used by in Antarctica later this season for a National Science Foundation Center for Remote Sensing of Ice Sheets (CReSIS) mission.
As an officer in the Chilean Navy, Jara was involved with the Center for Scientific Studies of the South of Chile and has been to Punta Arenas before.  In 2002, while managing a naval air base, Jara helped NASA secure the use of a P3 aircraft.
That exchange put him in touch with Prasad Gogineni, distinguished professor at KU and director of CReSIS, and fostered his interest in remote sensing and polar studies. Freshly armed with master's degrees in both aerospace engineering and electrical engineering, he was encouraged to pursue a doctorate and was offered a GRA position at KU. It didn't hurt that his fiancée (now his wife) also was from Kansas.
Jara excitedly shares travel tips and insight to his native culture with anyone who'll listen.  He offers three "musts" for any leisure traveler to Chile:
• Drink a pisco sour
• Eat a local empanada
• Visit Laguna San Rafael
During Ice Bridge, Jara plans to focus on radar work and forego any family visits. Chile, he points out, is as long as the United States is wide, and the 1,600 hundred-mile drive from Punta Arenas to visit his parents would take days.