From: Lora Koenig, IceBridge project scientist, NASA's Goddard Space Flight Center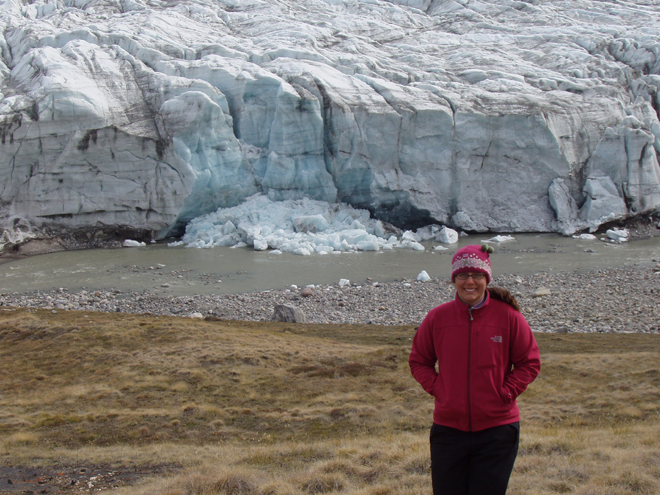 Credit: Image is courtesy of Lora Koenig, NASA's Goddard Space flight Center

Hello, and welcome to the start of the Operation IceBridge Greenland 2010 campaign. Over the next few months we will be blogging about the science, research, aircraft, and day to day activities of our airborne campaign. The NASA DC-8 aircraft is fully loaded in Palmdale, Calif., and will take off late Sunday night to fly scientists, crew and instruments to Thule, Greenland. The DC-8 will stay in Greenland until the end of April at which time the NASA P-3B aircraft will take over for another month of flights monitoring the changes occurring over the Greenland ice sheet and the Arctic sea ice. Hopefully some of you are returning to the blog after our previous Greenland 2009 and Antarctic 2009 campaigns. Please check in often to follow our progress and learn more about our exciting Arctic research.
My name is Lora Koenig and I am a physical scientist in the Cryospheric Sciences Branch at NASA's Goddard Space Flight center. You may be asking, what is cryospheric science? Well, it is the branch of science that studies the areas of frozen water on Earth. This includes science related to snow, sea ice, ice sheets, glaciers and permafrost. My research is focused on monitoring changes over the Greenland and Antarctic Ice Sheets and for the last five months I have been one of the NASA project scientists in charge of IceBridge. In this blog I will tell you a little about the planning that has gone on behind the scenes for this campaign.
For the last five months, starting while most of the IceBridge team was still in Antarctica, NASA started planning for the Greenland 2010 Campaign. Because the austral (Southern Hemisphere) spring and boreal (Northern Hemisphere) spring are only six months apart the IceBridge team is constantly planning for the next field campaign. Yes, the Antarctic 2010 campaign planning has already started and the DC-8 has yet to take off for Greenland.
What does planning for a major NASA airborne mission entail? Two things: logistics and flight line planning. A team at NASA's Earth Science Project Office (ESPO) and the aircraft crews have been busily working to ensure that the instruments are ready to be loaded on the plane, flight clearances are in place, hangers are ready and sufficient for the planes to use, hotel reservations are made, airports are open, divert airports are nearby in case of bad weather, cargo is shipped, the science and instruments teams have flight reservations and passports, cold weather gear is assembled, food is available, internet is set up, and the list goes on and on. These behind the scenes logistics and preparation make for a successful field campaign.
While ESPO was dealing with the logistics, the IceBridge science team and I were tasked with planning flight lines. The Greenland ice sheet and the Arctic Ocean are large areas to monitor. Our aircraft cannot fly everywhere so the science community works together to decide where to fly, when to fly, and how often to fly. Flight decisions are made though a consensus process conducted by teleconferences and meetings with groups of scientists who specialize in studying sea ice, the Greenland ice sheet and ice sheet modeling. Most of the scientists are trying to answer one of the following questions: How are changes in the Greenland ice sheet affecting sea level rise? What changes are occurring to the Arctic sea ice extent and thickness? And in the future, what changes should we be preparing for as the Greenland ice sheet and Arctic sea ice cover change?
Each community of scientists requests specific areas where they want data, and each community desires a specific instrument to take their measurements. In many cases there is overlap in flight lines and instruments and in some cases there is not. Throughout this campaign you will hear about specific flights and the scientific reasons they were flown. Some flights will focus on sea ice, others will overfly glaciers that are changing rapidly and some will overfly scientist working on the ground so results can be extrapolated over a larger area. The IceBridge flight plans are designed to meet the needs of many within a limited amount of time. Flight line planning started in January and was just completed last week. John Sonntag, who you are sure to meet later in the campaign, is the master flight line designer and keeps the aircraft on track for making important scientific discoveries.
Well, I hope this gives you a bit of a flavor for the work that has been occurring by computer, phone and desk to get the Greenland 2010 Campaign up and flying. Next stop Thule, Greenland, with a transit flight that — weather dependant — was designed to monitor a small portion of the southeast Alaskan glaciers and the Arctic sea ice on a transect across the Arctic Ocean.