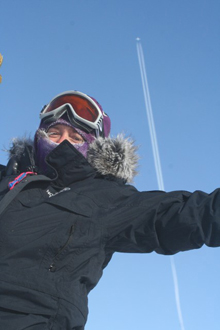 IceBridge mission planners plot some flight lines to match the location — and sometimes the timing — of measurements collected on the ground or from satellites. This "ground-truthing" technique helps scientists calibrate and interpret air- or space-based measurements. On April 14, IceBridge flew along a previous track from the Ice, Cloud, and land Elevation Satellite (ICESat), while at the same time scientists at Summit Camp collected ground-based data. Christina Hammock and Sonja Wolter share some images from the event, and provide a look inside the life of a "Summit Camp techie."
We had been anticipating this flight for almost a month because we were timing some ground-truthing measurements to coordinate with the flight (more below). We had near-daily contact with John Sonntag for a few weeks prior to the flight over Summit Camp. It took a while, but both the weather and the logistics finally came together for the flight on Wednesday, April 14.
Sonja Wolter(right) from Summit Camp in Greenland was working in the field when NASA's DC-8 passed overhead. Credit: Christina Hammock
Summit Camp is a research station dedicated mainly to atmospheric and climate research. There are only five people on station during the winter months, which is divided into three phases, late August to early November, early November to early February, and early February to late April. During the summer (late April to late August), the station population goes up to 25-50 researchers and support staff (starting a week from today with the arrival of an LC-130 bringing about 25 people – ack!)
Our crew includes a Station Manager — Ken Keenan; a heavy equipment operator — Geoff Miller; a power plant mechanic — Luke Nordby; and the two of us — the Summit science technicians. When we have an involved task like the IceBridge coordination, everyone helps get us out the door.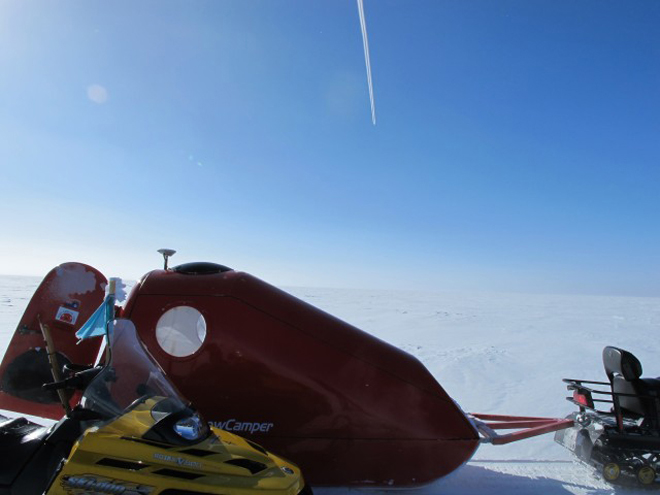 Gear for the IceBridge and ICESat transect at Summit Station included two snowmobiles, an emergency snow camper, a GPS system and a bamboo pole to make the measurement. Credit: Sonja Wolter
As science techs, we carry out and maintain all the ongoing experiments at or near camp. One of these experiments is the ICESat transect, which is (or was) a ground-truthing measurement for the now-defunct ICESat. The Summit ICESat transect is a zigzagging path of bamboo poles that underlies one of the swaths of the icecap that an ICESat overpass used to include. Once per month, we manually measure the snow depth at the poles and also get exact GPS coordinates at these spots.
To do this, we drive two snowmobiles out and cruise (well, putt putt) along the line poles (at -35 F this week). We don't know for sure, but we're guessing the round trip is about 8 miles, and it takes us 2.5 to 3 hours. Although the ICESat instruments are no longer working, we have carried on with the transect measurements to continue the data set for this snow accumulation study. This month's measurements had the extra bonus of being coordinated with IceBridge for verification of their measurements.
During the winter, the last brush with the outside world (not including the world wide web and telephone, that is) is the Twin Otter flight that comes to pick up the outgoing crew after a week of turnover. So, seeing the NASA DC-8 plane was the first reassurance that people are in fact still out there. Maybe we are geeks, but it was exciting and fun for us to be a part of the IceBridge project.
On April 14, 2010, NASA's DC-8 flew over Summit Camp, Greenland. Credit: Christina Hammock
When not on the ice, Sonja Wolter works full-time as the operations coordinator for NOAA's Carbon Cycle/Greenhouse Gases group in Boulder, Colo. Christina Hammock works in Space Science Instrumentation at the Johns Hopkins Applied Physics Lab in Laurel, Md., and formerly worked in the Laboratory for High Energy Astrophysics at NASA's Goddard Space Flight Center.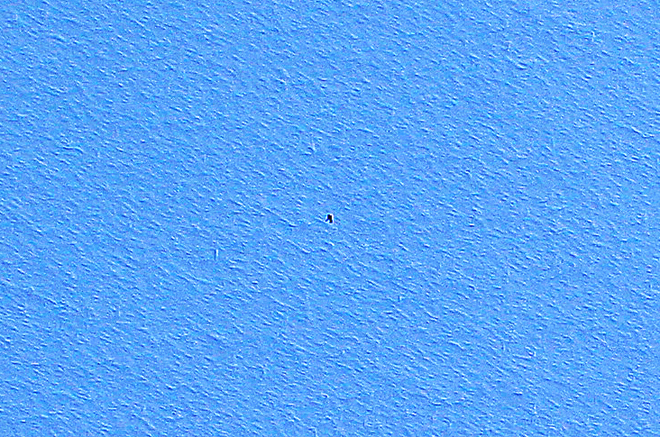 The downward-looking Digital Mapping System camera captured an image of what scientists think is the ground crew from Smmit Camp.Credit: NASA