By George Hale, IceBridge Science Outreach Coordinator, NASA Goddard Space Flight Center
During one of IceBridge's online educational chats we had an interesting question from a fifth grade class in Hanover, N.H. "Are you flying near any volcanoes?" Nearby Iceland is famed for its geothermal activity, with hot springs and geysers, and volcanoes like the one that disrupted European air travel for weeks in 2010 (and caused minor concern for IceBridge mission planners at the same time) by spewing a large cloud of ash into the air.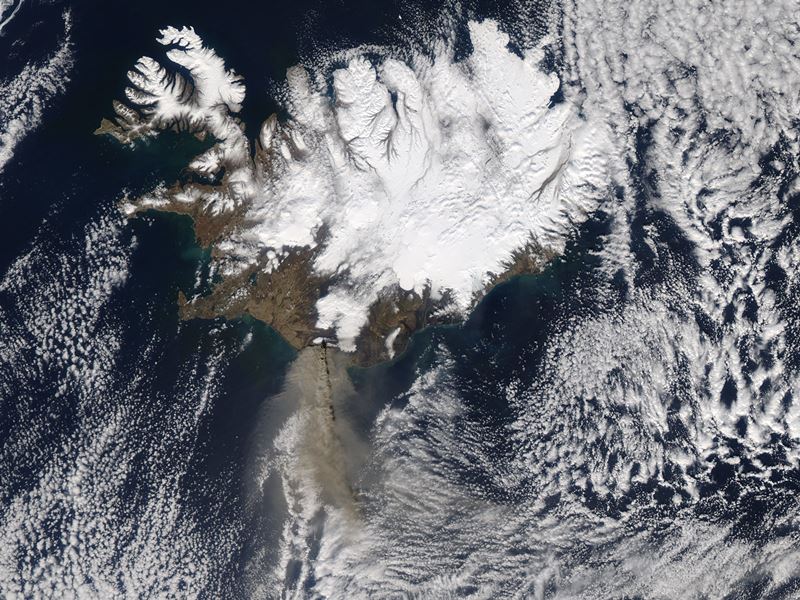 Satellite image of the ash plume from Iceland's Eyjafjallajökull volcano on Apr. 17, 2010. Credit: NASA / MODIS Rapid Response Team
But unlike Antarctica, which has dozens of active and extinct volcanoes, Greenland is not known for having volcanic activity. Getting a handle on Greenland's geology is hampered by the fact that the majority of the island is covered with hundreds or thousands of meters of ice. But geologists in the field who have studied the exposed rock along the coasts and on mountains above the ice found evidence of volcanoes in Greenland's past.
About half of Greenland's exposed surface is made up of rock ranging between 1.5 billion and just over 3 billion years old, making them some of the oldest on Earth. This rock is part of a large formation that spans from Greenland, through the Canadian Shield down to the Hudson Bay. The majority of Greenland's bedrock is thought to be made up of this ancient rock, with portions of it bent and folded by motion of Earth's tectonic plates much like how the Appalachian Mountains in the eastern United States and the Rockies out west were formed.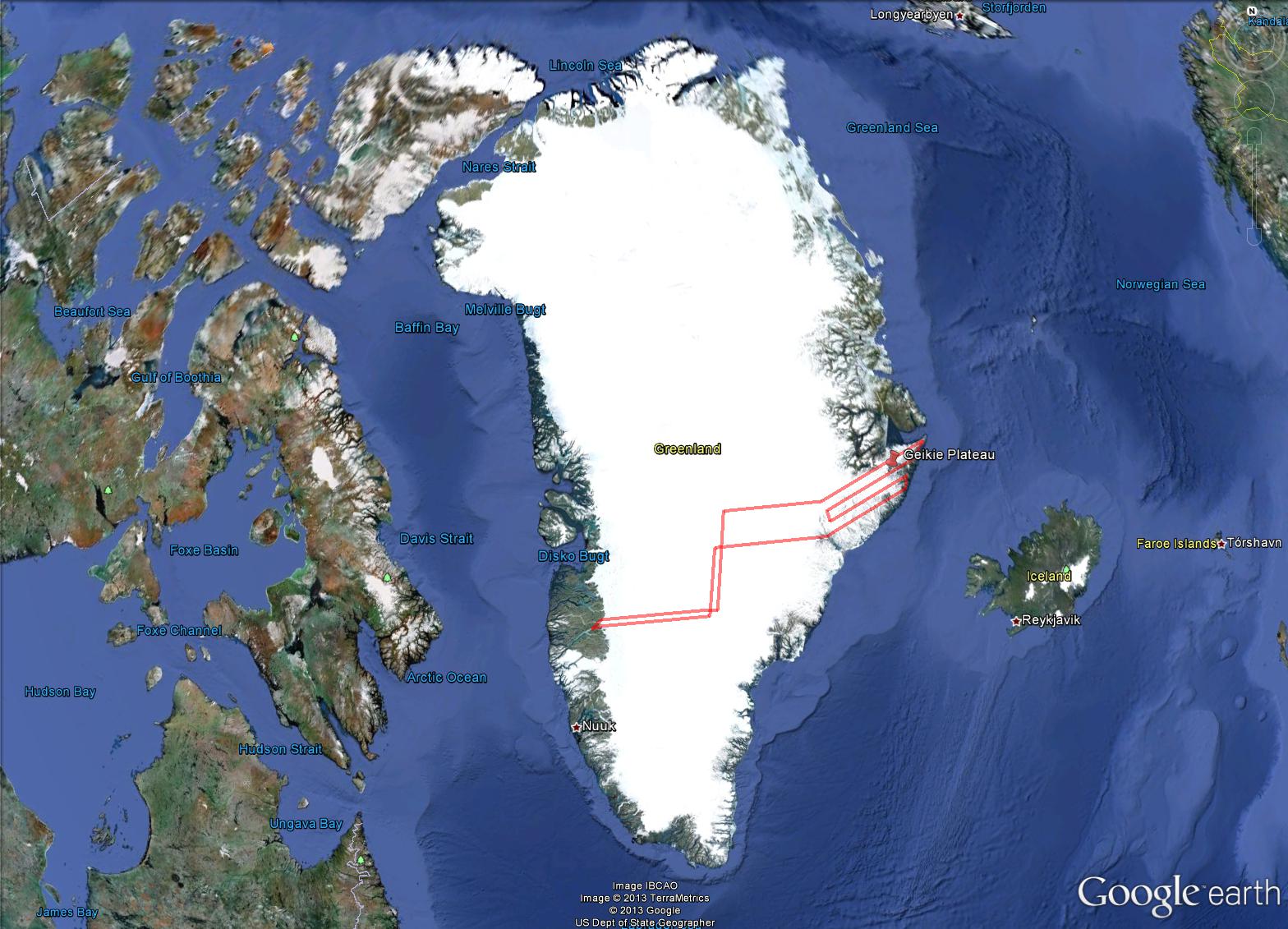 Flight path for Apr. 11 survey of Greenland's Geikie Peninsula. Credit: NASA
Evidence of past volcanic activity can be seen in sediments carried by Greenland's glaciers and in one of the most visually striking geologic features in Greenland, the Geikie Peninsula on Greenland's east coast. And it turns out that this region's characteristic geology has something in common with present-day volcanic activity in Iceland. Both come from molten rock welling up through a ridge in the middle of the North Atlantic Ocean, a boundary where the North American and Eurasian plates are moving apart.
About 60 million years ago, lava from the mid-ocean ridge flooded out over the landscape, creating a rock formation known as a flood basalt. Repeated floods of lava over the years are what give Geikie's jagged peaks their distinctive layer cake appearance. Similar geologic structures can be seen in other parts of the world, like the Columbia River Basalt Group in the western United States.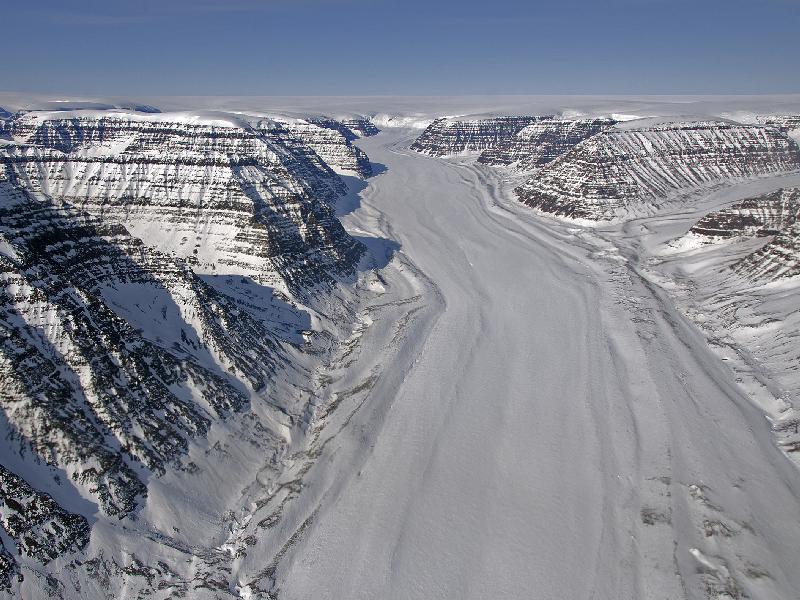 A glacier between mountains on Greenland's Geikie Peninsula. The mountains on the Geikie Peninsula in Greenland consist mostly of flood basalts formed during the opening of the North Atlantic Ocean millions of years ago. Credit: NASA / Michael Studinger
The answer for those students was no, we weren't flying near any volcanoes. But we did get to relate our previous experience with the Iceland volcano (and learn that their teacher had a flight delayed because of the same event), and tell them about volcanoes in Greenland's past.