From: Kathryn Hansen, Science Writer, NASA's Earth Science News Team
Operation Ice Bridge scientists and crew completed 21 successful flights over West Antarctica and returned home in time for Thanksgiving. Still flights over the icy continent continue. Scientists with another field campaign — Investigating the Cryospheric Evolution of the Central Antarctic Plate, or simply ICECAP — are making ongoing airborne investigations over East Antarctica.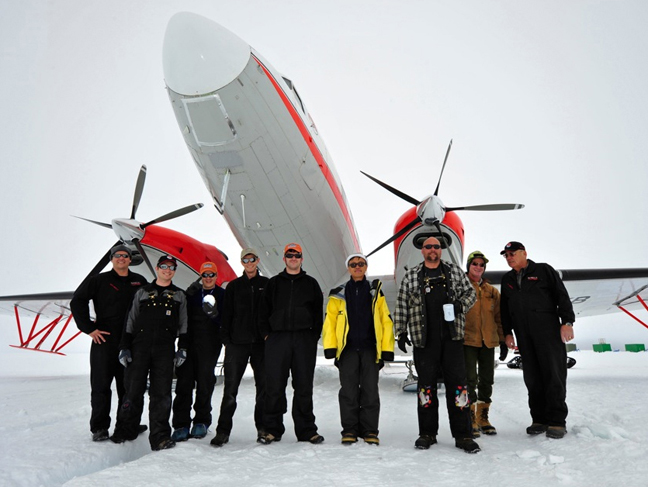 The ICECAP Casey/DDU survey team at Casey from left to right: Dean Emberley (KBA), Jamin Greenbaum (Texas), Jorge Alvarez (Texas), Andrew Wright (Edinburgh), Duncan Young (Texas), Young Gim (JPL), Dave Meyer (KBA), Noel Paten (AAD), Ray Cameron (KBA); not pictured Glenn Hyland (AAD). Credit: Todor Iolovski (Bureau of Meteorology)


ICECAP, for which NASA's Ice Bridge is funding some of the flights, is an international collaboration with principal investigators from University of Texas at Austin's Jackson School of Geosciences, the University of Edinburgh, and the Australian Antarctic Division. The goal is to use airborne instruments to chart ice-buried lowlands,
which could show how Earth's climate changed in the past and how future climate change will affect global sea level
.
Where have they flown and what have they observed? ICECAP's University of Texas researcher Duncan Young provided some updates from the field:
Dec. 8, 2009
Right now we are preparing to begin our shift from McMurdo to Australia's Casey Station via the joint French-Italian base on top of the ice sheet, Concordia, after completing our ICECAP flights out of McMurdo today with Flight 16, right down the maw of Byrd Glacier. Tomorrow we will use our survey plane to move people and cargo to Concordia, surveying all the way, and then return to McMurdo. On Wednesday we will move the rest of our people using our aircraft all the way to Casey from McMurdo. It is a complex multinational ballet, where the timing of weather at locations over 1,250 miles (2,012 kilometers) apart is critical. Then we will begin our ICECAP/Ice Bridge operations out of Casey Station with our Australian colleagues.
Dec. 22, 2009
Using an upgraded DC-3, we have completed five flights, each about seven hours long out of Casey Station, in addition to the 20 flights we completed out of McMurdo Station. Three of these Casey based flights have flown over 2,330 miles (3,750 kilometers) of ICESat tracks, over the rapidly lowering Totten and Denman Glaciers.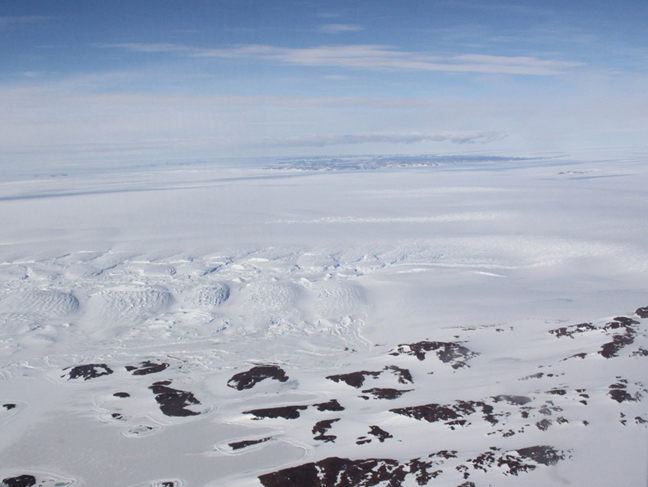 Denman Glacier; Credit: Jamin Greenbaum, University of Texas at Austin

Today we are conducting an ambitious 10-hour flight to finish off our Casey work for this season. We will be flying to Concordia Station in the center of the ice sheet, picking up fuel and base GPS data we have been gathering over the past ten days to help improve our aircraft positions, and thus the surface elevations we have been measuring.
Then we will fly along a 'tie-line' to connect several transects we flew last season to the Dome C ice core. By tracking ice layers in the radar data, we have a chance to find where some of the oldest ice in Antarctica might lie, perhaps more than a million years old. This old ice would contain greenhouse gasses from the past, leading to a better understanding of climate change if it is drilled. The aircraft will then return to Casey station along our last targeted ICESat line along Totten Glacier.
After this flight, we plan to move to Dumount d'Urville Station in time for a French Christmas dinner — if the katabatic winds there allow it …