NASA's Ice, Cloud and land Elevation Satellite-2 (ICESat-2) is embarking on a three-year mission to measure the ice of Earth's frozen and icy areas after a successful liftoff today at 6:02 a.m. PDT (9:02 a.m. EDT) from Space Launch Complex-2 at Vandenberg Air Force Base in California. The spacecraft was delivered to Earth orbit by the United Launch Alliance Delta II rocket, which completed its final launch after 29 years in service.
"With this mission we continue humankind's exploration of the remote polar regions of our planet and advance our understanding of how ongoing changes of Earth's ice cover at the poles and elsewhere will affect lives around the world, now and in the future," said Thomas Zurbuchen, associate administrator of NASA's Science Mission Directorate.
Using its only onboard instrument, the Advanced Topographic Laser Altimeter System (ATLAS), ICESat-2 will gather enough data to estimate the annual height change of the Greenland and Antarctic ice sheets to within four millimeters — the width of a pencil.
The high-resolution data will document changes in the Earth's polar ice caps and improve forecasts of sea level rise bolstered by ice sheet melt in Greenland and Antarctica. It also will help scientists understand the mechanisms that are decreasing floating ice and assess how that sea ice loss affects the ocean and atmosphere.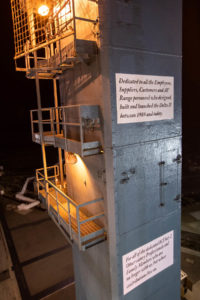 ICESat-2 builds upon the record of ice height measurements started by NASA's original ICESat mission, which operated from 2003 to 2009. These measurements were continued by the agency's annual Operation IceBridge airborne flights over the Arctic and Antarctic, which began in 2009. Data from ICESat-2 will be available to the public through the National Snow and Ice Data Center.
The first ICESat mission launched in January 2003, also on a Delta II from Vandenberg.
"I'm thrilled that we were able to close the chapter on Delta II with a huge success for an incredibly important science payload," said NASA Launch Manager Tim Dunn.
"ICESat-2 is going to do cutting-edge scientific data gathering; the precision measurements it's going to make from space are going to be incredible. So to be able to say we launched this very important science mission on the final flight of the industry workhorse is just a huge accomplishment for the entire team," he added.
A host of small satellites, known as CubeSats, also were carried into space aboard the Delta II. The Educational Launch of Nanosatellites (ELaNa) XVIII payload included University of Central Florida's  SurfSat; California Polytechnic State University's DAVE (Damping and Vibration Experiment); and UCLA's ELFIN (Electron Losses and Fields Investigation (ELFIN) and ELFIN-STAR (Spatio-Temporal Ambiguity Resolution). The CubeSats, which flew inside Poly Picosatellite Orbital Deployers (P-PODs) mounted to the rocket's second stage, were successfully deployed on time, more than an hour after liftoff.
For further information on the ICESat-2 mission, visit https://www.nasa.gov/icesat2.