From:  Haley Smith Kingsland, Stanford University Earth systems master's student specializing in environmental communication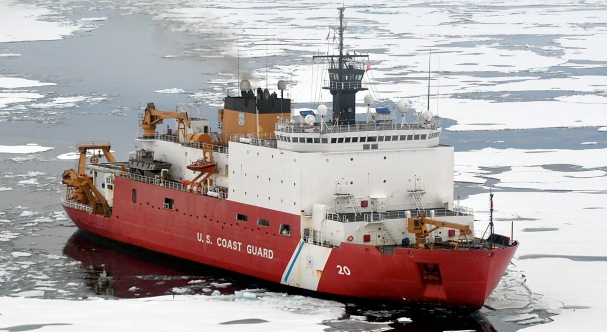 ICESCAPE is a multi-year project sponsored by NASA to determine the impact of climate change upon the health of the Arctic Ocean. Many of you are probably familiar with the story of the polar bears' loss of habitat due to earlier, longer melt seasons and declining sea ice. But decreasing sea ice is expected to affect more than charismatic marine mammals. How will tiny organisms such as sea ice algae respond to the changing Arctic climate? How will global warming impact the Arctic's food web dynamics and carbon cycle? How will new atmospheric interactions between molecules, aerosols, and clouds affect chlorophyll concentration?
ICESCAPE's interdisciplinary research approach integrates satellite remote sensing, numerical ecosystem modeling, and NASA's first dedicated oceanographic research cruise. ICESCAPE's two field campaigns will occur during spring/summer 2010 and summer/fall 2011.
On June 15, the USCGC Healy (photo above) will depart Dutch Harbor, Alaska, for its passage north through the Bering Strait to the Chukchi and Beaufort Seas. Along the way, forty-three members of the science team will sample 50-100 stations and even disembark for extended periods to work on the sea ice. They'll study everything from the Arctic Ocean's optical properties to phytoplankton physiology.
The 420-foot-long icebreaker Healy can plow through 4.5 feet of sea ice continuously. Manned by an 85-person Coast Guard crew, the ship is equipped with six science labs, a polar library, and two HH-65 helicopter hangars. At the end of the first expedition on July 21, the Healy will steam back into port in Seward, Alaska. Coupled with satellite data and numerical models, the Healy's field observations will allow scientists to make connections between the atmosphere, ocean, and sea ice in order to broaden our understanding of Arctic Ocean ecosystems.
According to ICESCAPE's chief scientist Kevin Arrigo, "NASA has assembled an excellent team of researchers for ICESCAPE and I am very excited to be part of this unique opportunity to learn more about the changes taking place in this fascinating but vastly understudied environment."
On this blog we'll post regular updates from the science teams, and you'll hear from a wide range of people involved in ICESCAPE. We hope you'll enjoy the voyage with us!
Learn more at both the ICESCAPE and Healy websites.
(Photo credit: U.S. Coast Guard photo by Petty Officer Patrick Kelley)