From: Haley Smith Kingsland, Stanford University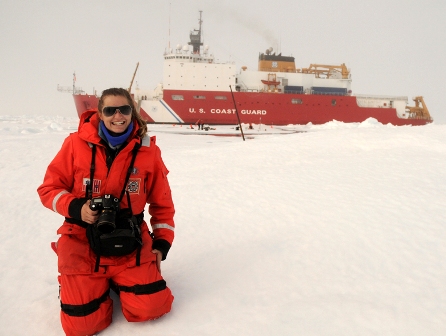 Haley Smith Kingsland (Photo by Karen Frey)
60° 7' 155" N, 149° 25' 532" W, July 24 — The fog lifted as the Healy steamed through Resurrection Bay ahead of schedule Wednesday morning. We pulled into port just before noon, enough time for both scientists and Coast Guard crew to disembark in Seward and readjust to the motionless ground beneath our feet, moving automobiles, fresh salads, the smell of flowers and vegetation, cell phone service, and other civilians!
Wednesday night, Bonnie Light (University of Washington) and I watched the colors of the sunset intersect the moon from the Healy's helo deck. We spoke about the incredible amount of effort to reach the Arctic, a place so difficult to convey through prose or imagery.
"Sea ice may as well be the moon," Bonnie said. We were already craving it — and the alternate reality of life aboard a ship — just hours after docking in port.
Among the many other aspects of icebreaking I'll miss are walruses, polar bears, CTD casts, fresh-baked desserts, steel-toed boots, and 24 hours of sunlight. On top of daily lab work that consumed at least a third of my waking hours at sea, blogging for so many loyal and curious followers has been an honor. I wish I had had more time to tell you even more about our Arctic research and phenomenal Coast Guard hosts! Thank you for reading, commenting, and supporting ICESCAPE 2010!