July 7, 2011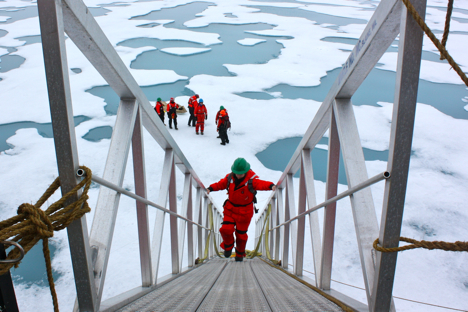 The first set of sea ice stations is a wrap! Christie Wood, of Clark University, walks up the ship's brow after finishing the collection of water samples at ICESCAPE's third ice station on July 6, 2011. Credit: NASA/Kathryn Hansen
As we headed north to each ice station (blue dots) the average thicknesses of the ice floes steadily increased from 0.76 meters, 1.03 meters to 1.2 meters. Ecologists on board are excited by what they're seeing. Just because a part of the ocean is covered by ice doesn't mean that microscopic life can't thrive!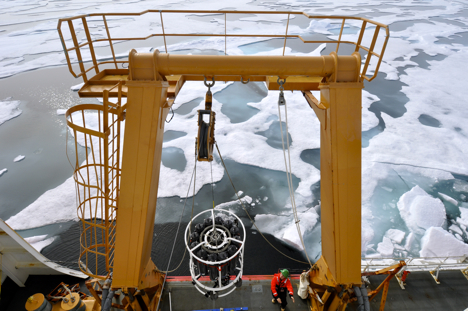 The Healy is now heading south to hammer out more ocean stations, but we're not out of the ice. Scientists had to wait for an opening through which they could lower the rosette/CTD device. Credit: Gert van Dijken/Stanford University
The rosette/CTD device, which collects water samples and measures its physical properties, has been recently turning up high concentrations of chlorophyll peaking close to the surface and decreasing at depth. We'll continue collecting ocean ecology, chemistry and optics information through the rest of the week and possibly start another series of ice stations by Sunday.
In the meantime, ever wonder what scientists on board do with their limited downtime? Courtney Schatzman of Scripps Institution of Oceanography (left) and Alessandra Santiago of Stanford University (right), practice for ICESCAPE's first non-annual cribbage tournament!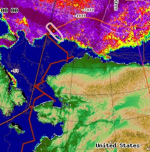 Ship Position at 2011/07/07 23:46:50
Long: 167 15.405 W   Lat: 73 7.932 N