A Northrop Grumman Pegasus XL rocket launched NASA's Ionospheric Connection Explorer, or ICON, satellite at 9:59 p.m. EDT on Oct. 10 from Cape Canaveral Air Force Station (CCAFS) to study the dynamic zone in our atmosphere where terrestrial weather from below meets space weather from above.
The satellite was attached to the Pegasus XL rocket, which hitched a ride on the company's L-1011 Stargazer aircraft. Once the aircraft reached an altitude of 39,000 feet, the rocket was dropped, with ignition occurring five seconds after.
"This is a fun launch. In my operational function, this is about as good as it gets," said Omar Baez, launch director in NASA's Launch Services Program. "The anxiety level is higher, the adrenaline is flowing, but what a cool way to fly."
Originally targeting a 9:30 p.m. drop, NASA and Northrop Grumman determined to bypass the first drop attempt due to a loss of communication between ground teams at CCAFS and the Stargazer.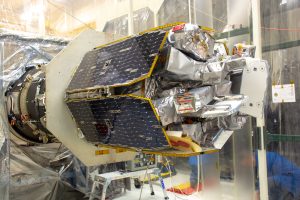 "When your launch pad is moving at 500/600 miles per hour, things happen," said Baez. "The first attempt got us because we lost positive communication with the aircraft and the ground, and our rule is to abort the flight and go back around and try it again. And we were able to execute it flawlessly."
The region of space where ICON will conduct its study – the ionosphere – comprises of winds that are influenced by many different factors: Earth's seasons, the heating and cooling that takes place throughout the day, and bursts of radiation from the Sun. This region also is where radio communications and GPS signals travel, and fluctuations within the ionosphere can cause significant disruptions to these critical technologies.
As a response to the recent scientific discovery that the ionosphere is significantly impacted by storms in Earth's lower atmosphere, Northrop Grumman designed, integrated and tested the ICON satellite under a contract from the University of California Berkeley's Space Sciences Laboratory. NASA's Launch Services Program at Kennedy is responsible for launch service acquisition, integration, analysis and launch management.
The ICON mission is part of NASA's Explorer Program managed by the agency's Goddard Space Flight Center in Maryland for the Science Mission Directorate in Washington, which aims to provide frequent flight opportunities for small- to medium-sized spacecraft that are capable of being built, tested and launched in a shorter period of time.
ICON is expected to improve the forecasts of extreme space weather by utilizing in-situ and remote-sensing instruments to survey the variability of Earth's ionosphere. The mission also will help determine the physics of our space environment, paving the way for mitigating its effects on our technology, communications systems and society.
Learn more about NASA's ICON mission and mission updates at: