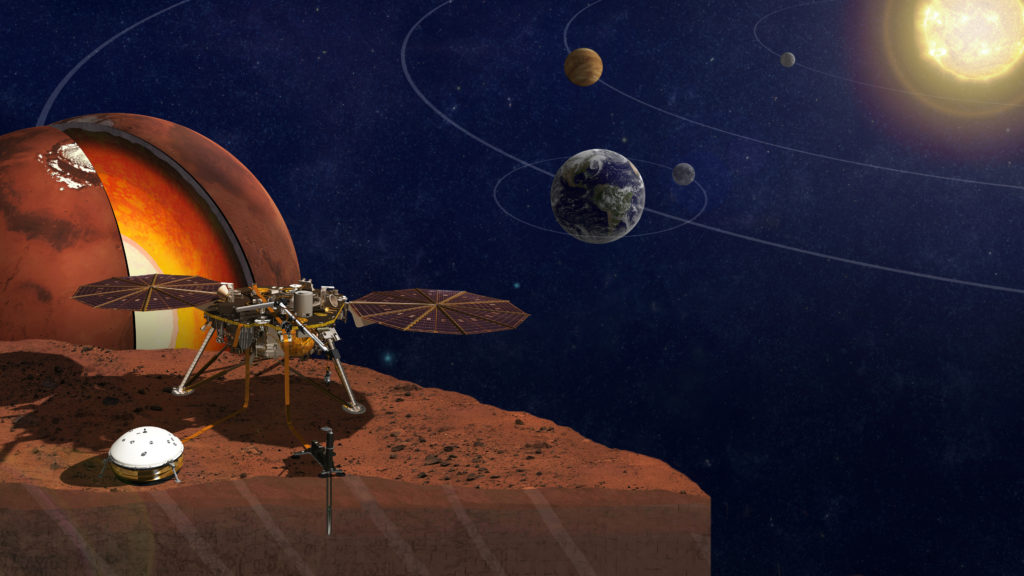 With only two days remaining until the scheduled launch of NASA's Interior Exploration using Seismic Investigations, Geodesy and Heat Transport (InSight) spacecraft, launch and mission managers will hold a prelaunch briefing today, May 3, at 4 p.m. EDT (1 p.m. PDT) at Vandenberg Air Force Base in California.
Watch the InSight Prelaunch Briefing live on NASA TV at www.nasa.gov/nasalive.
Prelaunch briefing participants are:
Jim Green, chief scientist, NASA
Bruce Banerdt, InSight principal investigator at NASA's Jet Propulsion Laboratory
Tom Hoffman, InSight project manager at JPL
Annick Sylvestre-Baron, deputy project manager for the InSight seismometer investigation at France's space agency, the Centre National d'Études Spatiales
Philippe Lognonné, InSight seismometer investigation lead at the Institut de Physique du Globe de Paris in France
Tilman Spohn, investigation lead at the German Aerospace Center (DLR) for the Heat Flow and Physical Properties Probe (HP3), an instrument on InSight
Andrew Klesh, MarCO chief engineer at JPL
Anne Marinan, MarCO systems engineer at JPL
Stu Spath, InSight program manager at Lockheed Martin Space Systems
Tim Dunn, launch director with NASA's Launch Services Program
Scott Messer, ULA program manager for NASA launches
Michael Hough, commander of the 30th Space Wing at Vandenberg
1st Lt. Kristina Williams, weather officer for the 30th Space Wing
Meteorologists with the U.S. Air Force 30th Space Wing predict a 20 percent chance of favorable weather for liftoff of a United Launch Alliance Atlas V rocket carrying NASA's InSight spacecraft. The overall probability of violation will be 80 percent with the Range Safety constraint of launch visibility being the only area of concern. Launch is scheduled for Saturday, May 5 at 7:05 a.m. EDT (4:05 a.m. PDT) from Space Launch Complex 3 at Vandenberg Air Force Base in Central California.