Students! What's in Your #NASAMoonKit?
Steps are being taken to land the first woman and the next man on the Moon, and we asked our NASA interns: what would you pack for a trip to the Moon?  Here is what our #NASAinterns family have created!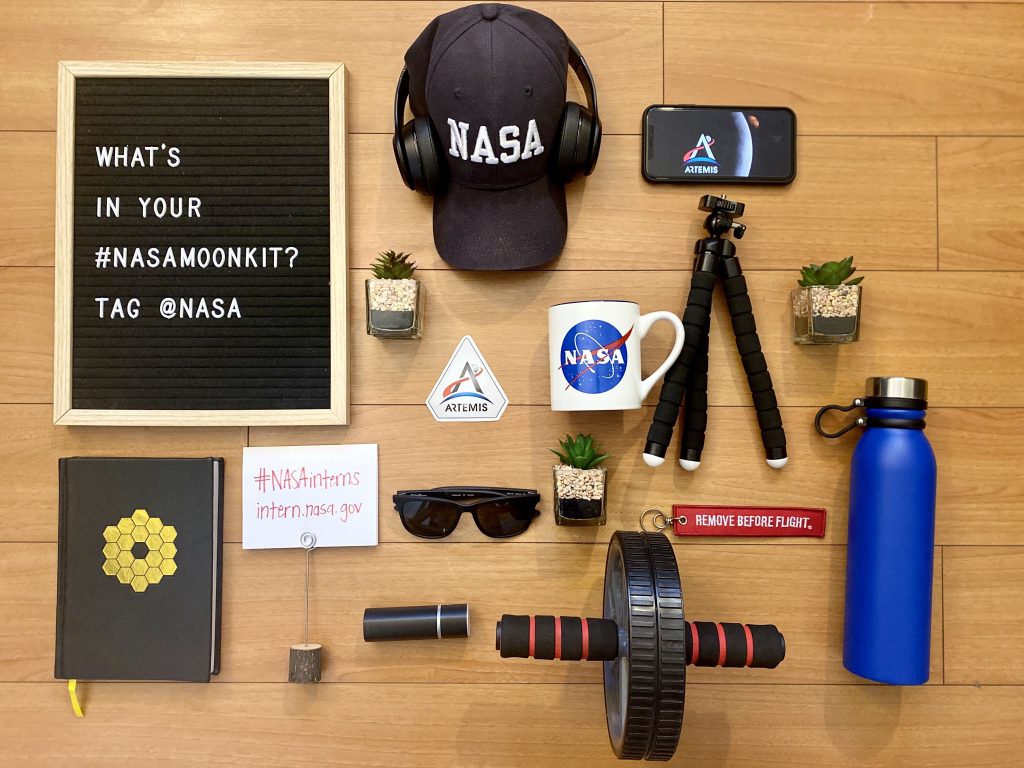 Name: Abel Morelos (Coordinator)
Center: Ames Research Center 
Description: Coordinator pack to inspire the Artemis Generation!
Name: Cassidy Matlock
Center: Johnson Space Center 
Description: Creativity + health on the Moon.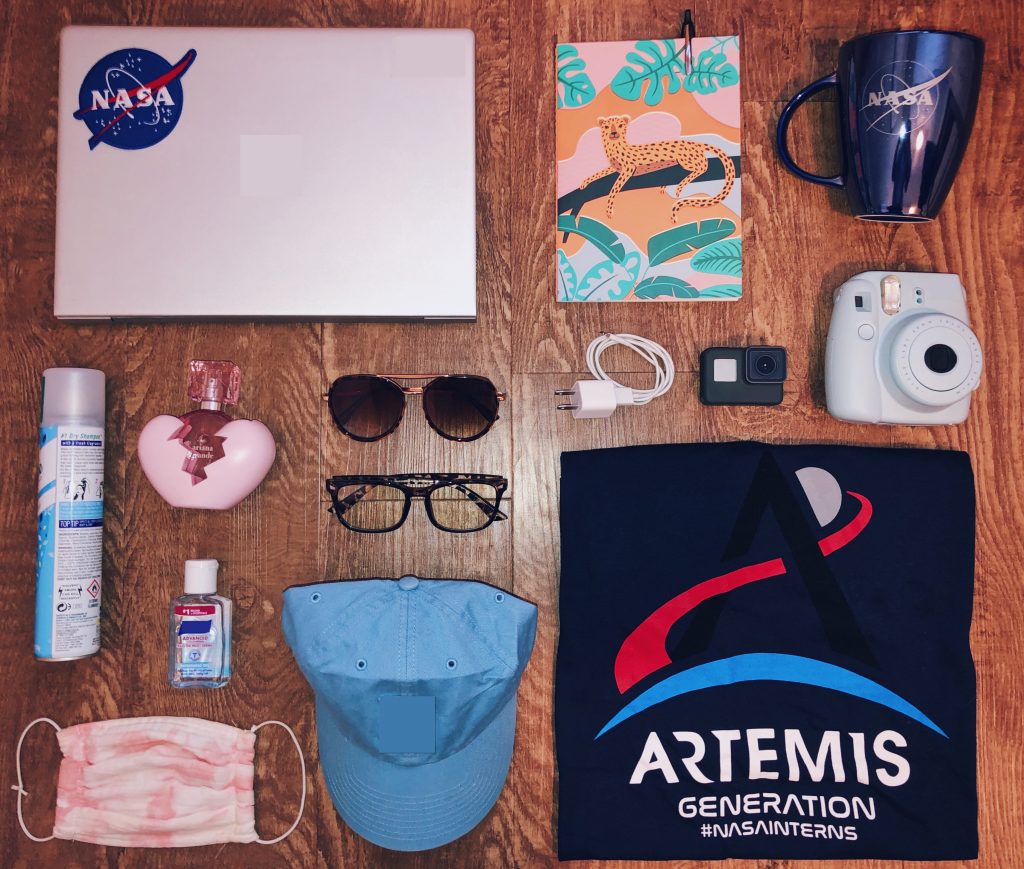 Name: Courtney Golman
Center: Kennedy Space Center 
Description: I included the essentials: hand sanitizer and mask, dry shampoo, and of course Ariana Grande perfume. I also included my favorite items for work: coffee, laptop, glasses, and notebook, as well as all my cameras to capture the out of this world views!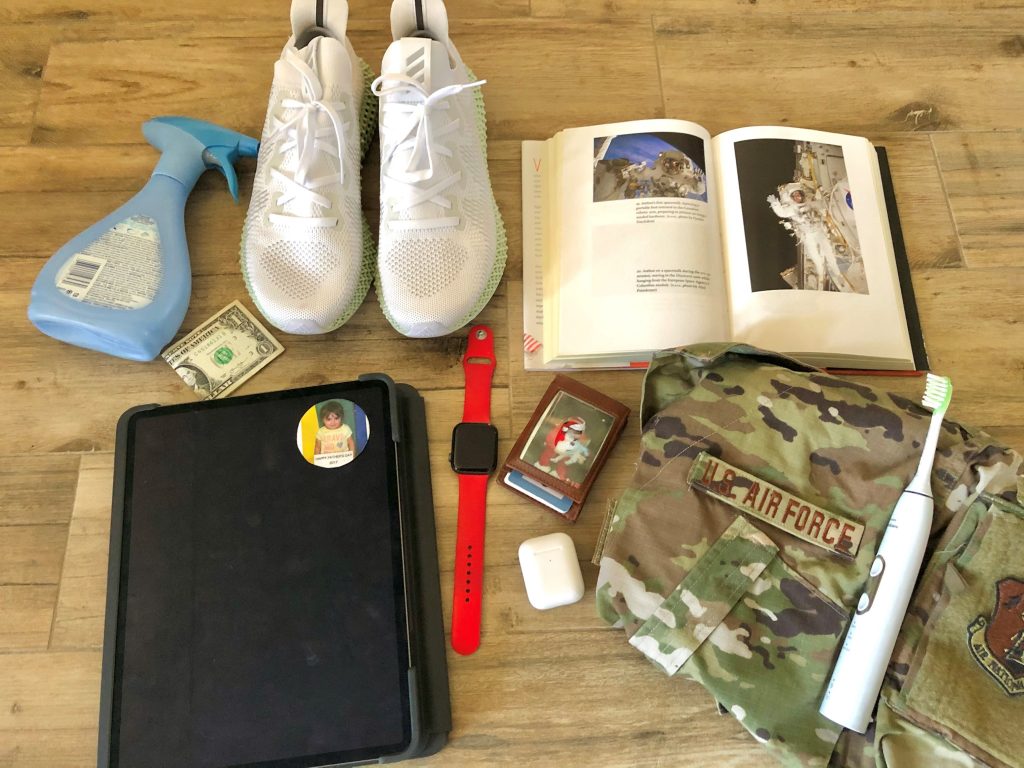 Name: Don Richmon Caluya
Center: Johnson Space Center 
Description: From home, to deployment, to NASA, and now to the Moon!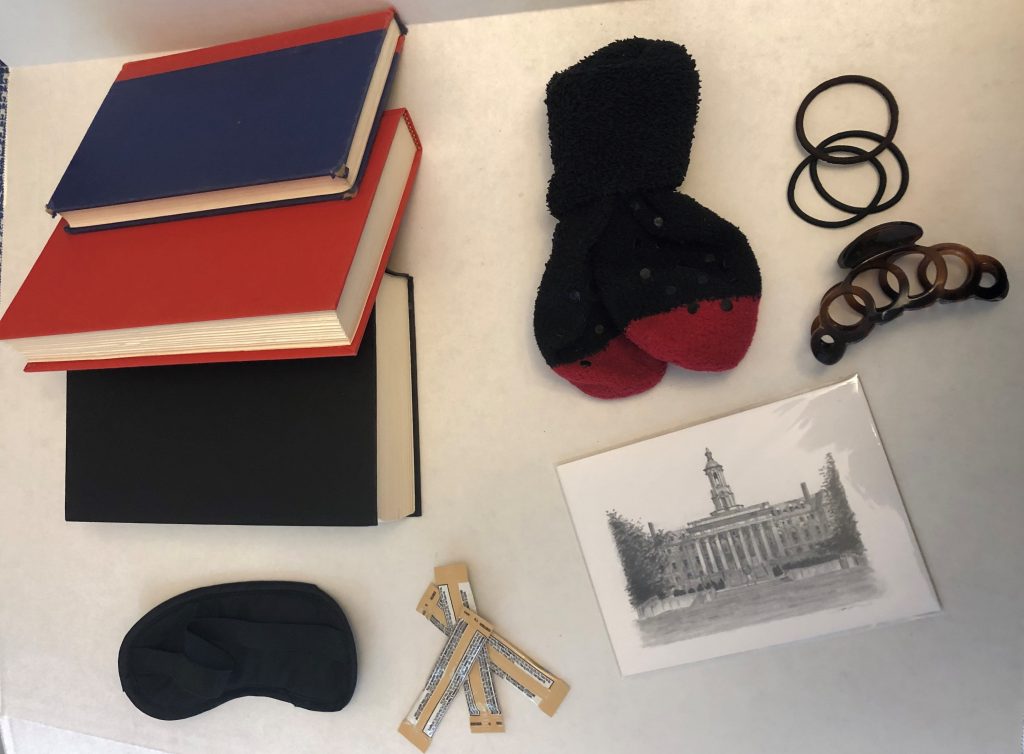 Name: Gabrielle Barone
Center: Headquarters 
Description: I would bring books (I'll bring as many as I can!), fuzzy socks, hair ties/hair clip (because if there's zero gravity my hair will be going everywhere!), lemon iced tea mix (for water bottles), sleep mask, and a picture of a landmark at my college (also my hometown).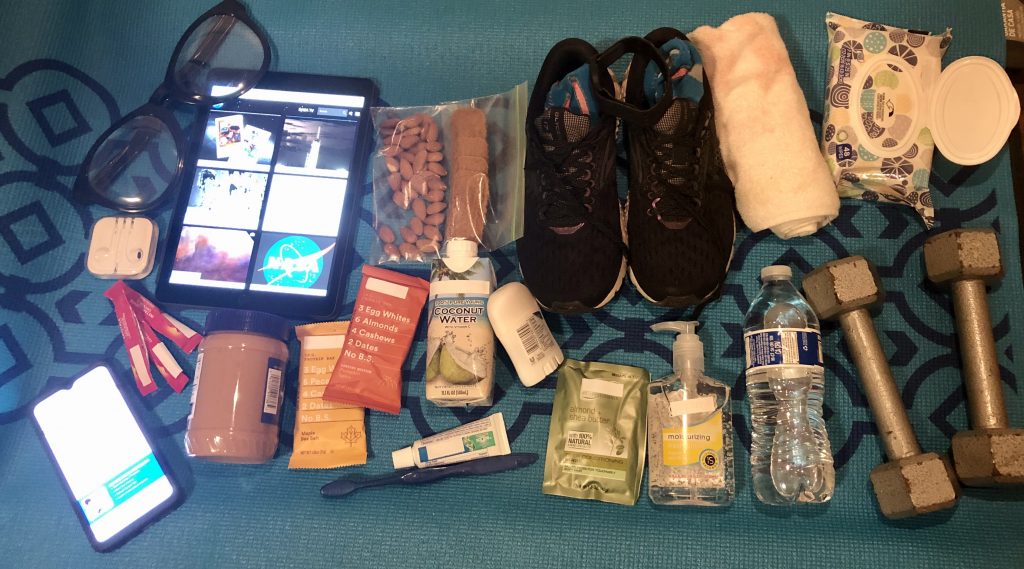 Name: Jennifer Becerra (Coordinator)
Center: Johnson Space Center 
Description: Connected to fitness on the Moon.
Name: Jeremy Trujillo
Center: Johnson Space Center 
Description: Imagine rock climbing in 16.6% Earth's gravity! I'll need all my gear for that, plus a few essentials…
Name: Julia Lang
Center: Goddard Space Flight Center 
Description: I would bring a good book, a sketchbook/journal along with my drawing set, a cozy NASA sweatshirt, and my 10 week old kitten, Frannie!
Name: Katherine Herrick
Center: Johnson Space Center 
Description: Artemis in practice – the making of a Rocket Woman.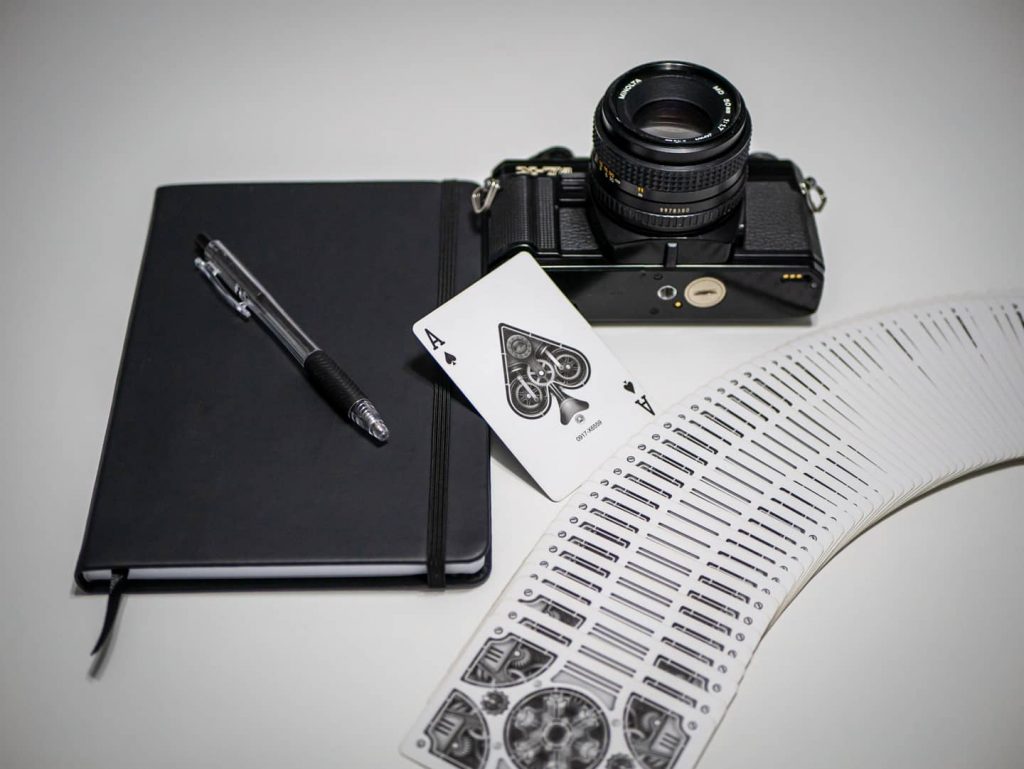 Name: Mark Edwards
Center: Wallops Flight Facility  
Description: If you're on the moon you have to log your thought and what you see but it's also a great time for some low gravity cardistry.
Name: Shane Tolentino
Center: Johnson Space Center  
Description: As an illustrator, most of the items in my moon kit are art related! I decided to bring a set of small markers, my favorite black marker, and my favorite ball point pen along with a small sketchbook. My phone was the next obvious item, as it holds all of my favorite e-books, music, and photos of my friends and family. I also decided to bring my lucky pocket knife, my favorite lip balm, and of course, a charger for both my phone and earbuds!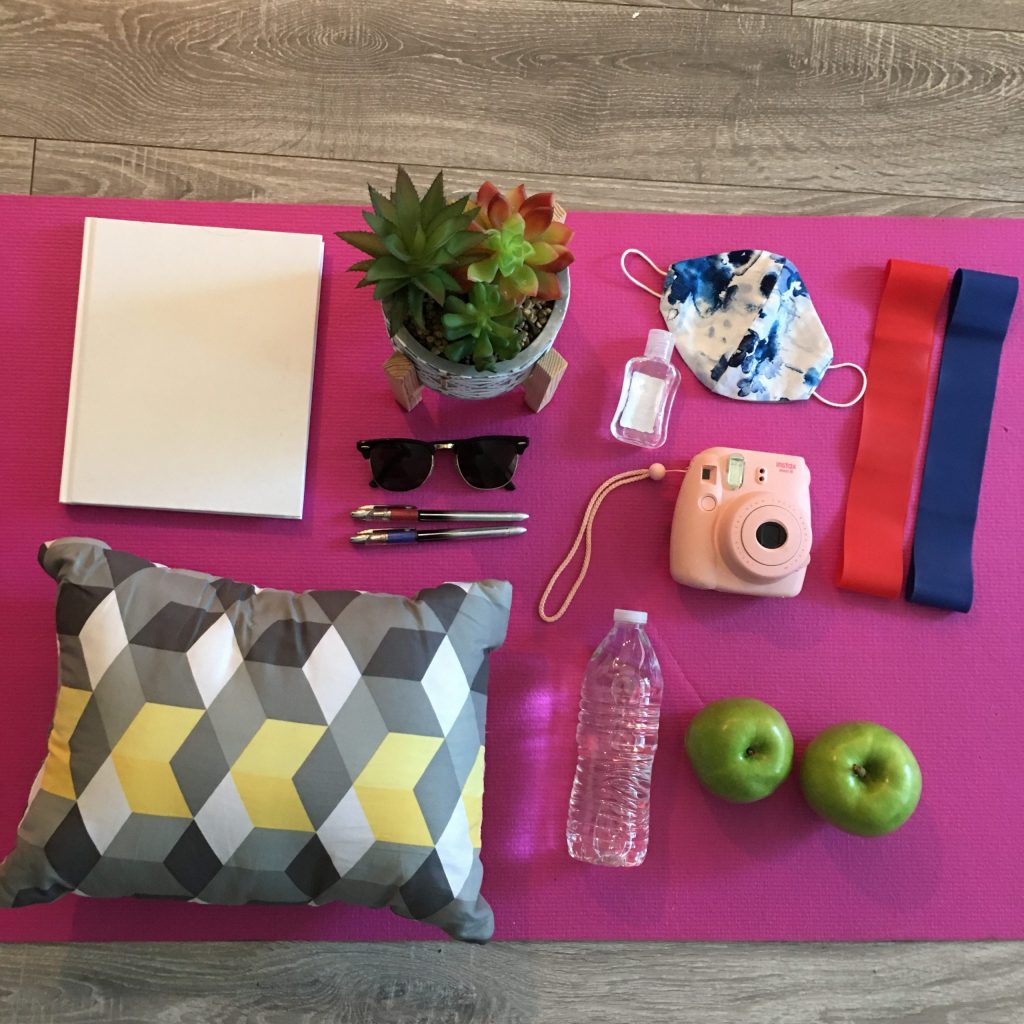 Name: Ramona Barajas Villar and Dayana Contreras
Center: Armstrong Flight Research Center
Description: When traveling to the moon one must bring essentials.
Name: Trevor Brownlow
Center: Stennis Space Center
Description: By bringing mementos such as a vintage NASA astronaut toy, an Apollo 11 button pin, and various Artemis/SLS/Orion trinkets, I sought to balance historical appreciation with enthusiasm for new journeys. For entertainment, I have a portable tablet and two sets of playing cards. A notepad and journal are on hand for introspective moments. A chocolate chip energy bar and my favorite chocolate candies are also in my kit to enjoy. With a small photo of my dog Winnie and a toy turtle representing my town, I will carry symbols of home to the Moon. Astronaut Snoopy is also along for the ride!
Join the fun! We invite you, members of the Artemis Generation, to share your excitement by thinking about what you would pack for the Moon! What can't you leave the planet without? Is it your camera? Your drawing pad? Or maybe your musical instrument? How would you organize everything you need for your next giant leap?
Show us what's in your suitcase with the hashtag #NASAMoonKit! Learn more: https://www.nasa.gov/nasamoonkit.
Interested in NASA Internships? Learn more by visiting https://intern.nasa.gov/.