By Ramona Barajas-Villar
Women's History Month: Recognizing some of our intern leaders
At NASA we celebrate Women's History Month by recognizing some of our interns and their contributions to NASA.  Karen Mae Baldonado. Karen is an intern at NASA's Langley Research Center and a senior at the City College of New York where she studies Mechanical Engineering.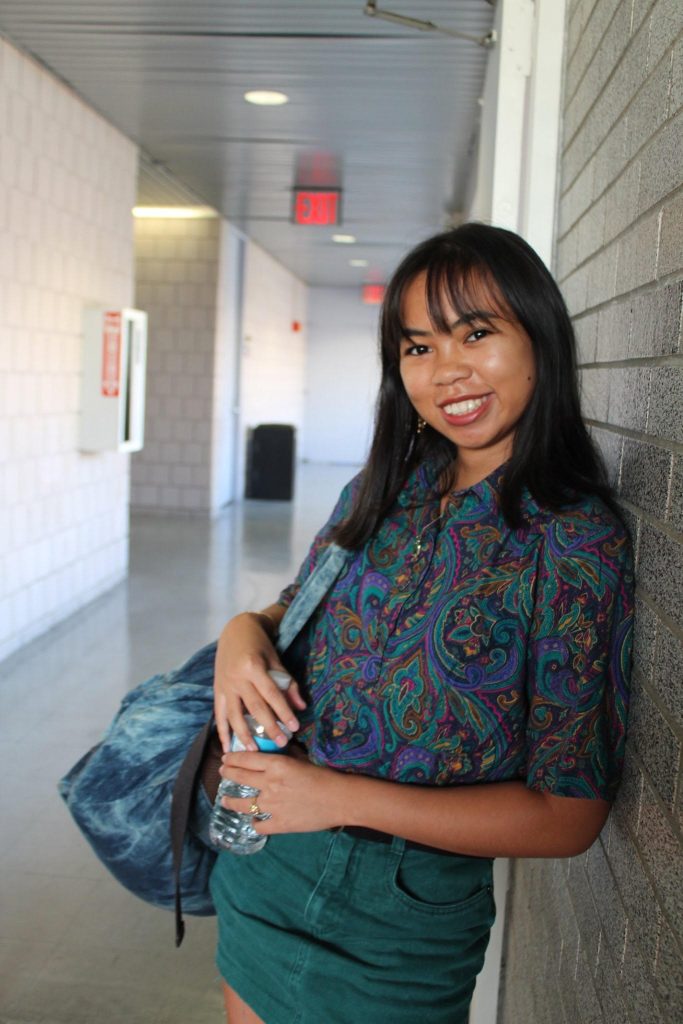 Tell us about your intern journey to NASA or anything you would like to share.
Throughout my academic career, I wasn't sure what sector I wanted to go into after college. I was always interested in space as a kid, but as I got older it seemed like having a career in space was out of reach. I didn't know any women in the space sector, let alone any women in engineering careers. As I was looking for internships in my senior year of Mechanical Engineering, with no prior internship or even job experience, I decided to take a chance and apply to NASA, not expecting anything but knowing I tried. I was surprised to end up with offers to two different NASA internships! I work everyday in school and in my NASA internship to make sure the work I am doing is the best possible work I can do, for NASA and the communities I represent- women in STEM, my school the City College of New York, and women of color. More than anything I want more women in STEM and more women in NASA. I want to make sure by excelling in my engineering major and interning at NASA, that not only do I create a path for younger women to follow, but that there will be younger women to follow. I want more women in STEM to see their worth and go after what they really want, like I did.
What is your role on your current project?
I study Entry, Descent, and Landing on different planetary bodies for entry vehicles, focusing on a rover that uses tensegrity. This rover is designed by my mentor and team. For EDL, I conduct different simulations to examine the system analyses of the rover. My work focuses especially on Titan and Mars.
How does your project tie into the Moon To Mars mission? The Artemis program? Any other NASA mission?
My work for this project is able to determine different system modules for Entry, Descent, and Landing on any planetary body. It can be applied to the Moon or Mars. For my project, one of the planets I focus especially on is Mars. Furthermore, a rover that uses tensegrity is ideal for entering planetary bodies with higher risks, such as a rougher surface or atmospheric conditions that aren't ideal, as the design of the rover allows any way of landing to be an optimal position. The rover is able to adjust itself to any surface, able to go over big craters for example, and thus is a possible rover for future missions to further planetary bodies or the Moon and Mars. 
How are you staying connected to other interns? NASA employees?
I joined PAXC on Discord and Teams and enjoy learning about others through the discussions on Discord. I also join the Networking sessions hosted by Langley Research Center's Intern Coordinators.
What student organization (school, community, etc.) has helped you develop professionally in your STEM/non-STEM journey?
The Society of Women Engineers in my school City College of New York played a big role in my STEM journey. Their meetings contain a lot of valuable lessons and information. Their greatest contribution to my STEM journey is their meetings where they brought people who have worked or work with NASA. I've learned from past NASA interns and current NASA employees. Hearing about their stories is what pushed me to apply to NASA in the first place. Being around other women engineers with big aspirations also greatly contributed to my STEM journey. My school's American Society of Mechanical Engineering club also greatly helped me develop professionally in my STEM journey. ASME has taught me not only about Solidworks and Computational Fluid Dynamics lessons that I haven't learned in class, but also the "how-to's" of internships, interviews, and jobs. Their lessons were especially helpful for my NASA applications and interview!
How do you feel interning during #CountdownToMars?!
Interning during the #CountdownToMars has brought an experience I couldn't get elsewhere. I'm not just someone who happens to be alive during this event, but I'm someone who actually gets to hear from the people who worked on Perseverance and NASA directly. NASA has held events for their interns to learn about the work put into Perseverance. I'm getting a chance I couldn't get elsewhere or at any other time and I'm extremely grateful for that!
Provide a quote about how you feel about your role at NASA.
At NASA, I feel like I belong regardless of my identity. I know I'm here because of what I have achieved and because of my passion to work at NASA. The work I am doing is important and is not just busywork. At NASA, I'm learning so much from my project but also by asking questions, never feeling scared to show I don't know something. One of my greatest hopes is that my work here as an intern will inspire younger women to go towards a career in STEM.