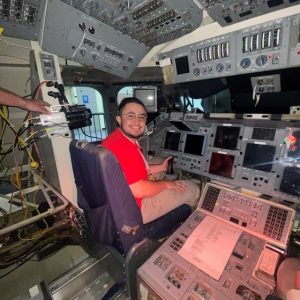 My name is Jorge Arturo Levario-Delagarza and I am proudly from El Paso, Texas. To give a bit of insight about me, I lived in different parts of Mexico for few years as a toddler before my parents moved to Dallas, Texas where I grew up. Currently attend the University of Texas at Arlington majoring in Mechanical Engineering and minoring in Biomedical Engineering. 
Being the oldest child and first in my family to go through the United States school system has been a learning curve for my whole family. As a first-generation student, I have learned to adapt to the culture and environment of a new country growing up since my parents grew up in a different country in a different environment.  
Growing up, I remember my grandpa was a NASA enthusiast despite never having visited. My NASA concept as a kid was that NASA was a place where rocket scientists in lab coats and astronauts worked on top secret projects that went to outer space. I knew NASA was an awesome place, but even as a kid, I had a mental barrier that NASA was unattainable. 
My Background
My journey to a NASA internship has not been linear. I was not initially accepted into UT-Arlington and had to write a letter of appeal to be reconsidered. I started in the lowest level math class, college algebra, while working full time. After moving around between Uber driving and working as an undergraduate teaching assistant in the UT-Arlington College of Engineering, I went to a conference that changed my life, the Society of Hispanic Professional Engineers (SHPE) National Conference in Phoenix. This conference opened my eyes and set off a lot of dominoes. 
After the conference, I became an active member in SHPE UT-Arlington chapter where I gained leadership experience serving as Community Outreach Director, Vice President, and eventually President. I currently serve 40+ SHPE chapters as a Vice Regional Student Representative. 
Through SHPE mentors, I knew I needed technical experience, so I trained my SOLIDWORKS skills to become a Certified SOLIDWORKS Associate in Mechanical Design. After reading "An Inside Account from Curiosity's Chief Engineer", I made a life changing decision to join the UT-Arlington ROVER Team. Committing all this time gave me the opportunity to eventually serve as Mechanical Arm Lead and even Chief Mechanical Officer. Most rewarding part was when we as a team qualified for the University ROVER Challenge (URC) for the first time in 4 years. UT-Arlington was one of 15 out of 88 teams worldwide to qualify for URC 2021.  
Getting to NASA
After this wild ride at URC, I got selected for my first ever internship at Lockheed Martin Missiles and Fire Control which only took me 200+ engineering internship rejections and 4 years in college to achieve. 6 months later, I saw an announcement posted on LinkedIn by a NASA mentor. I directly messaged him my resume and portfolio of the projects I had worked on during undergrad. After several interviews within a week, I got the call that I got a NASA internship while I was with my SHPE UT-Arlington group in Orlando, Florida. Sometimes, the stars really do align!  
Next Steps
I plan on completing my education at UT-Arlington while supporting projects at NASA. My future goals are to eventually become a USAF test pilot, a US Navy Diver, attain a Masters or PhD in Mechanical Engineering, with the end goal to work on Artemis projects full-time at NASA. While my experience getting to NASA has definitely not been linear, there's always an opportunity for those who persevere and get to work. 
Want to learn more about NASA internships or some of our amazing interns? Visit us online for the latest internship opportunities that are available to both high school and college students. Be sure to check out our guide on How You Can Prepare. Or, read more stories about our amazing interns at the NASA Internship blog. For more information on NASA internships or learn about other amazing NASA intern stories, visit us online at nasa.intern.gov. 
 Written by: Megan Hale