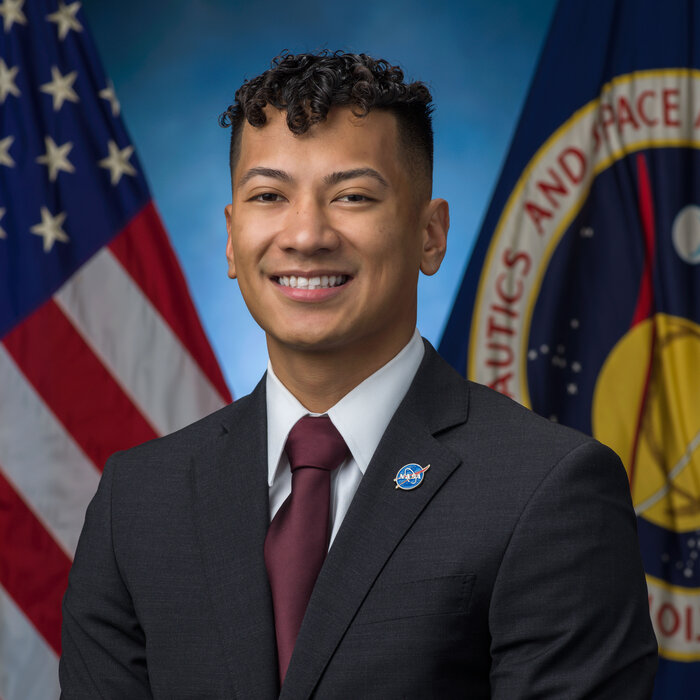 What is an aspiration? According to Webster, an aspiration is the "strong desire to achieve something high or great." While to some, there is nothing higher or greater than the stars. For Jetro Gallo, a Pathways Intern at NASA's Johnson Space Center, his aspirations go even further by learning as much as he can now so that he can help others through eventual leadership and mentorship opportunities.
From the Beginning
Gallo's professional background starts off in the Marine Corps. Serving as a platoon sergeant, he found that the most satisfying and fulfilling things was to give back to others. In one instance, he nominated a junior marine to receive a Navy and Marine Corps achievement medal. After going through the process, the nomination was accepted and approved and Gallo got the opportunity to present the medal at a ceremony. Gallo remembers the marine being stunned but thankful to see that he was recognized for his work.
Current Aspirations
Gallo's path to NASA goes through the Pathways Internship program. This program offers a direct pipeline to full-time employment at NASA upon graduation. His first work rotation was in the ISS Procurement Office where he had a great amount of support from his mentors.
Once he becomes proficient at his job, he aspires to become the Manager or Deputy Manager of a whole office one. He believe these roles will satisfy a fulfillment in me to give back to others. During his time, he wants to develop a deep sense of understanding himself in terms of leadership and his abilities to provide ways to inspire, motivate, and propel the whole teams to move forward. This is all propelled by his drive to constantly find ways to continue growing, developing, and improving for the honor of serving the teams who look to him so that he can make sound judgments to propel NASA forward in all the agencies' goals.
A Look Into the Future
So, what does the future hold? For starters, Gallo wants to fix the gap of students not thinking that they are capable. He also wants to help showcase their young minds so that they can achieve great things and spark their interest in the aerospace industry. Another aspiration of his is to establish a school in my birth country (Philippines). He would love to give back to birth country of the Philippines to inspire, motivate, and provide opportunities for the young citizens in his poverty-stricken province by assisting with their education.
How to Be a NASA Intern
What's your aspirations? If you aspire to be a NASA Intern, check out our website for the requirements and application deadlines. For a head start, we created a piece on the 10 things you can do to prepare for a NASA Internship. Or check out our blog for more inspirational stories of all the amazing things our NASA Interns do.