Women's History Month is a time to highlight and celebrate the extraordinary women whose legacies empower women today in the pursuit of their dreams.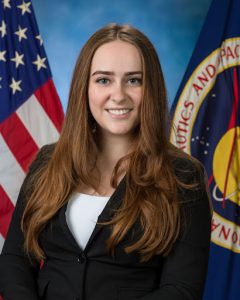 "It wasn't always this easy for women to learn STEM and be respected in this field, so I am eternally grateful to the women that paved the way for me to have a career at NASA," Fourth Year Biomedical Engineering student Sofia Williams said.
Williams views this month of remembrance as a time to not only highlight the trailblazing women from the past who broke ground for females at NASA, but also reflect on the women at NASA today who are tirelessly working to mold the next generation. Throughout her time at NASA, Williams has met countless women who have helped shape her own development. However, the woman who Williams admires the most at NASA is her internship mentor, Brandale McMahan. 
 "Brandale is in charge of leading the xEMU suit tests and is a highly critical part of verifying that our suits will be ready for our upcoming Artemis missions," Williams said. "Every day that I worked with her, I was in awe of how she commanded the tests and led our team with ease and grace. She has always welcomed me at NASA and made me feel like my voice was heard and skills were valued. I hope to one day lead teams and advance projects like Brandale does."
 NASA internships provide an avenue for students to learn from professionals in their chosen field and to gain confidence in their own abilities. One of the key elements of NASA internships is the practice of mentorship. Mentors challenge interns in their projects while offering them instruction, encouragement, and support throughout their NASA journeys.
"Brandale has significantly influenced my decision to pursue a career at NASA because she helped me to believe that I am capable of being successful here. I was unsure of whether I belonged or could keep up, but after the lessons she taught me and guidance she offered, I know that I will go on to achieve great things."
 Mentors instill self-confidence in their interns by assuring them that their contributions, skills, and perspectives are worth sharing. They play a key role in overcoming imposter syndrome and helping students discover their passions. These inspiring female mentors are not only making history through their own careers and contributions, but molding the next generation of women at NASA by providing direction and encouragement to students.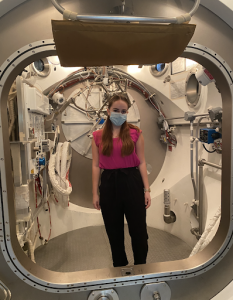 "Being a female at NASA during the Artemis era is empowering and inspirational. For the first time in history, we are planning to send women farther than they have ever gone, and women are a part of the process every step of the way," Williams said. "It is so inspiring to see what women can do when they come together at NASA for a common goal, and I feel so grateful to be a part of it. Having the opportunity to be mentored by such incredible women and work alongside them on projects has been one of my favorite parts of my time on the Artemis spacesuit team. I know young girls and women from all across the world will be watching history unfold during the Artemis missions and feel empowered to set their goals to the moon as well."
Written by: Megan Hale