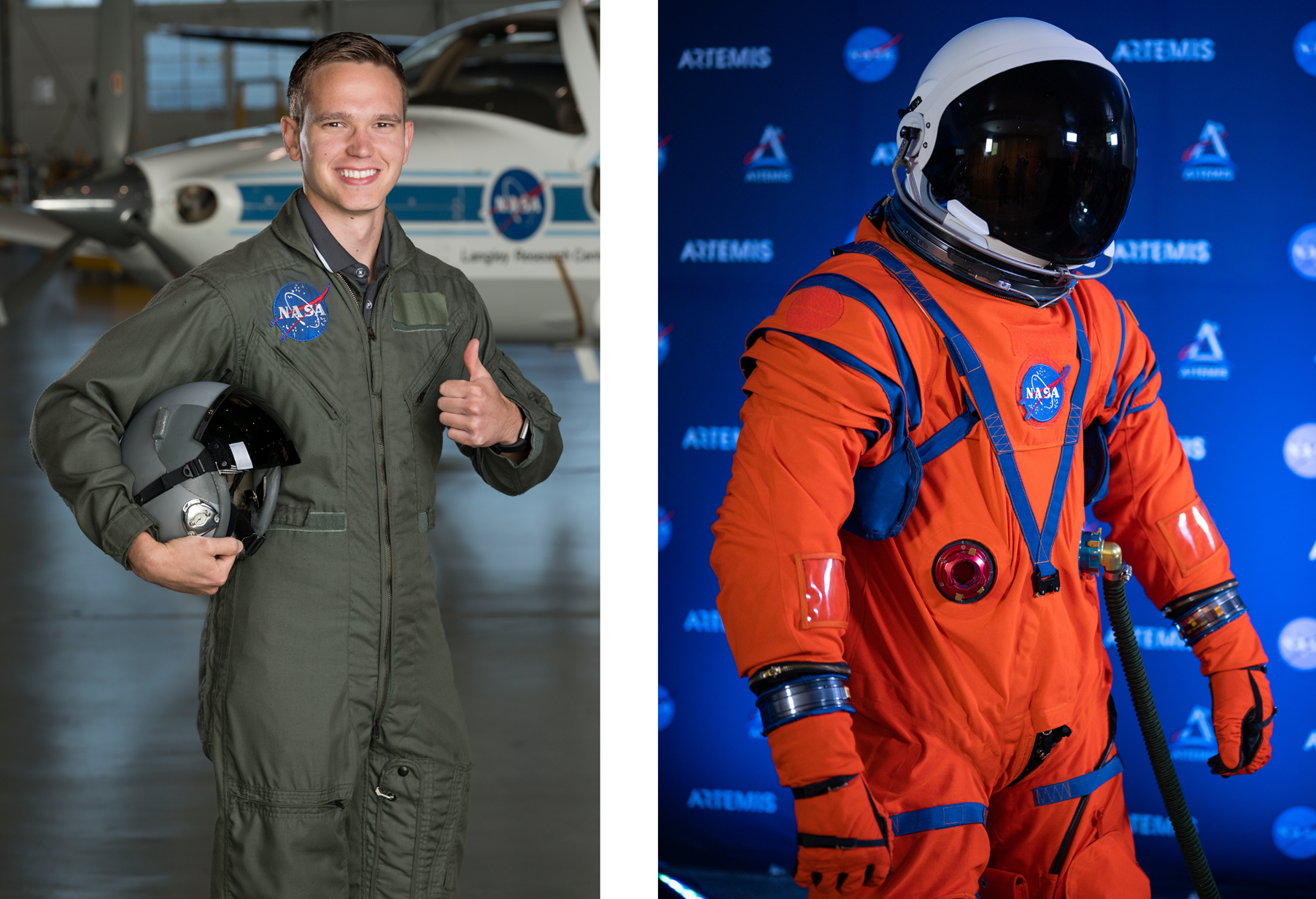 Nicholas Houghton dreamed about becoming an astronaut but initially pursued an internship in the automotive industry instead. He never felt connected to his role, so he decided he wanted to pursue his childhood aspiration with an internship in the space industry. In 2018, after networking with dozens of people to learn about NASA and the application process, he accepted his first internship at NASA's Langley Research Center in Strategic Partnerships Integration.
At NASA
Houghton's next step was the following year at NASA's Johnson Space Center as a Space Suit Engineer intern. He was involved in the Pathways Internship Program: offering a direct pipeline to full-time employment at NASA upon graduation.
Houghton then worked on the Orion Crew Survival Systems team (OCSS): the mission to build the next generation launch and entry suit along with the associated crew survival and recovery hardware the crew uses upon return to Earth.
OCSS
Houghton's projects for the OCSS team include making an ice-based portable cooling unit for the OCSS suit and modifying an Orion seat mockup in the OCSS lab to incorporate a working display and control unit. The portable cooling unit allows the crew to stay cool while going to the launch pad and during the capsule and crew recovery process. The Orion seat mockup mimics the cockpit and control layout found in the Orion Spacecraft and is used to ensure the OCSS suit is properly sized for each crew member.
'The OCSS team is very close, and my team members are always willing to answer questions, teach me about the suit, or help me with my projects,' Houghton said.
One thing Houghton wished he knew before his internship was that NASA accepts interns from every state in the US. 'I grew up in Michigan and I had no idea that working at NASA was a realistic option. I wish I had known that NASA accepts interns from all over the United States,' Houghton said.
With his involvement in the Pathways Internship Program and his recent double degree in Master of Science in Aeronautical & Astronautical Engineering and Industrial Human Factors Engineering at Purdue University, Houghton is set to become a full-time employee at NASA's Johnson Space Center on the Orion Crew Survival Systems team.
Want To Be A NASA Intern?
If you are a US citizen or from a participating country, make sure to visit our website and apply for a NASA internship. You never know where it will take you! Need some advice on applying? Check out the ten things you can do to prepare for a NASA internship. Or, for more inspiration, read about Nylana Murphy, a Navajo Intern Engineer, and her goal to demonstrate to native students that the world is for them.
Carolina Rodriguez, STEM Engagement Communications Intern
Claire O'Shea, STEM Engagement Communications Intern, Editor
NASA Johnson Space Center