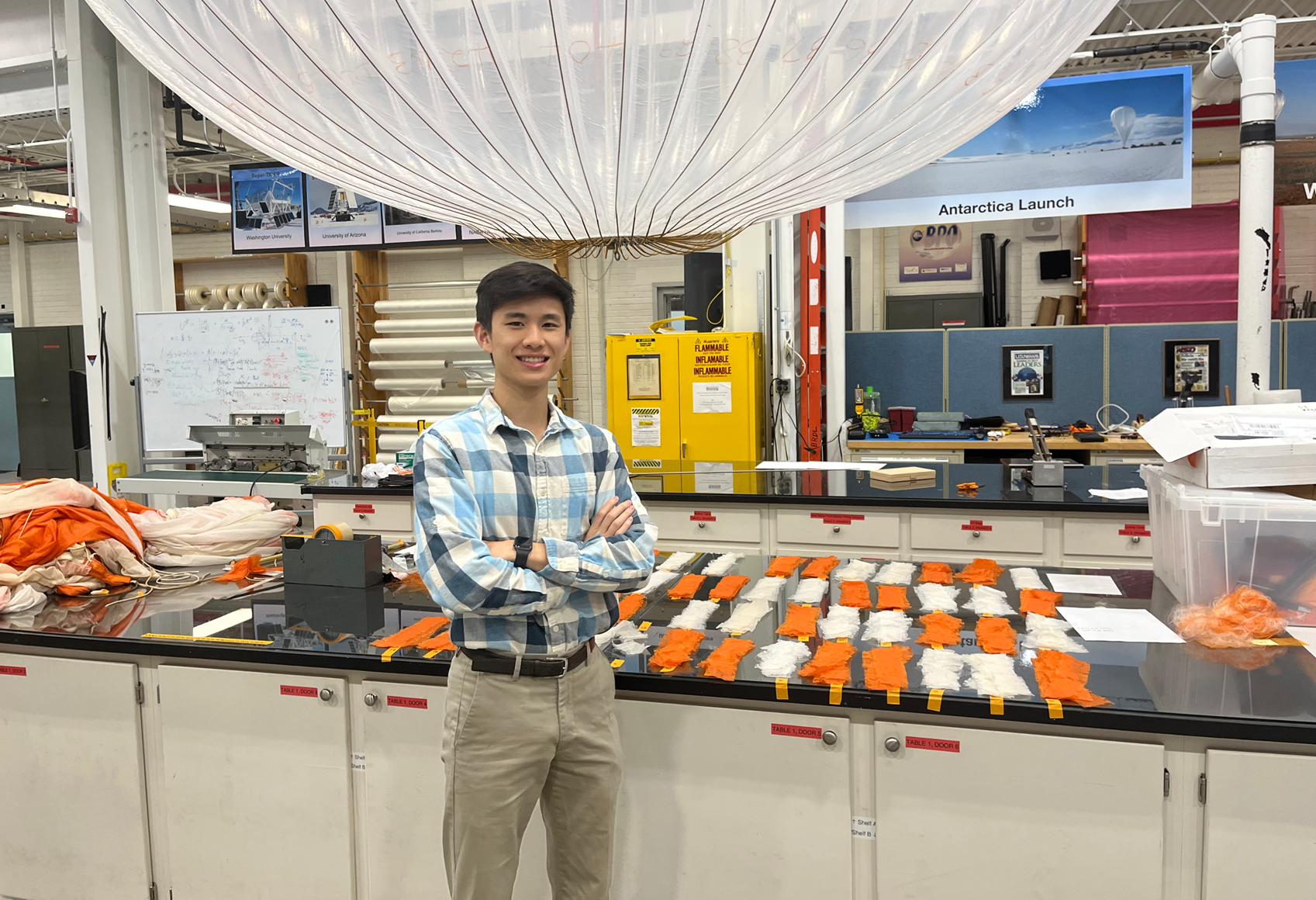 One choice can open many doors and provide the experience of a lifetime. For Andrew Hoang, it was his decision to join a research lab, eventually leading to his internship at NASA's Wallops Flight Facility.
"An experience like no other, I have enjoyed every moment of my time as a NASA intern. I hope to use what I have learned to inspire others to pursue their goals, whether it's applying for an internship at NASA or a dream job," Hoang said.
Discovery
Hoang joined a research lab while studying at UNC Chapel Hill in order to gain experience outside of the classroom. His time in the lab led to a fascination with the effects of the undersea environment on human physiology.
Hoang learned about existing clinical problems such as decompression sickness (DCS), which occurs when dissolved gases form bubbles inside the body. He felt called to find potential solutions.
Hoang's research experience introduced him to medical problems in space. The pressurized environment is one of the causes of DCS. While searching for more information on the space and DCS connection, Hoang stumbled upon NASA internships and decided to apply.
"I believed that obtaining an internship would give me the rare opportunity to connect with world-class field experts to gain invaluable insight in aerospace as well as be at the forefront of research development projects. Therefore, I decided to pursue the NASA internship and make the best of every moment here," Hoang said.
Balloon Research and Development
Currently, Hoang interns at the Balloon Research and Development Laboratory and studies the service life of gondola parachutes used in recovering equipment from high-altitude balloon campaigns.
Hoang determines how much strength in the gondola parachute material is lost following each flight and explores possible solutions to reduce the loss. Reusing the parachute is vital to reduce costs for flight materials, explore other cost-effective avenues for conducting investigations on planetary sciences, and encourage the development and improvement of reusable parachutes.
"Attaining this internship proved that all the meticulous efforts and extra hours I put in to create a holistic application were worth it. I learned a lot about myself as I filled out the application. I have been grateful for the immense support and dedication that my mentors and fellow staff members have given me during my time as an intern," Hoang said.
Mentorship
Mentors, Dr. Sarah Roth and Dr. Christopher Yoder, taught Hoang how to improve his networking skills, connected him with professionals in his future career field, and gave him tips on creating an effective experimental plan for future implementation.
"NASA is a place for everyone of any major and background. If you want to make a positive impact on the world, NASA provides the available resources and opportunities to help you accomplish that goal. Never stop asking questions. Dream big and aim high. Everyone has the capability of making a huge contribution towards the advancement of humankind," Hoang said.
Continue learning about inspiring NASA interns and read about a fellow intern's journey. If you want to be part of the advancement of NASA missions, visit our website to learn about qualifications and opportunities.
Carolina Rodriguez, STEM Engagement Communications Intern
Claire O'Shea, STEM Engagement Communications Intern, Editor
NASA Johnson Space Center