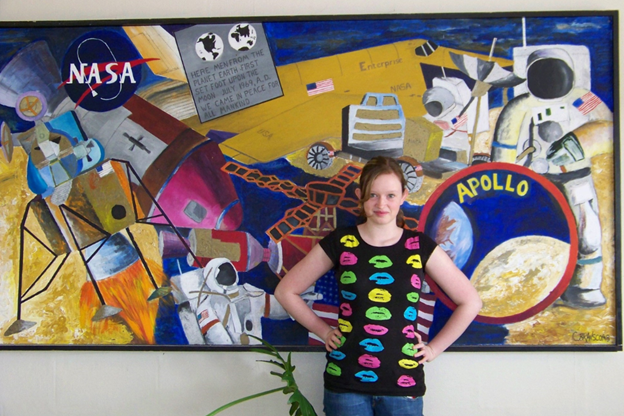 "Failure is not an option." Erica Kriner thought that this quote was a motto that she could live by. She then learned that the quote is a little misleading. "Failure is inevitable; what defines your character is what you do after it happens," Kriner said. 
NASA Fellowship
Erica Kriner recently graduated from Arizona State University with a Bachelor of Science degree in Geography with minors in Sustainability and Anthropology. She is also a former Audio Storytelling NASA intern with a Fellowship from the Goddard Space Flight Center in Maryland. Her primary duty as an intern was to help with scripting and producing NASA's Curious Universe which is a podcast where she told stories about science and the people behind it at NASA. 
NASA Fellowships are competitive awards to support independently conceived or designed research, or senior design projects by highly qualified faculty, undergraduate, and graduate students, in disciplines needed to help advance NASA's missions. This gives them the opportunity to directly contribute to advancements in STEM-related areas of study. The Fellowship opportunities are focused on innovation and generating measurable research results that contribute to NASA's current and future science and technology goals. 
DEVELOP Program
Kriner was also a part of NASA's DEVELOP Program which conducts feasibility studies that bridge the gap between Earth science information and society. These projects help both participants and partners learn more about using geospatial information. Three times a year, participants apply through a competitive application process. Those selected conduct 10-week research projects in interdisciplinary teams of 4-5 people. They work closely with DEVELOP science advisors and mentors to apply Earth observations address to real-world problems. Through this process, participants build both research and science communication skills. These skills and project experience help set them up for success in the workforce. 
In Defeat, I am Defiant.
It's difficult for Kriner to put into words what it means not just to have this internship but even just to be at NASA. She feels like every decision she has made for her future has not just been for herself. 
Those decisions have been for her family: her mother, who raised her young and single, and who had to drop out of college and donate plasma every week just to pay the bills; her grandparents, who opened their home to them and who supported Erica unconditionally, even after she had to come home from college and was at her lowest point. "I'm not just building my legacy here; I'm also continuing their legacies of tenacity, compassion, and resilience. Everything I do is because of them and for them." Kriner said. 
"From the vantage point of hindsight, I can say with certainty that the moments that felt like failure were the moments that made this path possible. I wouldn't be at NASA if it weren't for those initial failures." 
Succeed with NASA like Erica has and apply to be an intern at our website today! Also, feel free to check out Margarita Bassil, a NASA intern who also interpreted her mistakes as lessons to become successful at NASA.