Growing up, I watched the movie Apollo 13 and experienced the adrenaline of "go for launch." I was captivated by the enormous power and massiveness of rockets, awed by the roar and thrill of blast off, and intrigued by the vastness of space. For me, this is what my dreams were made of.
Now, I'm a NASA intern and living my dream. Although it was hard getting here, the journey was a labor of love. Along the way, I've had much help from my mentor, Scott Pleasants, and my parents, LB and Frieda Melton. These people taught me that no one is ever too young to pursue his or her dreams, and encouraged me to pursue my own. Scott, along with my parents, taught me to trust in the doors that God opens, and soon after that my dream of working at NASA became a reality.
During my junior year of high school at the age of 15, I participated in a class held by NASA called Virginia Aerospace Science and Technology Scholars (VASTS). This experience ignited my passion for aerospace and validated my direction and that my dreams are attainable. Graduating as a top VASTS scholar, I was offered the opportunity to go to NASA Langley Summer Academy for a week to develop a mission to Mars. Here, I was with other like-minded students and professionals, pushed myself in new areas, and submerged myself in my dream. Leaving Langley, I was even more determined and focused on becoming an engineer and earning a chance to work at NASA.
After completing several other engineering internships, my chance at NASA came. During the spring semester of my first year of college, my current mentor at NASA, Carlos Alvarado, called to interview me for an internship for fall 2017. I can't begin to say how honored I am to have been chosen as an intern for NASA. From orientation to tours to seeing rockets being built in the Horizontal Integration Facility (HIF) and Vehicle Assembly Building (VAB), I feel like I am a part of something bigger than myself, and that really drives me to work as hard as I can. Just knowing that I can contribute and help advance humankind by ultimately working towards sending a spacecraft to Mars motivates me to diligently work and excel with the material entrusted to me.
For my internship, I am working with the Launch Services Program (LSP) in the Avionics branch. I evaluate vehicle data from commercial launch providers (i.e. ULA, Space X, and Orbital Sciences) and model that information on IRIS and Winplot scripts/pages. The IRIS system and Winplot telemetry monitoring system are in-house developed applications and serve as the primary tools within LSP for real-time vehicle monitoring during launch vehicle operations, launch day countdowns, and data review. The development of IRIS screens and Winplot scripts is intended to capture recent avionics modifications implemented on current launch providers systems. I support a crew of senior engineers to develop an understanding of launch vehicle system/sub-systems, launch vehicle telemetry, data collection, problem solving, and programming. Also, I monitor launch countdowns, test operations for the rockets, and assess anomalies and issues.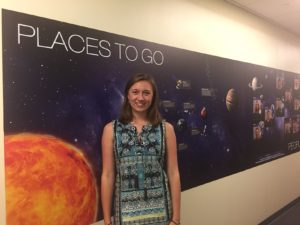 Working with such immense talents and bright minds is inspiring and humbling as well. At eighteen years old, I am the youngest intern in our group for this semester and the youngest in the Launch Services Program Avionics department. I am honored to be here and ready to give NASA my best. Every day, I go to work with a smile on my face, because I think I have the best job in the world.