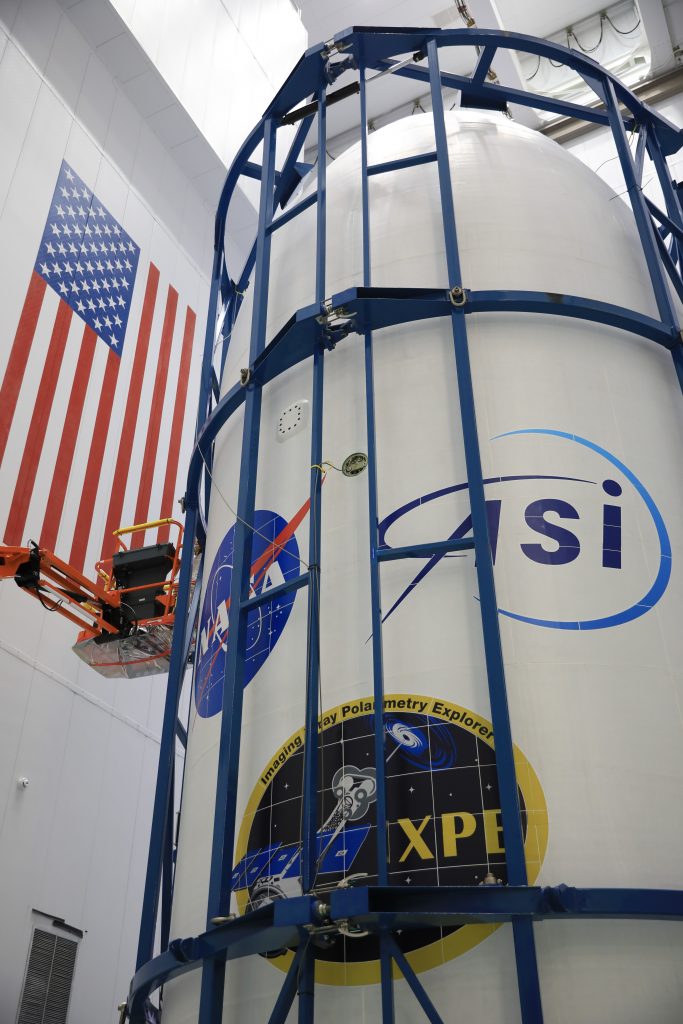 NASA's Imaging X-Ray Polarimetry Explorer (IXPE) spacecraft recently eclipsed multiple key milestones at the agency's Kennedy Space Center in Florida.
Following a series of "aliveness" tests to verify the health of the spacecraft, teams mated the structure to the payload adapter – a ring that interfaces between the spacecraft and the top of the rocket. Next, multi-layer insulation was installed to provide thermal protection for the spacecraft in space.
After items such as optic and sensitive instrument covers were removed, the nose fairing and the spacecraft were brought together, signaling a major achievement in the mission: encapsulation.
"This is when you mate the spacecraft to the rocket, so it's the two halves coming together," said Brett Perkins, launch site integration manager for NASA's Launch Services Program, based at Kennedy. "There are several critical lifting operations of the spacecraft. You have to be very careful and methodical; a lot of hardware comes together during this timeframe."
The mission is scheduled to launch no earlier than Thursday, Dec. 9, at 1 a.m. EST, on a SpaceX Falcon 9 rocket from Launch Complex 39A at NASA's Kennedy Space Center in Florida. IXPE is the first satellite dedicated to measuring the polarization of X-rays from a variety of cosmic sources, such as black holes and neutron stars.
"IXPE is filling a data gap in polarized X-rays, which we don't have a lot of information on," Perkins said. "This mission is a small part of a bigger picture – a bigger effort – to learn more about the universe and how it works."
On Tuesday, Dec. 7, NASA will hold an IXPE payload briefing at 1 p.m. and a prelaunch news briefing at 5:30 p.m. Live launch coverage will begin Dec. 9 at 12:30 a.m. All will be broadcast on NASA Television, the NASA app, and the agency's website.