Weather officials with Cape Canaveral Space Force Station's 45th Weather Squadron predict an 80% chance of favorable weather conditions for Thursday's early morning launch of NASA's Imaging X-Ray Polarimetry Explorer (IXPE) spacecraft from the Space Coast, with the cumulus cloud rule and thick cloud layer rule serving as the primary weather concerns.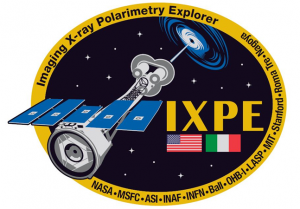 IXPE is scheduled to launch aboard a SpaceX Falcon 9 rocket from Kennedy Space Center's Launch Complex 39A on Dec. 9, 2021, at 1 a.m. EST. IXPE will study the polarization of X-rays coming to us from some of the universe's most extreme sources, including black holes and dead stars known as pulsars.
The launch is managed by NASA's Launch Services Program, based at Kennedy.
On Tuesday, Dec. 7, NASA will hold an IXPE payload briefing at 1 p.m. and a prelaunch news briefing at 5:30 p.m. Live launch coverage will begin Dec. 9 at 12:30 a.m. All will be broadcast on NASA Television, the NASA app, and the agency's website.