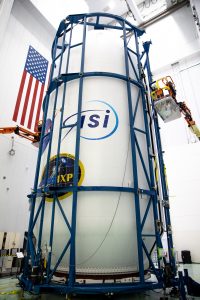 The weather outlook for Thursday's early morning launch of NASA's Imaging X-Ray Polarimetry Explorer (IXPE) spacecraft from Kennedy Space Center bumped up in a positive direction. Weather officials with Cape Canaveral Space Force Station's 45th Weather Squadron now predict a 90% chance of favorable conditions for liftoff, increasing by 10% from a day ago. The cumulus cloud rule is the primary weather concern.
IXPE is scheduled to launch aboard a SpaceX Falcon 9 rocket from the Florida spaceport's Launch Complex 39A on Dec. 9, 2021, at 1 a.m. EST. The launch is managed by NASA's Launch Services Program, based at Kennedy.
IXPE is the first satellite dedicated to measuring the polarization of X-rays from a variety of cosmic sources, such as black holes and neutron stars.
Today, NASA will hold an IXPE payload briefing at 1 p.m. and a prelaunch news briefing at 5:30 p.m. Both will be broadcast on NASA Television, the NASA app, and the agency's website. Live launch coverage will begin Dec. 9 at 12:30 a.m.