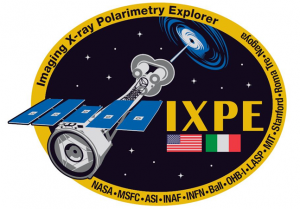 Tune in to NASA Television, the NASA app, or the agency's website, starting in about 10 minutes (12:30 a.m. EST), for live broadcast coverage of NASA's Imaging X-Ray Polarimetry Explorer (IXPE) mission.
Liftoff, aboard a SpaceX Falcon 9 rocket from Kennedy's Launch Complex 39A, is targeted for 1 a.m. EST. The Launch is managed by NASA's Launch Services Program, based at Kennedy.
IXPE will study changes in the polarization of X-ray light through some of the universe's most extreme sources, including black holes, dead stars known as pulsars, and more. The mission is NASA's first dedicated to measuring X-ray polarization.
Click here to learn more about the IXPE mission.