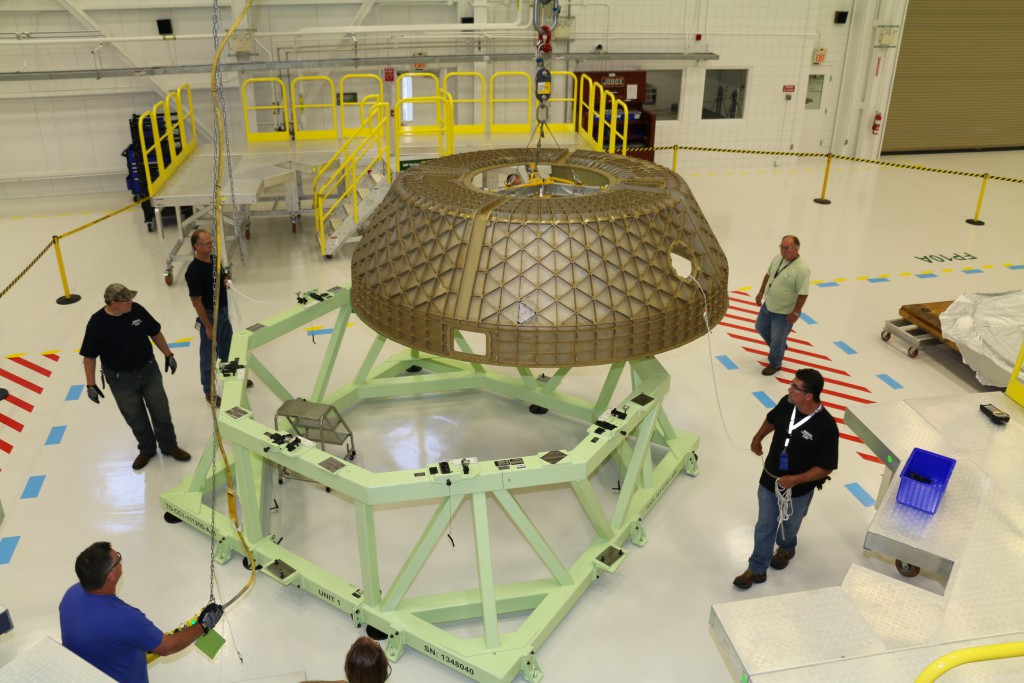 The first two domes that will form the pressure shell of the Structural Test Article, or STA, for Boeing's CST-100 spacecraft have arrived at NASA's Kennedy Space Center. The STA Crew Module will be assembled inside the former space shuttle hangar, known as Orbiter Processing Facility-3, so the company can validate the manufacturing and processing methods it plans to use for flight-ready CST-100 vehicles. While the STA will not fly with people aboard, it will be used to determine the effectiveness of the design and prove its escape system during a pad abort test. The ability to abort from an emergency and safely carry crew members out of harm's way is a critical element for NASA's next generation of crew spacecraft.
The main structure of the STA was friction-stir welded into a single upper and lower hull in mid-2015 and then machined to its final thickness. Throughout the next few months, it will be outfitted with critical components and systems required for testing. Once completed at Kennedy, the test article will be taken to Boeing's facility in Huntington Beach, California, for evaluations. The "structural test" is one of many that will verify the capabilities and worthiness of the spacecraft, which is being designed to carry astronauts to the International Space Station in the near future for NASA's Commercial Crew Program.
Boeing plans to launch its spacecraft on United Launch Alliance Atlas V rockets from Space Launch Complex 41 at Cape Canaveral Air Force Station, which is only a few miles away from the CST-100 processing facility at Kennedy. A human-rated crew access tower that will give astronauts and ground support crews access to the CST-100 standing at the pad is currently is under construction near the launch site.