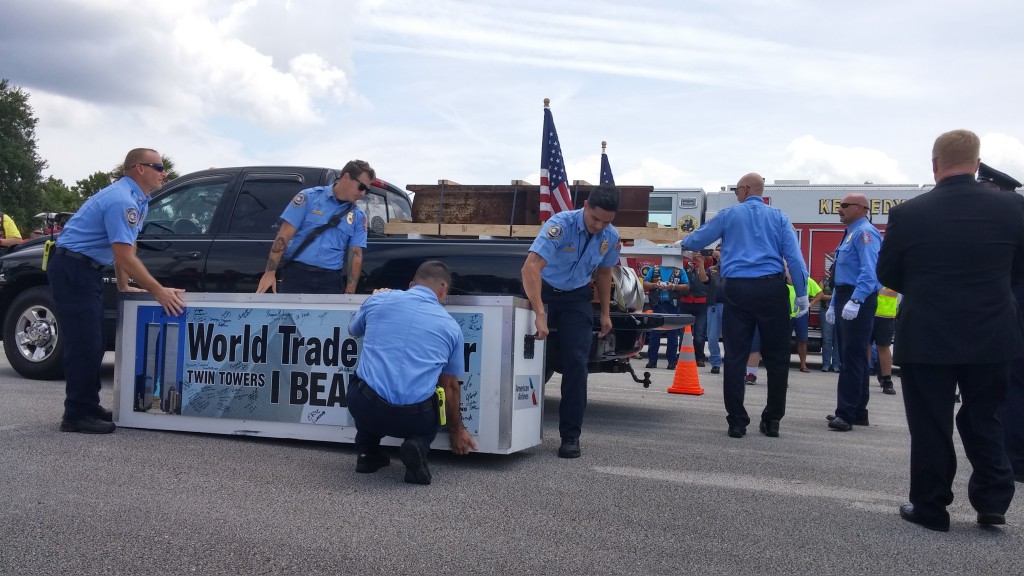 A section of I-beam that once strengthened the World Trade Center in New York has made its way to NASA's Kennedy Space Center in Florida, where it will serve as a memorial to the 343 fire/rescue personnel who gave their lives to save others on Sept. 11, 2001.
Kennedy Space Center Fire Department officials traveled to New York to escort the artifact to Florida. Weighing in at about one ton, the 7-foot-long, 16-by-16-inch steel beam was flown from New York to Miami in a specially built wooden container manufactured by American Airlines.
After its arrival in Miami, the American flag-draped container was loaded onto a truck for the  drive north to Kennedy. Current and former firefighters from across Florida took part in the procession. Along the way, local residents, veterans and emergency responders lined roadways and overpasses to pay tribute to those lost in the attacks.
Kennedy firefighters removed the top of the container just outside the Kennedy gates, revealing the beam for the first time on its journey.
The beam is slated to become the centerpiece of a permanent memorial at Fire Station No. 1, located in the heart of Kennedy Space Center's industrial complex. The memorial features scaled replicas of the World Trade Center's twin towers, which will be topped by the newly arrived beam. A formal dedication is planned for Sept. 11.