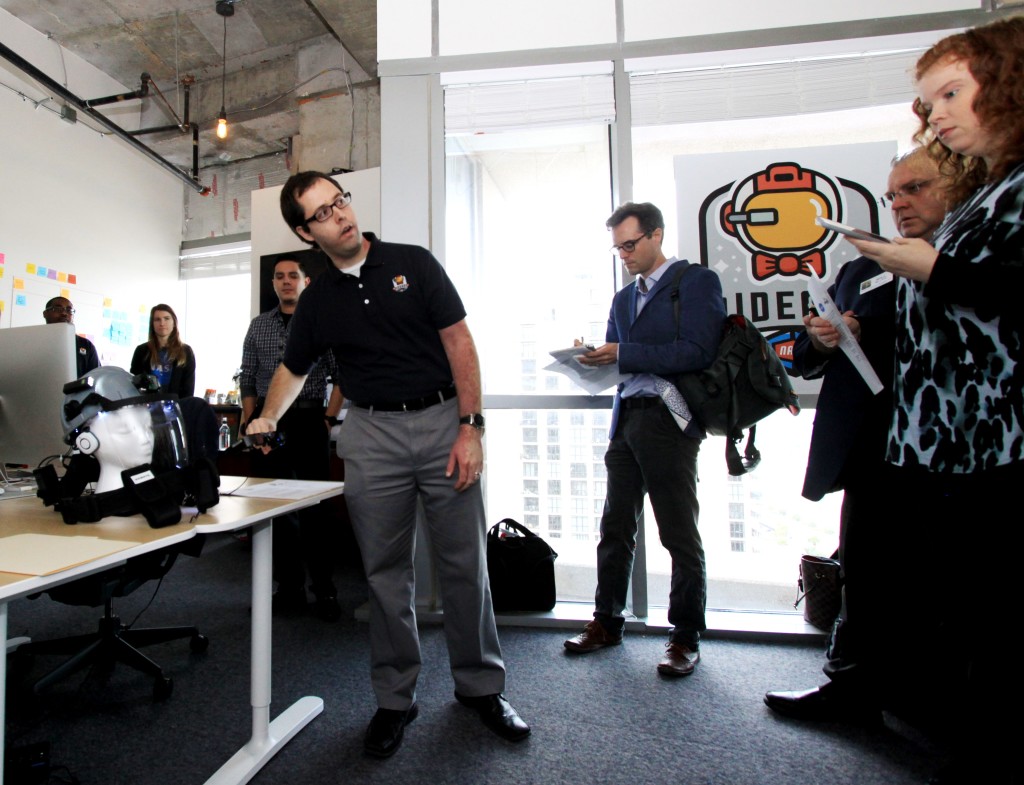 NASA continues to invest in the future by developing transformative capabilities and cutting-edge technologies. On Dec. 9, the agency unveiled an innovative system that could allow an engineer or technician working on a space system to immediately access all the information needed to complete a task. The "IDEAS" project being developed at NASA's Kennedy Space Center was demonstrated at the offices of Purple Rock Scissors, a digital creative agency in Orlando, Florida.
Called IDEAS, for the Integrated Display and Environmental Awareness System, it is a wearable, optical computer that allows users to view and modify information on an interactive display.
According to David Miranda of the Operations Integration Branch of Ground Systems Development and Operations, wearable technologies now are showing promise across many industries, from manufacturing to medicine. NASA now is investing in this new technology to apply it to the agency's missions.
"The technology being developed here at Kennedy is designed to help technicians do their jobs more efficiently and safely," Miranda said. "The glasses become a wearable computer system much like a heads-up display. It can provide various means of communication and access to documentation needed to complete a task."
While the user may simply look like a person wearing glasses, those operating the system will see a screen with instructions for a task – no printed instructions or laptops necessary.
"The glasses include a camera to take photographs or video that could be provided to a console operator in the event something unexpected comes up," Miranda said. "This would allow real-time troubleshooting of a problem."
The photo-video capability also adds an extra safety margin.
"An infrared camera will allow detection of hot and cold," said Miranda. "That would aid in spotting a cryogenic leak or a fire. Hydrogen fires are invisible, but infrared would detect that immediately."
Steve Jurczyk, associate administrator for NASA's Space Technology Mission Directorate (STMD) attended at the recent demonstration. STMD oversees the agency's Game Changing Development (GCD) Program. The IDEAS project began in January of 2015 and is managed by a NASA Early Career Team at Kennedy as part of. GCD.
As part of GCD, projects develop technologies through component and subsystem testing on Earth to prepare them for future use in space. New ideas and approaches are investigated that could solve significant technological problems and revolutionize future space endeavors. One of the most promising applications for NASA may be deep-space missions.
"Astronauts traveling far from Earth, such as a mission to Mars, will need to work with autonomy," said Miranda. "IDEAS could help them operate a spacecraft far for home and have the resources quickly available to respond to the unexpected."
This Kennedy team is one of four that were selected from across the agency as part of STMD's Early Career Initiative pilot program. The effort encourages creativity and innovation among NASA technologists who earned a bachelor's degree within in the past 10 years by engaging them in hands-on technology development opportunities needed for future missions.
The NASA IDEAS team has partnered with Abacus Technology at Kennedy, the Florida Institute of Technology's Human Centered Design Institute in Melbourne, Florida, and Purple Rock Scissors.
Miranda explained that Abacus is providing software development for the program. Florida Tech is integrating human factors that is ensuring the hardware meets the needs of the people using the system. Purple Rock Scissors is integrating the hardware with the software and providing feedback from those testing the system.
"The IDEAS will have a wide range of applications beyond NASA's use in the space program," Miranda said. "Imagine first responders reporting back to a hospital from the scene of an accident, military personnel reporting in from a battlefield or those working in a hazardous environment. All could benefit from such a system."
Miranda points out that IDEAS is simply the next step in the evolution of computers.
"Originally, a computer system would fill a building," he said. "It was a dramatic breakthrough when desktops were developed allowing home use. Then came portable laptops. Miniaturization further reduced the size of computers to a pocket-size smart phone. Wearable computing systems is simply the next step."