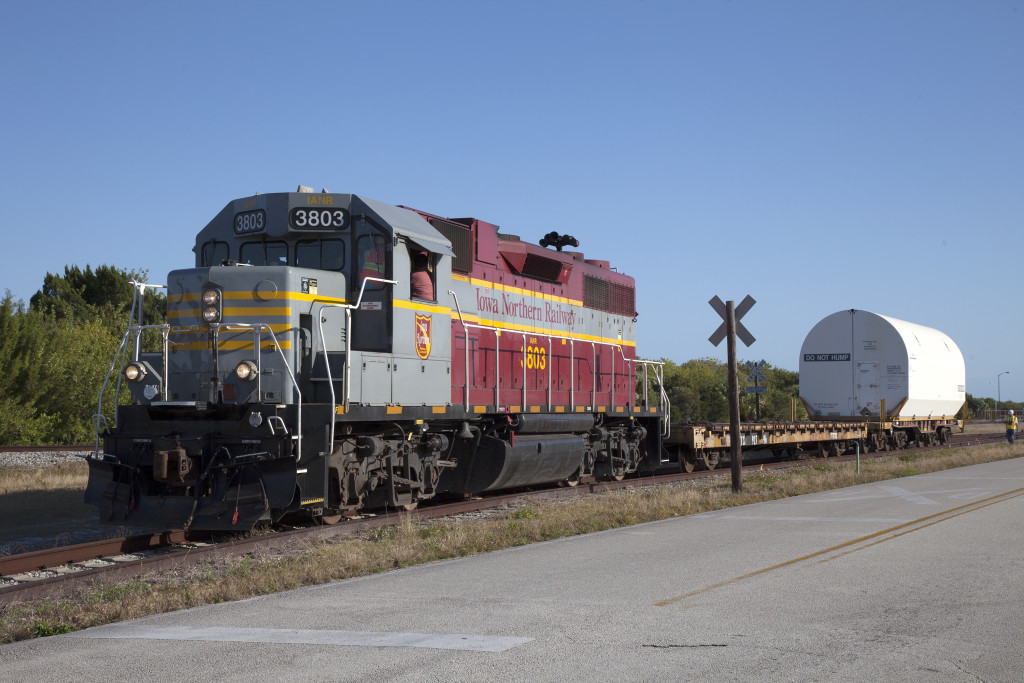 Two pathfinders, or test versions, of solid rocket booster segments for NASA's Space Launch System (SLS) rocket arrived at the agency's Kennedy Space Center in Florida. The booster segments were transported from Promontory, Utah, for pathfinder operations at the Rotation, Processing and Surge Facility (RPSF) to prepare for Exploration Mission-1.
The boosters, which are inert, were stored at the Jay Jay rail yard in Titusville, Florida, to prepare for the final move. The first booster was transported onto the center Feb. 23 by rail aboard a train service provided by Goodloe Transportation and was delivered to the RPSF. Inside the RPSF, the booster segment was offloaded and inspected. Its cover was removed, and the segment will undergo additional inspections to confirm it is ready for testing. The second booster segment which arrived later in the day will undergo the same preparations.
During the pathfinder operations, engineers and technicians with NASA and industry partners will conduct a series of lifts, moves and stacking operations using the booster segments and an aft skirt, with aft motor and aft exit cone attached, to simulate how the boosters will be processed in the RPSF to prepare for an SLS/Orion mission. The stacking operations will help train ground personnel before they handle flight hardware for the most powerful rocket in the world that will start to arrive at Kennedy in less than two years.
The pathfinder operations also will help to test recent upgrades to the RPSF facility as the center continues to prepare for the EM-1 mission, deep-space missions, and the journey to Mars.