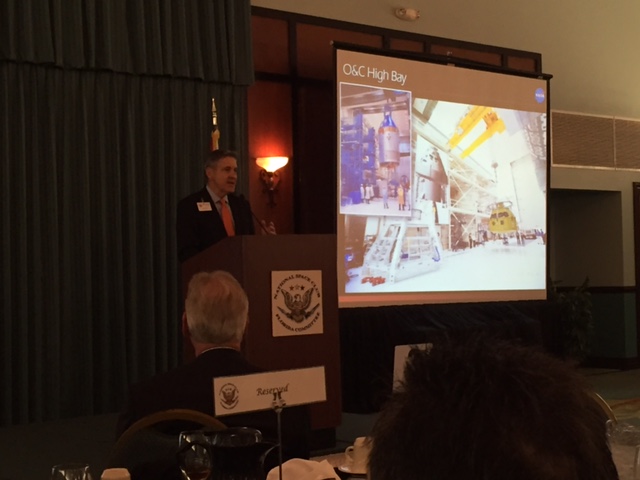 More than five years of careful thought, in-depth planning and detailed refurbishments have set up Kennedy Space Center for diverse exploration missions that will push astronauts and robotic spacecraft into new areas of accomplishment, said, NASA's Kennedy Space Center director, Bob Cabana at the National Space Club Florida Committee meeting today in Cape Canaveral.
"We're not just making a difference for Kennedy or even the nation, we've got a meaningful mission and we are making a difference for all of humankind," Cabana, a former astronaut, told the group of about 375 in attendance.
By focusing on piloted missions to the International Space Station using Commercial Crew Program spacecraft, followed by Space Launch System and Orion flight tests, Kennedy has established a ground support network of launch pads and associated infrastructure needed to support missions to Mars by astronauts in the future. All of this while maintaining the center's unique ability to launch historic robotic exploration missions such as Osiris-Rex that will bring back a sample from an asteroid. Other flights in the future will continue to decipher the mysteries of Mars as well as taking close looks at other planetary networks in the solar system.
The center has seen complete upgrades in many areas including the Launch Control Center, Launch Complex 39B and modifications to the Mobile Launcher tailored to the needs of the SLS rocket and Orion spacecraft. Other facilities have been upgraded for commercial partners. The center's new headquarters campus is under construction to deliver an environmentally friendly, energy efficient structure.
"Our future is absolutely outstanding," Cabana said. "I believe the years we have ahead of us will be our best ever."