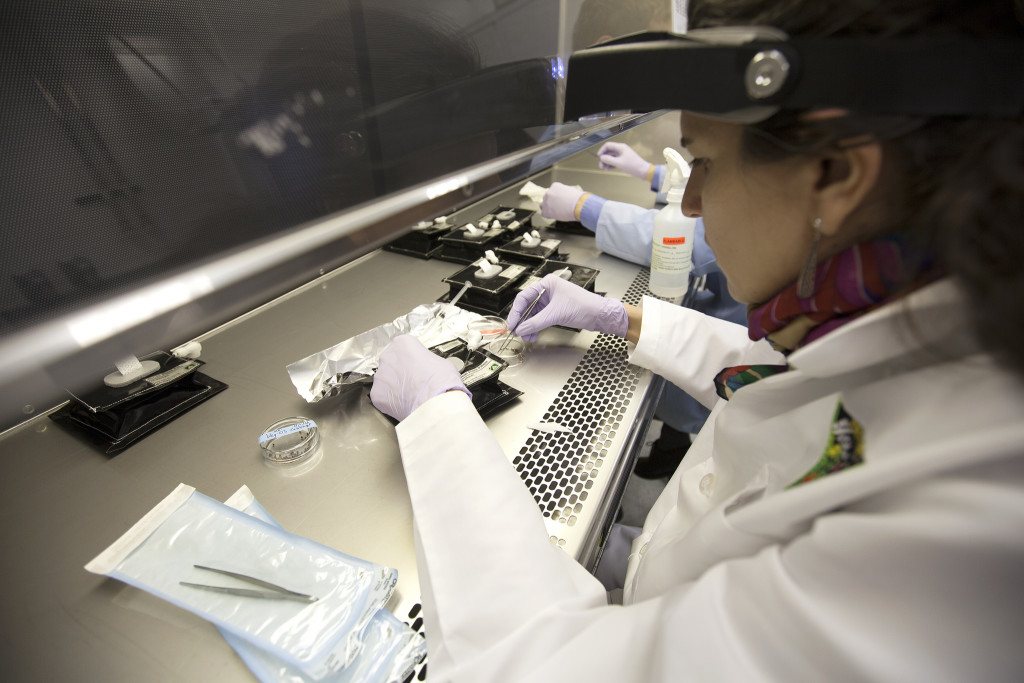 Plant pillows containing 'Tokyo Bekana' Chinese cabbage seeds for NASA's third Veggie plant growth system experiment, Veg-03, were prepared at the agency's Kennedy Space Center in Florida for their flight to the International Space Station. Veg-03 will continue NASA's deep-space plant growth research to benefit the Earth and the agency's journey to Mars. Veg-03 will be delivered aboard the SpaceX Dragon cargo craft during its eighth Commercial Resupply Services mission.
Veg-03 is a follow-on experiment to the Veg-01 experiment that launched in 2014 and contained 'Outredgeous' red romaine lettuce seeds. Plants grow differently in space than on Earth based on differences in the environmental factors controlling growth. Future long-duration missions into the solar system, finally culminating on Mars, will require a fresh food supply to supplement crew diets. Understanding how plants respond to microgravity is an important step toward that goal.
"This variety of Chinese cabbage was selected based on excellent growth and flavor," said Gioia Massa, NASA Veg-03 science team lead. "Veg-03 will allow us to test a new variety of crop plants that we hope the crew will eat and enjoy as we work toward developing a salad system for ISS."
Inside a laboratory at the Space Station Processing Facility, the Veg-03 science team inserted a wick into each of the 18 pillows and then measured a precise amount of calcined clay, or space dirt, and fertilizer, and inserted the mixture into each pillow. Each plant pillow was sealed by sewing the open end shut.
The science team sanitized the cabbage seeds, along with additional 'Outredgeous' lettuce seeds, and then planted the seeds into each pillow before sealing them in gas-impermeable bags and transferring them to the Engineering Services contractor for packing into a cargo transport bag. Twelve pillows of Chinese cabbage and six of lettuce will be sent to ISS.
"Veg-03 will build on former crewmember Scott Kelly's autonomous gardening by testing similar gardening procedures with the leafy greens. We are hopeful that the ISS crewmembers will like the Chinese cabbage," said Trent Smith, Veggie project manager.
Aboard the space station, crew members will insert the plant pillows into the Veggie plant growth system, activate the system's LED lights, add water, and regularly monitor and care for the growth of the plants.
Later this summer, NASA also will send a plaque to the International Space Station that the crew members will affix to the Veggie facility to recognize and honor the legacy of space biology pioneers, particularly the recently deceased Thora Halstead and Ken Souza. Their research exploring how living organisms respond to a low-gravity environment and their early stewardship of a new science that became the discipline of space biology will continue to benefit future explorers on the journey to Mars.