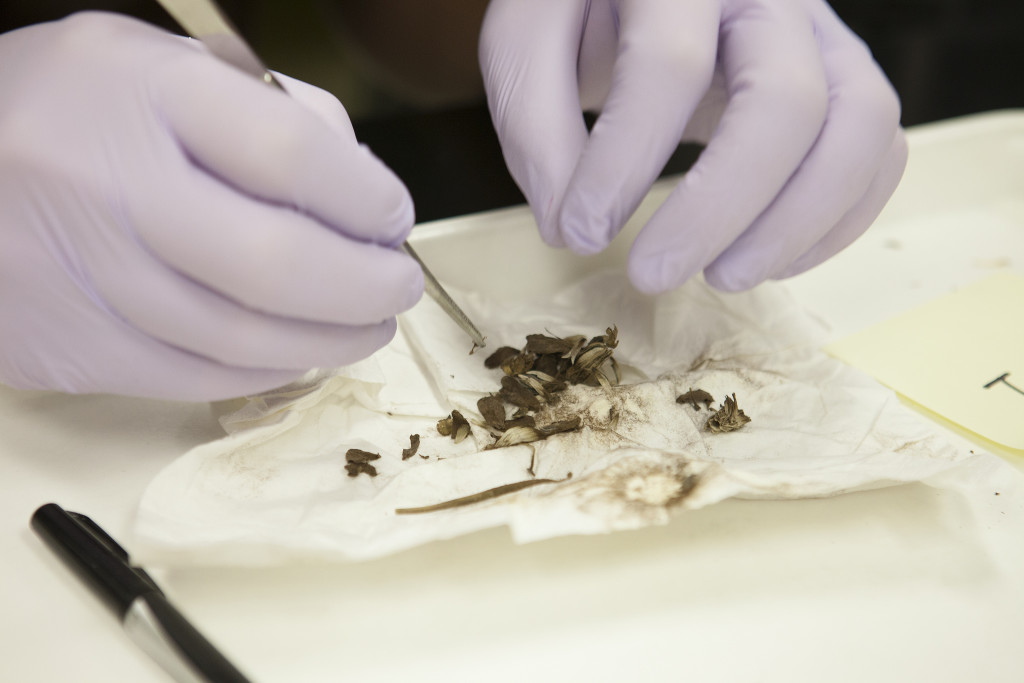 A baker's dozen of zinnia flowers that were grown on the International Space Station were unpacked and recently dissected inside the Veggie flight laboratory in the Space Station Processing Facility at NASA's Kennedy Space Center in Florida. An additional dozen zinnias were given to the six crew members on the space station as souvenirs.
A team of NASA and contractor scientists in the ISS Ground Processing and Research Project Office carefully removed the seeds from each of the thirteen zinnia plants and the zinnias from a ground control experiment. The seeds were examined under a microscope and then packaged in small vials and labeled for further analysis.
At Kennedy, the seeds will undergo a microbial analysis and a germination test to determine if they could be sent to the space station for another growth cycle in the Veggie system.
The zinnia seeds were delivered to the space station as part of the Veg-01 experiment in April 2014. The plant pillows containing the zinnia seeds were activated Nov. 16, 2015, in the Veggie plant growth system by NASA astronaut Scott Kelly during his one-year mission. The zinnias were watered and their growth was monitored for 90 days. The plants were harvested on Feb. 14, 2016, packaged and returned to Earth on the SpaceX CRS-8 Commercial Resupply Services Mission. Funding for Veggie is provided by the Space Life and Physical Sciences Research Applications Division at NASA Headquarters.
NASA is maturing Veggie technology aboard the space station to provide future pioneers with a sustainable food supplement – a critical part of NASA's Journey to Mars. As NASA moves toward long-duration exploration missions farther into the solar system, Veggie will be a resource for crew food growth and consumption. It also could be used by astronauts for recreational gardening activities during long-duration space missions.