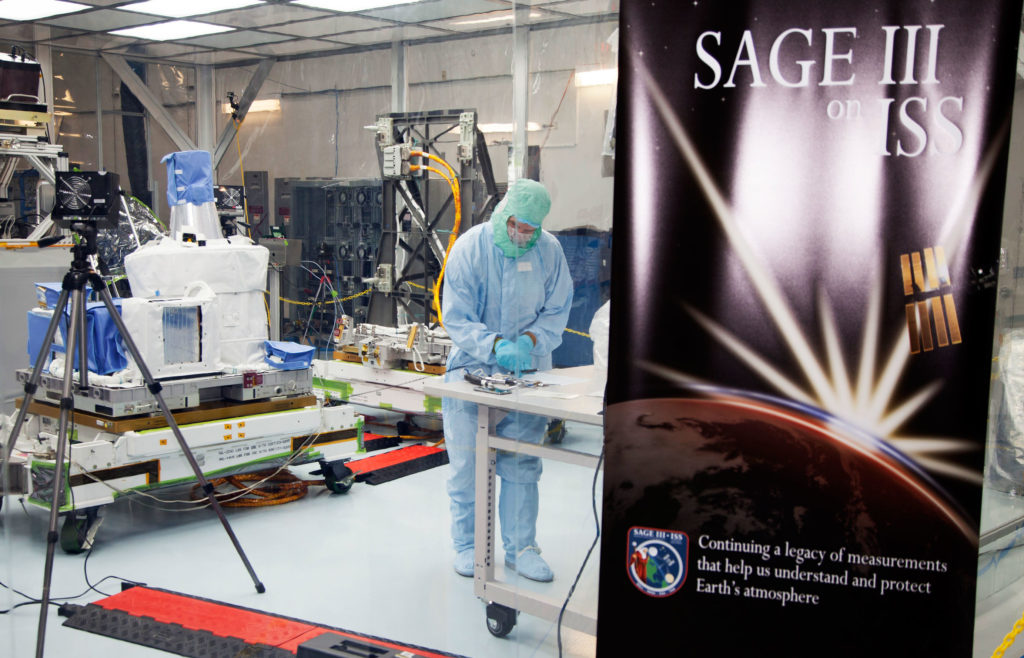 On the upcoming SpaceX CRS-10 resupply mission to the International Space Station (ISS), a Dragon spacecraft will deliver the Stratospheric Aerosol and Gas Experiment (SAGE) III instrument to further study ozone in the atmosphere.
Once mounted on the space station, SAGE III will measure the Earth's sunscreen, or ozone, along with other gases and aerosols, or tiny particles in the atmosphere. SAGE will make its measurements by locking onto the sun or moon and scanning the limb, or thin profile of the atmosphere from that unique vantage point.
During the late 1970s, scientists began tracking a steady decline of ozone in the Earth's stratosphere. It was determined this was caused by extensive use of human-produced chemicals. Following years of global efforts to significantly reduce the number of ozone-depleting substances, experts now are optimistic the ozone layer will recover.
Launch atop a SpaceX Falcon 9 rocket currently is scheduled for late fall this year.
Since the instrument arrived at NASA's Kennedy Space Center, engineers at the Florida spaceport have assisted SAGE team members from the Langley Research Center in Virginia in preparing it for launch.
According to Rob Kuczajda, a Kennedy project manager in the ISS Utilization and Life Sciences Office, this SAGE III effort has been underway for several years.
"Our role actually began back in September 2011," he said. "We sent a small delegation of engineers to Langley to meet with the SAGE team and learn about the payload. Our message was that Kennedy had years of expertise processing ISS payloads and that we were available to assist with SAGE III. Over the next four years, Kennedy engineers helped assemble and test parts of the payload."
SAGE III now is being stored in the high bay of Kennedy's Space Station Processing Facility (SSPF), a world-class processing laboratory. Every American-launched element for construction of the ISS, all cargo and each experiment is prepared and checked out in the SSPF, a crucial part of a premier multi-user spaceport.
To ensure SAGE III will be ready to go to work once it arrives at the ISS, extensive checkouts have been taking place in the special processing area of the SSPF.
"The processing has included functional testing on the payload, to verify everything is operating correctly after shipment of the payload from Langley to Florida," Kuczajda said.
Jennifer Wahlberg, also a Kennedy utilization project manager, has played a key role in helping coordinate the Langley team's testing.
"We have been assisting the SAGE III team from Langley with our ISS simulators," she said. "They have performed command and data handling checkouts to make sure everything is going to transmit the data correctly, that commands go up and data can come down."
Kuczajda pointed out that after the SAGE III team returns in September and hardware inspections are complete, the instrument will go back into the shipping container.
"The Kennedy Logistics team will deliver the instrument to the SpaceX payload processing facility at Cape Canaveral Air Force Station where it will be prepared for flight aboard the Dragon spacecraft," he said.
Wahlberg had high praise for the team from Langley.
"It's been great to work with the SAGE III team for the past several years," she said. "It's really amazing to see how many people can work together to bring successful science to bear."
"And the feeling is mutual," said Mike Cisewski, SAGE III/ISS project manager at NASA's Langley Research Center. "Support from the KSC team has been exemplary through our payload development and processing at KSC. From logistics, to assembly of portions of our Nadir Viewing Platform and vibration testing fixture, for outstanding support at the Space Station Processing Facility, they have been great partners."
Randy Wade, support manager of off-line labs in Kennedy's Exploration Research and Technology Programs Directorate, is hoping the instrument will send back data that the ozone layer is improving.
"I've seen a lot of changes in fluorocarbon use," he said. "We've done a lot of things here at the Kennedy Space Center to reduce the use of fluorocarbons, and automobile cooling systems have changed. So they are going to try to verify if those efforts made on Earth have helped improve the ozone layer."
Wahlberg sees long-term benefits in the SAGE III research.
"I wish all the payload teams and the science teams great success," she said. "I know they are doing important work for our future generations."