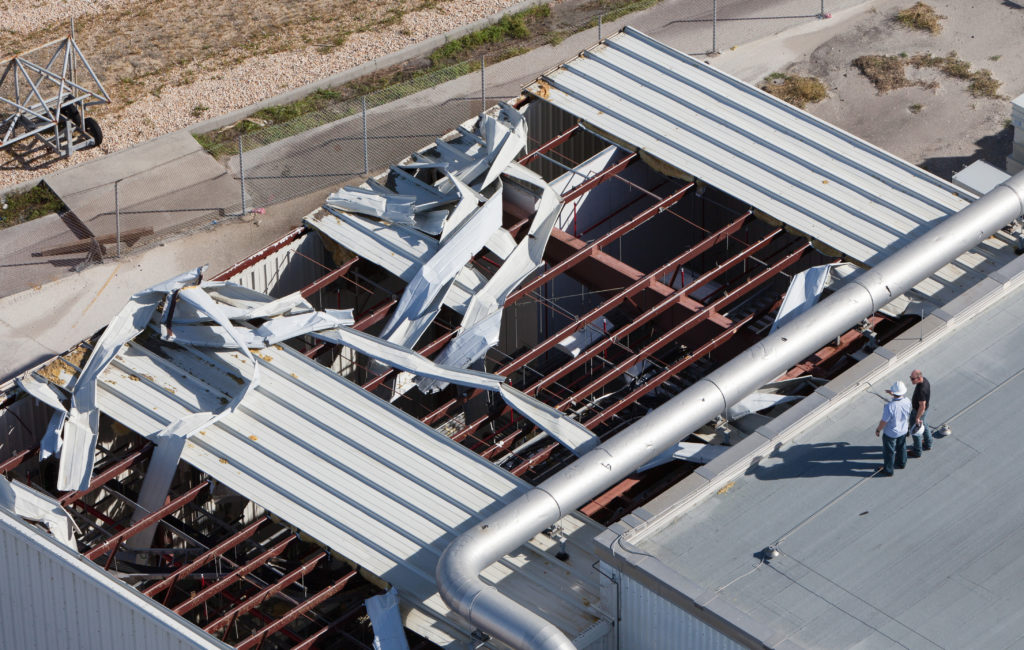 Kennedy Space Center Director Bob Cabana and Disaster Assessment Recovery Team (DART) Chief Bob Holl briefed members of the news media about the center's efforts to recover from Hurricane Matthew.
Just prior to impacting Florida's Space Coast, Matthew was downgraded from a category 4 to a category 3 storm with winds at 115 miles per hour. The eye of the hurricane passed 20 to 25 miles off Cape Canaveral Air Force Station, with Kennedy's Launch Pad 39B near the edge of the eye experiencing 86 mile-per-hour winds. Pad 39-B is where NASA's Space Launch System rocket will boost the Orion spacecraft to destinations such as an asteroid and Mars.
"I'm pleased to say that as of today, 100 percent of our civil service and contractors have reported in with no serious injuries or significant damage to personal property," Cabana said. "Things can be fixed or replaced, but people are special and we have a very special family here."
As Matthew approached, NASA closed the center at 1 p.m. EDT on Oct. 5 ahead of the storm's onset and only a small team of 139 specialists, known as the Ride-out Team, were on the center as the storm approached and passed.
"I can't say enough about both the Ride-out and DART teams," Cabana said. "Wayne Kee leading my Ride out Team, kept an eye on things and Bob Hull, who led the DART team, did a truly outstanding job getting things ready the past two days to reopen the center."
The center director also described video shot during an aerial assessment on Oct. 8.
Most of the impact was to the northern part of the center," Cabana said. "In the Launch Complex 39 area, around the VAB (Vehicle Assembly Building)."
The survey found several buildings with roof panels that had been blown off.
"That resulted in water intrusion in those facilities," Cabana said.
He also noted that some beach erosion took place near both Launch Pads 39 A and B.
"After (Hurricane) Sandy came through, it didn't hit Florida, but it really did impact our beach here," Cabana said. "But all the effort we put into rebuilding that dune worked perfect. The grass held it in place and the dune looks great."
Crucial spacecraft processing buildings also were reported to be in good shape.
"The space Station Processing Facility, the Operations and Checkout Building and high bay where Orion was, were all fine inside — all looking good."
Holl also expressed appreciation for the professionalism of both the Ride-out and DART teams.
"I'm really happy with the team I work with," he said. "The DART Team is only called on when there is an emergency. We have to come onto the center not knowing the situation. Wayne Kee and the Ride-out Team confirmed it is safe for us to come out and later gave us their initial damage assessment."
Holl explained the work of the DART team is simple, but crucial.
"The first thing you want to do is assess all the damage," he said. "Then we go safe that damage, then we figure how we can get everybody back to work."
Cabana pointed out that assistance came from many areas.
"I really appreciate everyone's support throughout this whole ordeal," he said. "I can't say enough good things about the Kennedy NASA family and team in how they prepared for the hurricane, how we responded to it and the support we've received from headquarters and other NASA centers across the country."
Getting Kennedy back to work is Cabana's goal.
"Now we can get back to the business of being America's premier spaceport," he said, "heading out to our Journey to Mars."