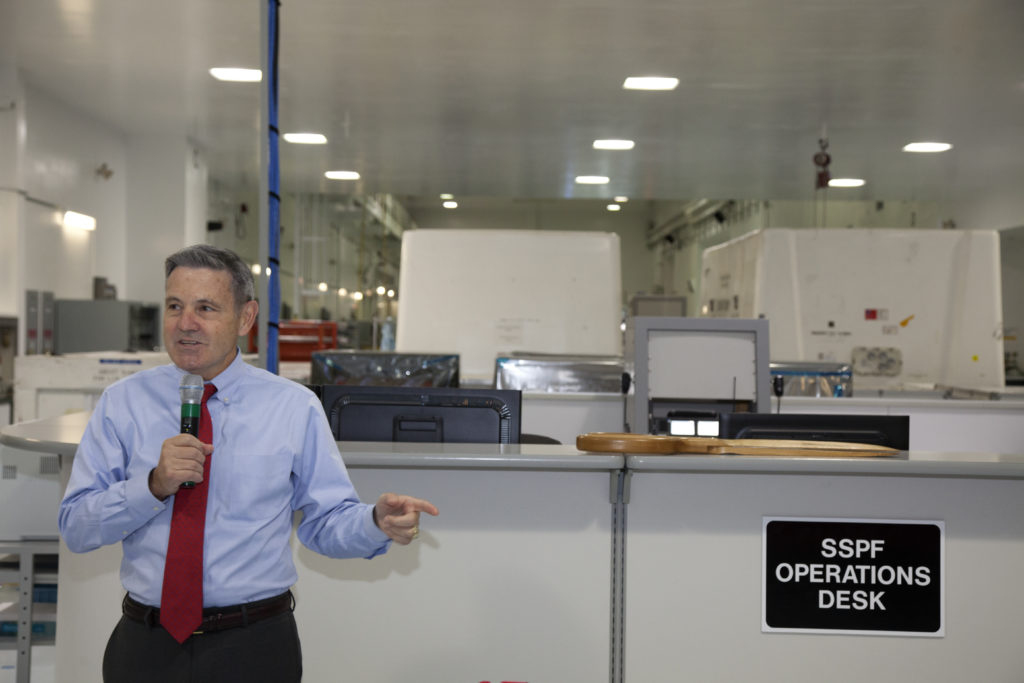 The high bay designed to process, test and complete a multitude of modules for the International Space Station will be able to house a robust assortment of space-bound hardware after continued modifications to the Space Station Processing Facility free up zones tailored to a variety of needs by commercial space companies and other NASA programs.
For instance, even moving the operations desk about 40 feet so it doesn't restrict a large doorway was a small amount of work that made the high bay more accessible from nearby laboratories, said Bill Dowdell, International Space Station technical director.
"I think it's important for people to come in here and see that we are organizing and getting ready for that eventuality of commercial entities operating in this building along with NASA programs," Dowdell said. "It's in keeping with what we've done before with industrial operations zones. This enables us to give people a footprint of their own to work in."
Although the space station has been complete for more than five years, the processing hall has been used to prep numerous other missions including Orbital ATK Cygnus spacecraft for two cargo resupply missions. Orbital ATK with help from Jacobs engineers and specialists under the Test and Operations Contract, or TOSC, will use the high bay again for a third Cygnus spacecraft that will fly a cargo mission to the space station.
The modifications to the Space Station Processing Facility are the latest in a continuing line of improvements across the Florida spaceport. Rather than shape its facilities for a single program and spacecraft, Kennedy is becoming home to multiple programs, spacecraft and rockets. For example, former space shuttle hangars are being used for a new generation of human-rated spacecraft, launch pads have been refit to support large new rockets and the Vehicle Assembly Building has been modernized. For more: http://go.nasa.gov/2g0wmI1 Photo credit: NASA/Daniel Casper