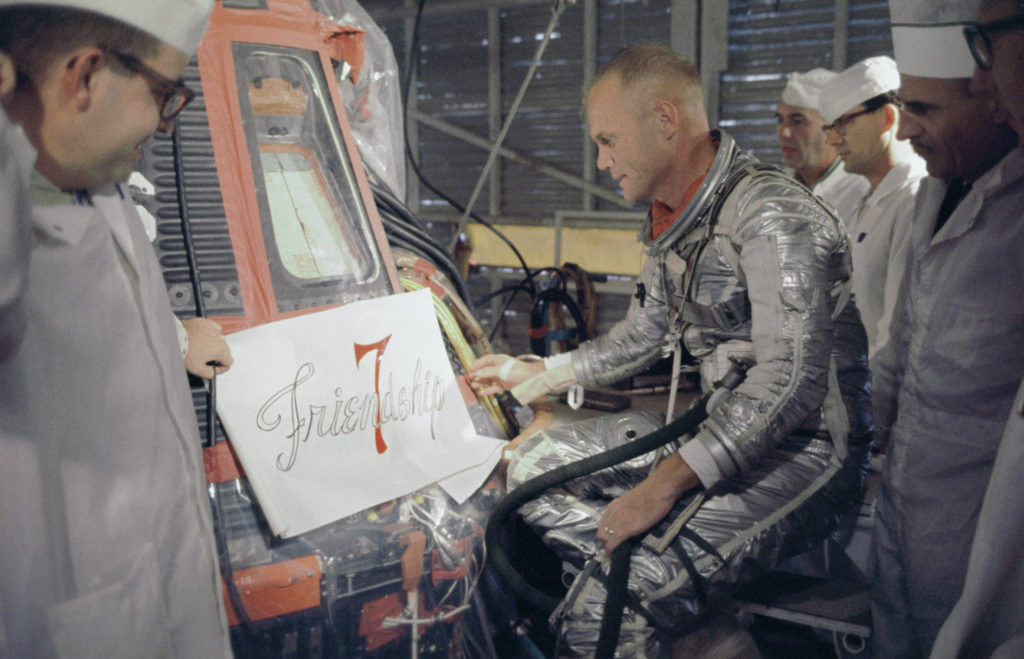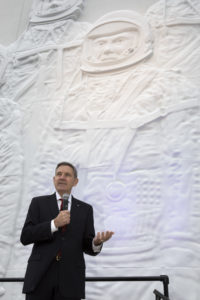 Former astronauts, employees and local news media gathered Friday afternoon at the Heroes and Legends exhibit hall at the Kennedy Space Center Visitor Complex to honor the life and legacy of astronaut John Glenn who passed away Thursday at age 95 in his home state of Ohio.
A fighter pilot in the Marine Corps, Glenn was one of NASA's first seven astronauts and gained worldwide acclaim in 1962 by becoming the first American to orbit the Earth. He is seen above before making his Mercury flight he named Friendship 7. After a long career as a U.S. senator, Glenn flew in space again in 1998 as part of the STS-95 crew. Both of his missions launched from Florida's Space Coast.
Bob Cabana, director of NASA's Kennedy Space Center and a former space shuttle commander, spoke to the audience beneath a relief sculpture of the original seven astronauts.
Astronauts Alan Shepard, Gus Grissom, Wally Schirra, Scott Carpenter, Gordon Cooper and Deke Slayton, all of whom previously passed, completed the sculpture showing the team as they appeared soon after being announced to the world in 1959.
"John Glenn was one of the finest individuals I ever got to know," Cabana said. "We got him inside space shuttle Discovery one last time and just sitting in the cockpit with him, talking about the experiences in space, you can't describe what a fine gentleman he was and what his passion for space exploration was. He was the last of the Mercury Seven and we're going to sincerely miss him."
Glenn's experience, combined with his Midwestern calm and demeanor, inspired many who watched his flight on television at the beginning of the Space Age, including former shuttle astronaut Jon McBride.
"As a young man back in West Virginia, I idolized John Glenn and Wally Schirra and all those first seven guys and little did I know I would get to meet them," McBride told the audience of Kennedy employees and visitors.
After the ceremony, which included a memorial wreath, the astronauts shared a bit about Glenn's legacy on today's NASA.
"His legacy is, he started it," Cabana told reporters. "He was showing that you can fly in space when you're 77 years old and that's what he expected of us: to continue on, to keep going. We've got to get out there, get those boots on Mars. He said it's important, that you've got to move on."