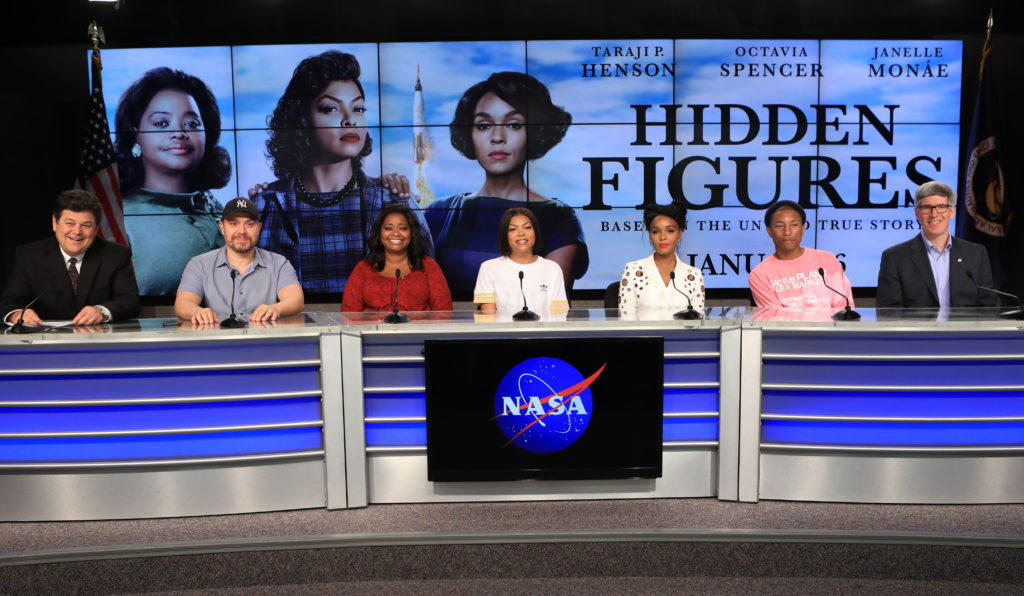 By Frank Ochoa-Gonzales,
NASA's Kennedy Space Center, Florida
Many moons ago growing up, actress Taraji P. Henson thought math and science were for boys only. In her role as NASA mathematician Katherine Johnson in the upcoming feature film "Hidden Figures," she said she dreams and hopes that not one girl will ever feel like she did.
Henson joined writer and director of "Hidden Figures," Ted Melfi; actresses Octavia Spencer and Janelle Monáe; musician Pharrell Williams; and Bill Barry, NASA's chief historian at NASA Headquarters, as they met members of the media in a news conference at NASA's Kennedy Space Center in Florida on Dec. 12.
"I can't believe that through all the obstacles women faced in the '50 and '60s, they were still able to change the way of history," Henson said. "We couldn't keep this story quiet forever. It was bound to be told because the work they did was that amazing."
The movie is based on the book of the same title, by Margot Lee Shetterly. It chronicles the lives of Katherine Johnson, Dorothy Vaughan and Mary Jackson, three African-American women who worked for NASA as human "computers." Their mathematical calculations were crucial to the success of Project Mercury missions, including John Glenn's orbital flight aboard Friendship 7 in 1962. The movie unveils the struggles of women who were essential to the success of early spaceflight. It also shows how victories for racial and gender rights were not achieved easily or quickly, and that work remains.
In the 1960's, NASA was on an ambitious journey to the moon, and the human computers portrayed in "Hidden Figures" helped get America there.
"I would like to credit NASA for being progressive in their approach," said Janelle Monáe, who portrays Mary Jackson in the film. "They didn't have to open the door to minorities in the '60s, but they did. They didn't have to allow women in positions of power . . . but they did."
Today, NASA is on an even more ambitious Journey to Mars.
NASA is participating under a Space Act Agreement with 20th Century Fox on the film, which is due in theaters in January 2017.