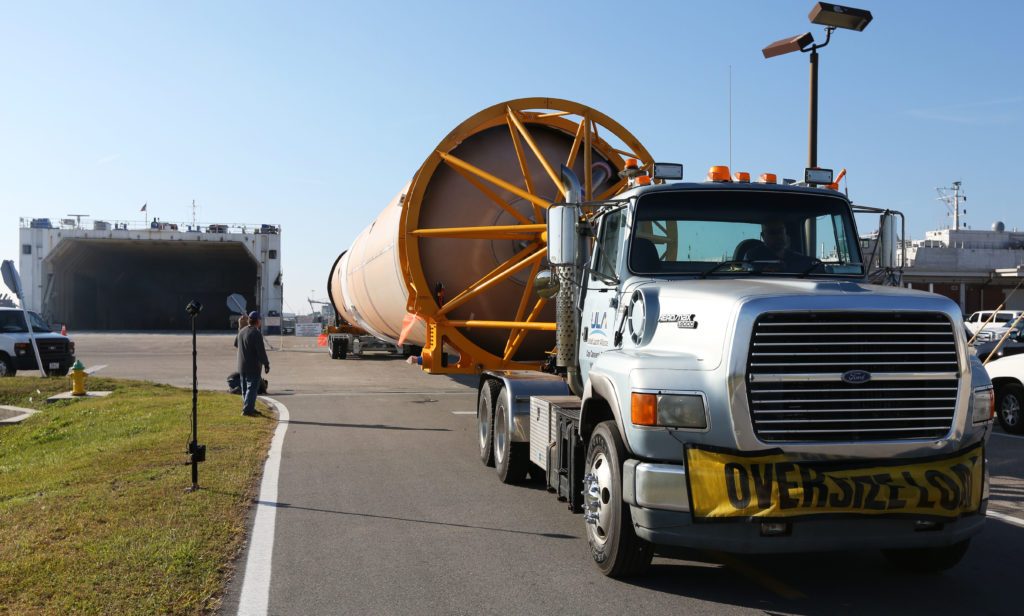 NASA recently took another step in preparations for Orbital ATK's seventh commercial resupply mission to the International Space Station. The United Launch Alliance (ULA) Atlas V booster arrived at the Army Outpost wharf at Port Canaveral, Florida, near the Kennedy Space Center.
The Atlas V rocket was assembled at the ULA plant in Decatur, Alabama, about 20 miles southwest of Huntsville. After completion, the Atlas V was shipped aboard the Mariner cargo ship down the Tennessee River and Tombigbee Waterway, a canal, through the Gulf of Mexico to Port Canaveral.
From the port, the booster was transported to the hangar at the Atlas Spaceflight Operations Center, located south of Launch Complex 41 (SLC-41) at Cape Canaveral Air Force Station. The Atlas V will undergo final testing in that facility. When processing is complete, the Atlas V booster will be moved to the Vertical Integration Facility for stacking approximately .3 miles from SLC-41.
Scheduled for launch at approximately 10:56 p.m. on March 19, 2017, the Atlas V rocket will boost an Orbital ATK Cygnus cargo spacecraft loaded with thousands of pounds of supplies and equipment for the crew aboard the space station. Additionally, scientific experiments will be aboard for research by the crew on the station to improve life on Earth and drive progress toward future space flight.
Photo credit: United Launch Alliance