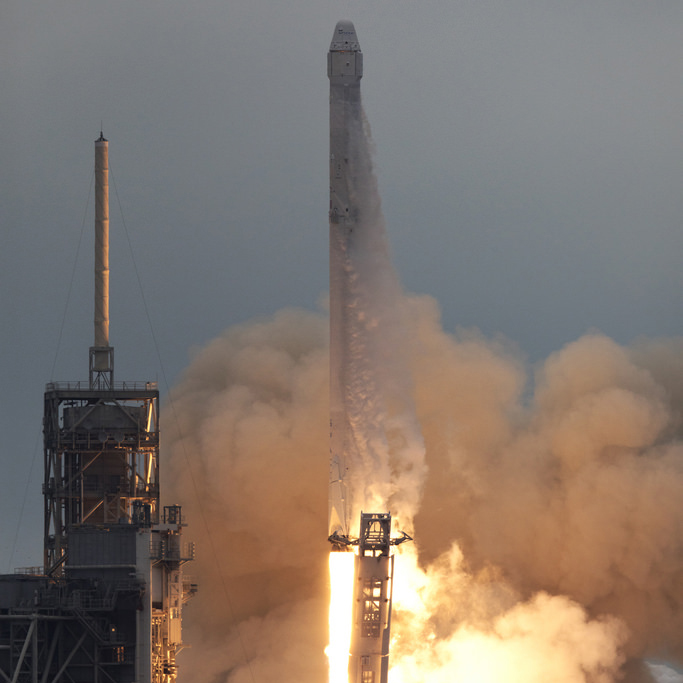 Major experiments that will look into a range of scientific disciplines from human health to atmospheric conditions on Earth are on their way to the International Space Station following liftoff at 9:39 a.m. EST aboard a SpaceX Falcon 9 rocket. About 5,500 pounds of research equipment, cargo and supplies are packed into the SpaceX Dragon spacecraft that is now in Earth orbit and headed to the station on the CRS-10 mission.
SpaceX's Dragon cargo craft launched from Launch Complex 39A at NASA's Kennedy Space Center in Florida. This was the first commercial launch from Kennedy's historic pad.
Astronauts Thomas Pesquet of the European Space Agency and Shane Kimbrough of NASA will use the space station's robotic arm to capture Dragon when it arrives at the station. Live coverage of the rendezvous and capture will begin at 4:30 a.m. Wednesday, Feb. 22 on NASA TV and the agency's website, with installation coverage set to begin at 8:30 a.m.
Research materials flying inside the Dragon's pressurized area include a crystal growth experiment that will crystallize a monoclonal antibody that is undergoing clinical trials for the treatment of immunological diseases. Growing the crystal in space will allow it develop more than it could on Earth where gravity causes crystals to collapse on themselves. Preserving these antibodies in crystals allows researchers a glimpse into how the biological molecules are arranged, which can provide new information about how they work in the body. So far, Earth-grown crystalline suspensions of monoclonal antibodies have proven to be too low-quality to fully model.
Better defining how some bacteria become drug-resistant is the focus of another experiment that aims to develop medicines that counter the resistance. Stem cells like those used to treat strokes and other occurrences also will be studied using experiment supplies brought up on this flight.
The equipment aboard the Dragon includes a major instrument that will survey Earth's upper atmosphere in a continuation of one of NASA's longest-running Earth-observing programs. Called SAGE III for Stratospheric Aerosol and Gas Experiment, the instrument examines the levels of ozone, aerosols, nitrogen dioxide and water vapor in the stratosphere and troposphere high above Earth. It is the latest version of an experiment that began in 1979 and has created a multi-decade record of measurements. The 2,200-pound instrument will be connected to the outside of the station to make daily observations for several years.
The mission is the company's tenth cargo flight to the station under NASA's Commercial Resupply Services contract. Dragon's cargo will support dozens of the more than 250 science and research investigations during the station's Expeditions 50 and 51.
Dragon is scheduled to depart the space station in late March, returning nearly 5,000 pounds of science, hardware and crew supplies.