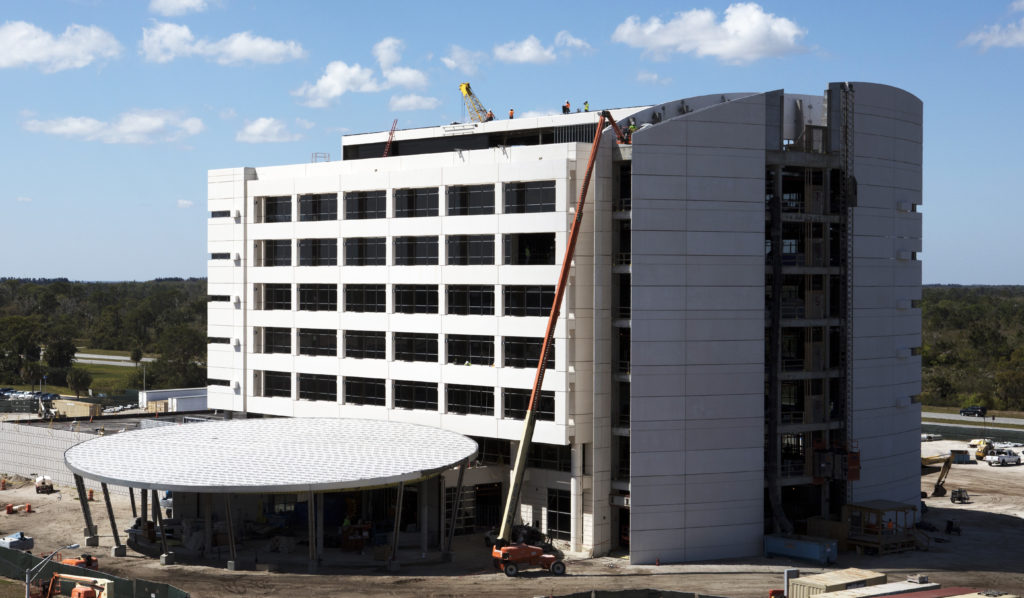 Now that NASA's Kennedy Space Center in Florida is a premier, multi-user spaceport, ongoing construction is adding new, ultra-modern facilities. A key element of the Central Campus makeover is a new, seven-story, 200,000-square-foot headquarters building that has taken shape in the heart of the spaceport.
The project is taking place in several phases. Phase 1 includes construction and outfitting of a shared services and office building to function as the first half of the new headquarters.
The headquarters building's glass facade, as seen from NASA Causeway, is complete. The exterior skin of the building also is nearly finished. The remainder of the glass components are being installed on each floor. Construction of interior walls and utilities on most floors is well underway.
The construction approach will provide a campus-like setting with several buildings surrounding a pedestrian-friendly outdoor courtyard. The concept, similar to what is used by many educational institutions, provides close proximity and access to several buildings. It also promotes the use of pedestrian walkways instead of vehicle traffic used today because of the distances between buildings.
Construction of the headquarters building is targeted for completion in November 2017 and employees are expected to be able to move in soon after.
Additionally, Central Campus phase 1 construction includes a separate facility to operate as a consolidated Kennedy Data Center which opened in October 2015. This 16,500-square-foot building operates year-round, 24 hours a day, seven days a week.
Kennedy's current headquarters and the Central Instrumentation Facility are among the oldest at the spaceport, more than 50 years of service since they were built in the mid-1960s. The overarching central campus construction will consolidate several buildings and administrative spaces in what is known as the space center's Industrial Area.
Photo credit: NASA/Kim Shiflett