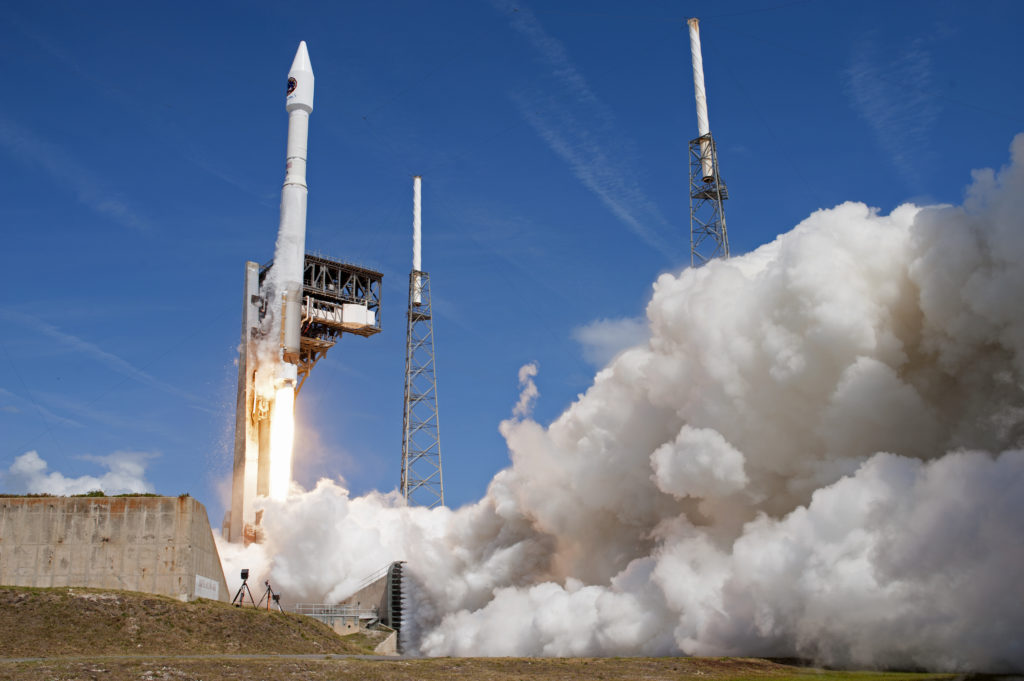 By Steven Siceloff,
NASA's Kennedy Space Center, Florida
Part of the scientific cargo packed inside an Orbital ATK Cygnus spacecraft recently launched to the International Space Station is a trio of tiny spacecraft that soon will fly on their own in orbit to look at different aspects of space-based science.
With one examining Earth's cloud layer, another looking at the cosmic background radiation from the birth of the universe and one evaluating battery storage capacities in space, the three satellites make up NASA's ELaNa XVII mission, short for Educational Launch of Nanosatellites. The CubeSat Launch Initiative offers launch opportunities for CubeSats proposed and built by teams of engineers and researchers from U.S. educational institutions, non-profits and NASA centers. NASA evaluates each proposal, selects some to fly and then schedules them for a trip into space on an ELaNa mission.
Built to operate on their own and communicate with Earth despite being only a few inches across, the CubeSats are the latest examples from a scientific movement that has seen satellites shrink dramatically to conduct research for far less money while still returning high-quality results.
"The community and industry is growing by leaps and bounds," said NASA's Scott Higginbotham, mission manager for ELaNa XVII. "It is amazing what you can do with in a small package at a relatively low price and folks are truly embracing the concept."
The three ELaNa XVII satellites are:
IceCube – The mission is to demonstrate the technology of a submillimeter-wave radiometer for future cloud ice sensing. This technology will enable cloud ice measurements to be taken in the intermediate altitudes (5 km – 15 km), where no measurements currently exist. It will perform first-of-a-kind measurements of ice particles embedded within clouds. These measurements will advance atmospheric monitoring technology and also fill in critical gaps in understanding how cloud ice affects the weather and how cloud formations process atmospheric radiation.
CXBN-2 – Short for Cosmic X-Ray Background NanoSat-2, the mission will increase the precision of measurements of the Cosmic X-Ray Background in order to constrain models that attempt to explain the relative contribution of proposed sources lending insight into the underlying physics of the early universe. The mission addresses a fundamental science question that is central to our understanding of the structure, origin, and evolution of the universe, by potentially lending insight into high-energy background radiation and the evolution of galaxies.
CSUNSat1 – Short for California State University Northridge Sat1, the primary mission of CSUNSat1 is to test an innovative low-temperature-capable energy storage system in space. The success of this energy storage system will enable future missions, especially those in deep space, to do more science while requiring less energy, mass and volume.
The three satellites flew into orbit inside a small canister tailored to the needs of CubeSats. Astronauts on the station will pull the canister out of the Cygnus and position it at the airlock of the Japanese Experiment Module. Once moved to the outside of the station, the small robotic arm on the Japanese module will point the canister out into space and each spacecraft will be pushed out into its own separate flight path to conduct its mission.
Part of lining up CubeSat missions is evaluating which ones are ready to go when the main payload is ready. Mission planners also work to get as many CubeSats into space with each launch as they can, Higginbotham said.
"We try to match the readiness date and orbital parameter desires of our CubeSats with the vehicles going to those orbits," Higginbotham said. "We are also always looking for efficient ways to effectively 'bundle CubeSats together because we often get a volume discount."
Launch companies are making more room on their launchers for these tiny spacecraft as the interest in them grows. Some companies, such as those contracted under NASA's Venture Class Launch Services, are building launch vehicles solely for CubeSats and small spacecraft. Those launchers can be sent to many different orbits and are designed to carry dozens of CubeSats into space at a time.
Right now, Higginbotham and his NASA teams are processing eight more ELaNa missions that are in different stages of preparation for their own launches.
"There's never a dull moment around here," Higginbotham said.