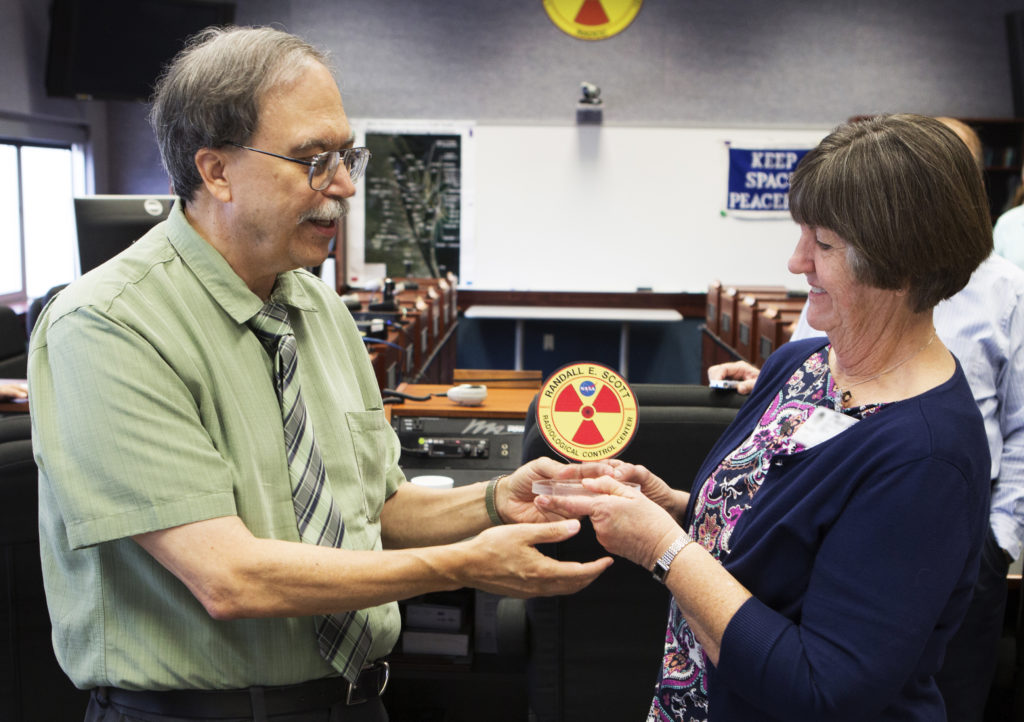 A ceremony in the NASA Kennedy Space Center's Radiological Control Center honored the extensive contributions of Randy Scott, during which the facility was named in his honor. A professional health physicist of more than 40 years, Scott served as the Florida spaceport's Radiation Protection Officer for 14 years until his death June 17, 2016.
During the March 31, 2017, ceremony, Director of Spaceport Integration and Services Nancy Bray spoke of Scott's efforts to establish the Radiological Control Center.
"Randy had a vision, and he knew what it would take to make this a first-class spaceport and support the radiological mission," she said. "This room serves a dual purpose. When we are not using it for a major radiological mission, it's available to our emergency operations team."
Bray then joined Dr. David Tipton, chief of Aerospace Medicine and Occupational Health, and Myrna Scott, Randy Scott's widow, in cutting a ribbon dedicating the Randall E. Scott Radiological Control Center.
Scott is best known for his contingency planning efforts supporting planetary missions that included a plutonium-powered radioisotope thermalelectric generator (RTG). Spacecraft such as New Horizons, launched to Pluto on Jan. 19, 2006, and the Mars Science Laboratory with the Curiosity lander, lifting off on Nov. 26, 2011, take so long to travel so far from the sun that batteries and solar panels are impractical. Electrical power is provided by an RTG which produces electricity from heat generated by the natural decay of plutonium.
Located in the Neil Armstrong Operations and Checkout building, the Randall E. Scott Radiological Control Center is staffed by technical and radiological experts from NASA, the U.S. Department of Energy, the U.S. Air Force 45th Space Wing and the state of Florida. The group performs data collection and assessment functions supporting launch site and field data collection activities.
Scott was awarded NASA's Exceptional Service Medal in 2012 for coordinating multiple federal agencies' radiological contingency preparedness and the Interagency Nuclear Safety Review Panel prior to launch of the Mars Science Laboratory.