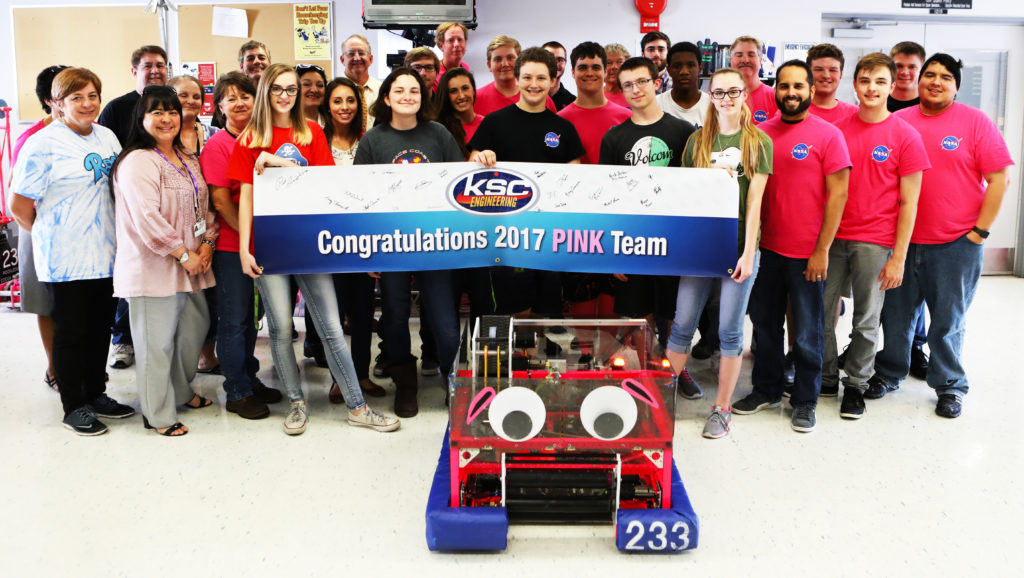 A robotics team that did not exist six months ago stormed back into competition this spring after a new group of engineering mentors at NASA's Kennedy Space Center in Florida opted to work with high school students to build intricate machines capable of performing by remote control some of the same functions NASA asks its own robots to perform.
Called the "Pink Team," the Kennedy-sponsored group competes in the FIRST events, short for "For Inspiration and Recognition of Science and Technology." Two of the three team mentors retired last year leaving the group devoid of the mentorship necessary to compete.
So the Kennedy Engineering Directorate stepped up with 10 or so mentors eager to help.
The team was led by engineers Greg Clements and Andrew Bradley. Those involved celebrated the successful season April 5 at a facility near the Shuttle Landing Facility.
"It took a lot of teamwork, skill, communication, and a whole lot of brain power to get where we are," said Bradley, a control systems engineer at Kennedy and Pink Team mentor since its inception 20 years ago. "It was great to see our engineering group step up and help make this happen."
The team kicked off the season in January. They had six weeks to prepare for a pair of regionals, the first in West Palm Beach, Florida, and the second at the University of Central Florida in Orlando. With teams from Google, Microsoft, General Motors and representatives from each of the space centers, the competition was extraordinary.
The Pink Team faired very well in both competitions.
"Despite this being a rebuilding season, we couldn't have been more proud of our group of students," Clements said. "And it looks like nearly everyone is coming back for next year, so we have high expectations."
Comprised of students from Cocoa Beach, Rockledge, Viera and Space Coast high schools, Kennedy's house robotics team chose the phoenix mascot as a sign of rising from the ashes, Clements said.
And of course, the phoenix was pink.